What an adventurous weekend filled with good food and good company! And it all started (and ended) with this homemade orecchiette with spicy sausage sauce.
Despite the heat wave in the Bay Area, I've been in the mood for home-cooked comfort food – namely, pasta smothered in tomato goodness. So I prepared a batch of spicy sausage sauce Wednesday evening and shaped some little ears after work Friday afternoon. By 6:30 p.m., my dinner guest and I were digging in.
After one bite, I can say without a doubt that the final product was worth every ounce of sweat. The orecchiette are perfect vessels for the spicy sausage sauce and the texture, in my opinion, is exquisite.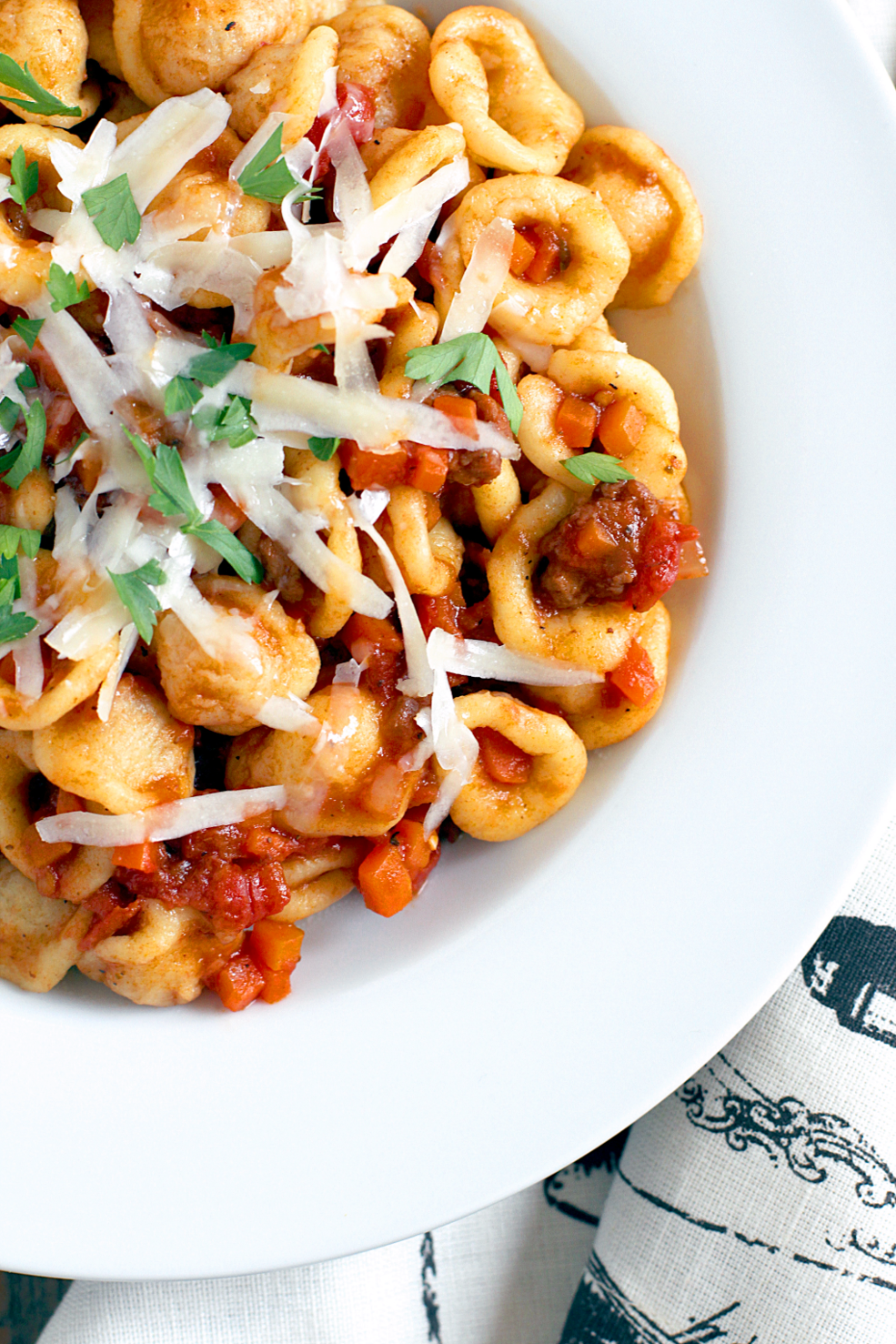 P.S. Wondering what new foods I tried over the weekend? Here's a glimpse:
Recipe adapted from Pinch of Yum.

Homemade Orecchiette with Spicy Sausage Sauce
Makes 2-4 servings
Ingredients
Orecchiette:
1 cup semolina flour
½ cup all-purpose flour
½ teaspoon sea salt
½ cup lukewarm water
Spicy sausage sauce (see notes):
½ pound hot Italian sausage, removed from its casing
3 medium carrots, peeled and finely diced
½ medium yellow onion, finely diced
3 garlic cloves, minced
½ cup red wine
1 28 oz. can whole peeled tomatoes with basil
2 tablespoons balsamic vinegar
1 teaspoon dried oregano
1½ teaspoons sea salt
½ teaspoon freshly ground black pepper
Remaining ingredients:
grated Pecorino Romano cheese, to taste
chopped fresh parsley, to taste
Instructions
Make the orecchiette:
In a medium bowl, combine the flours and salt. Add the water and mix with a fork until the ingredients start to come together. Then knead the dough by hand until it's smooth and elastic - this will take about 5 minutes. Shape dough into a ball and cover with a damp towel or plastic wrap and let it sit for 30 minutes.
Roll out dough to a ¾"-thick rectangle. Using a sharp knife or bench scraper, cut dough lengthwise into ¾"-wide strips. Roll strips into ½"-thick logs.
Cut one log crosswise into ½"-thick pieces; keep remaining logs covered with a damp cloth. Holding a butter knife at a 45-degree angle, press down on one piece of dough and drag it toward you. Invert the flattened piece of dough over your fingertip to form an ear shape and transfer to a baking sheet lined with a silicone baking mat. Repeat with remaining pieces of dough.
Make the spicy sausage sauce:
In a large fry pan over medium-high heat, brown sausage, breaking it into bite-size pieces with a spoon. Transfer sausage to a medium bowl and remove all but 1 tablespoon of fat from pan.
Add carrots and onion to pan and cook, stirring occasionally, until tender, about 10 minutes. Add garlic and cook until fragrant, about 1 minute.
Return sausage to pan, add wine and bring to a simmer.
Add tomatoes with juice, crushing with your hands as you add them, balsamic vinegar, oregano, salt and pepper. Bring to a boil. Reduce heat to medium-low and simmer for 20 minutes. Transfer half of the sauce to an airtight container and store in the refrigerator or freezer for another use.
Assemble the dish:
Bring a large pot of water to a boil. Cook orecchiette until al dente, about 3 minutes. Drain, reserving 1 cup cooking liquid.
Add orecchiette to pan with sauce and toss gently to combine. If necessary, add some of the reserved cooking liquid to loosen the sauce.
Season with salt and pepper to taste. Top with Parmesan cheese and parsley.
Notes
You will have extra sauce after assembling the dish, but it stores well in an airtight container in the refrigerator for a few days or in the freezer for up to a month.
If you liked this recipe, you might also enjoy: