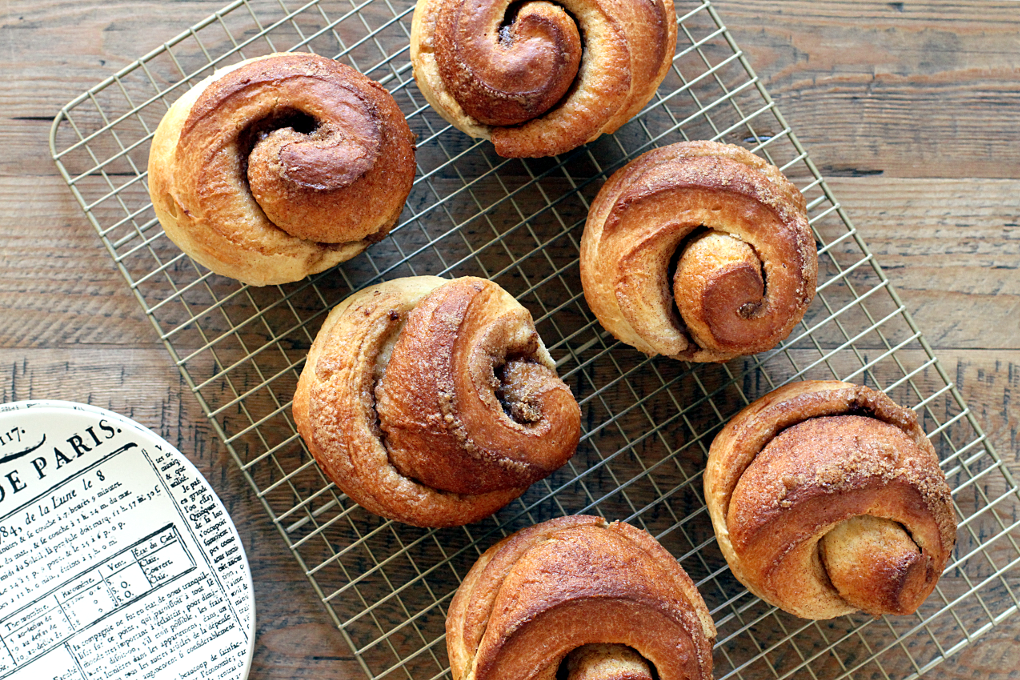 It has taken me far too long to get these fluffy brioche cinnamon rolls on the blog. I made them in late August and now it's nearly November. Where does the time go? I considered skipping it and moving on, but then you'd never get to experience these glorious buns. And that would be a great loss.
My dad loves cinnamon rolls, so I've baked many in my lifetime, from the classic to the unconventional (think peanut butter in the dough or roasted bananas in the filling). Some recipes were keepers and others I'd never make again, but none have hit the spot quite like this one. And it all starts with a simple no-knead dough.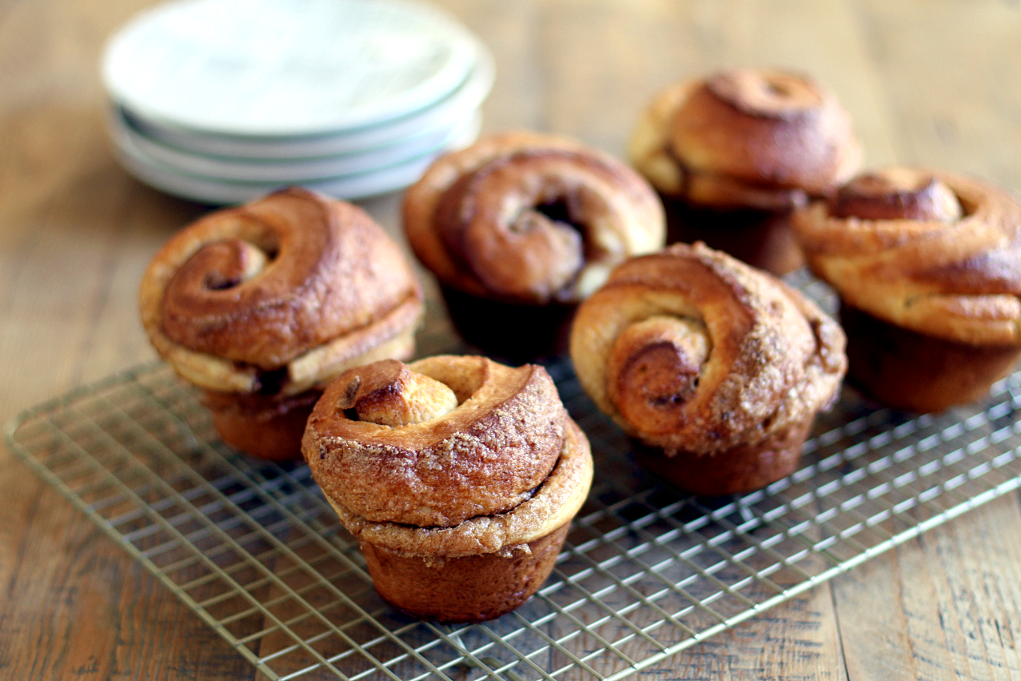 That's right. There's absolutely no kneading involved in making these soft, buttery buns. You literally dump brioche ingredients in a bowl, give it a few stirs and let the mixture rest for two hours. Then you pop the dough in the fridge for another two hours to firm up.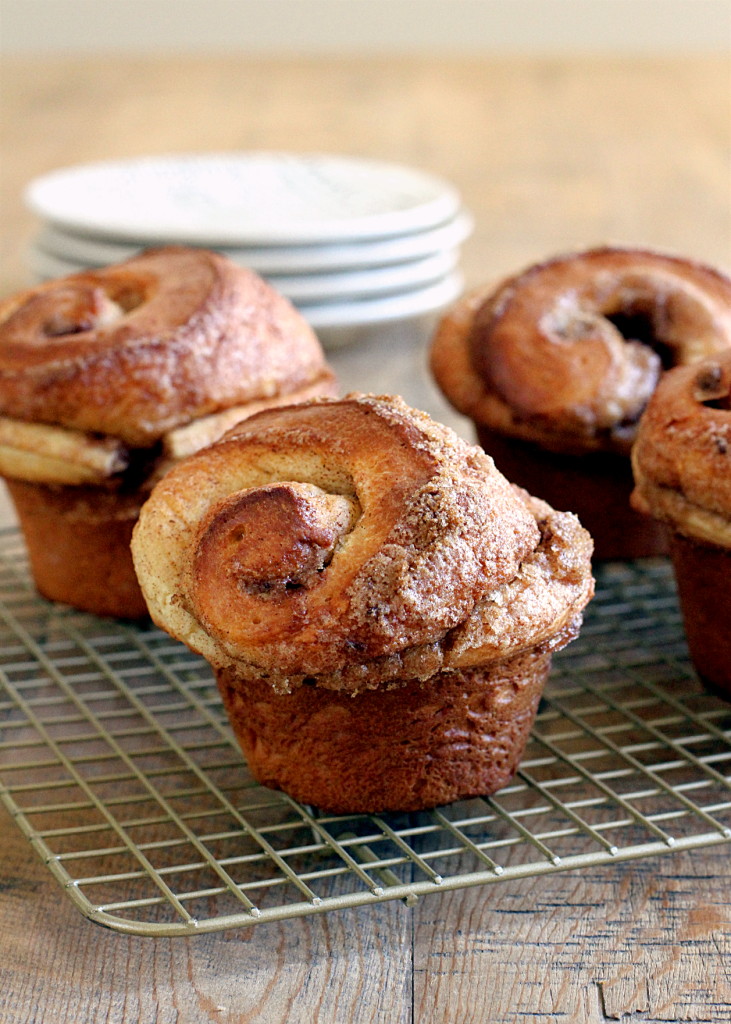 The rest of the steps are a breeze – it's just like making any other kind of cinnamon roll. Once baked, they're perfect as is. Frost them at your own risk.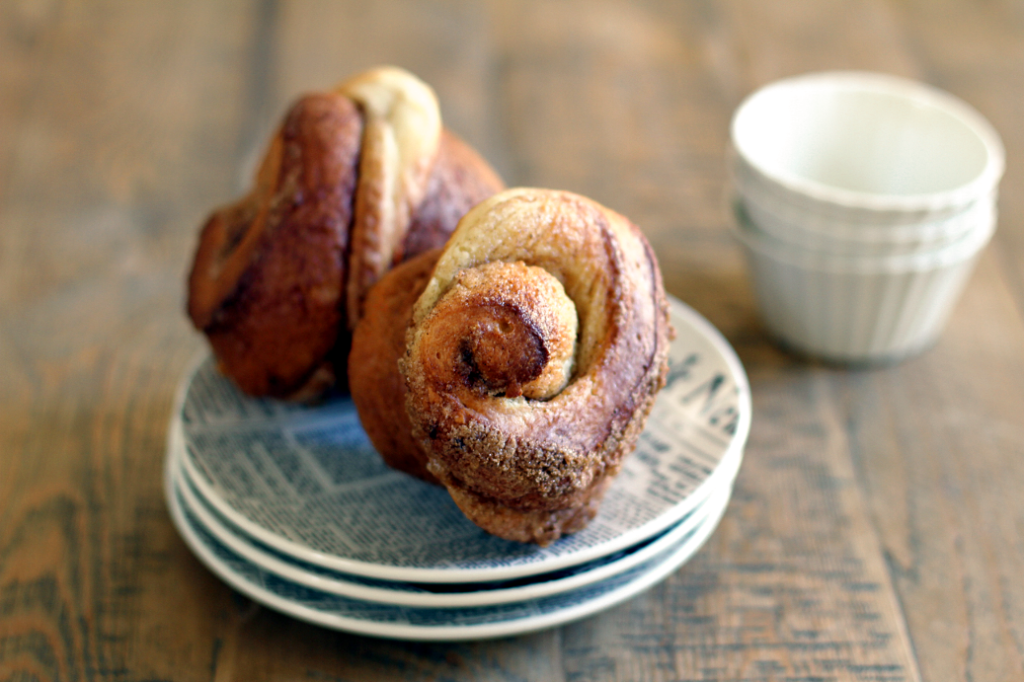 Recipe adapted from Artisan Bread in Five Minutes a Day.

Brioche Cinnamon Rolls
Makes 6 giant rolls
Ingredients
Brioche dough:
3¾ cups unbleached all-purpose flour
1½ teaspoons sea salt
1½ teaspoons active dry yeast
¾ cup lukewarm water
4 large eggs, lightly beaten
¼ cup honey
12 tablespoons unsalted butter, melted
Filling:
¼ cup granulated sugar
¼ cup brown sugar
1½ teaspoons cinnamon
½ teaspoon orange zest
3 tablespoons butter, melted
Instructions
Make the brioche dough:
In a large bowl, combine the flour, salt and yeast.
Add water, eggs, honey and melted butter to the flour mixture, stirring everything until it comes together to form a shaggy ball. Cover the bowl loosely with plastic wrap and put it in a warm place to rise for 2 hours. At this point, the dough will be very sticky; transfer it to the refrigerator to chill for at least 2 hours or up to 5 days so it will be easier to handle.
Make the filling:
In a small bowl, combine the sugars, cinnamon and orange zest. Set aside.
Shape and bake the rolls:
Once the dough has chilled and is easier to handle, transfer it to a floured work surface. Fold the dough over 3-4 times to develop the gluten. Then let it rest for 15-20 minutes.
Roll out dough into a ½"-thick rectangle. Brush the entire surface with the melted butter. Sprinkle filling in an even layer over the top of the dough and then roll it up lengthwise into a long log. Use a serrated knife to cut the dough into 6 equal segments.
Butter 6 jumbo muffin cups. Place the segments into the muffin cups, cover loosely with plastic wrap and let rise until the dough is puffed, 1-2 hours.
When the dough has almost finished rising, preheat oven to 350 degrees.
Bake for 25-30 minutes until golden. Remove the rolls from the muffin cups and let cool completely.