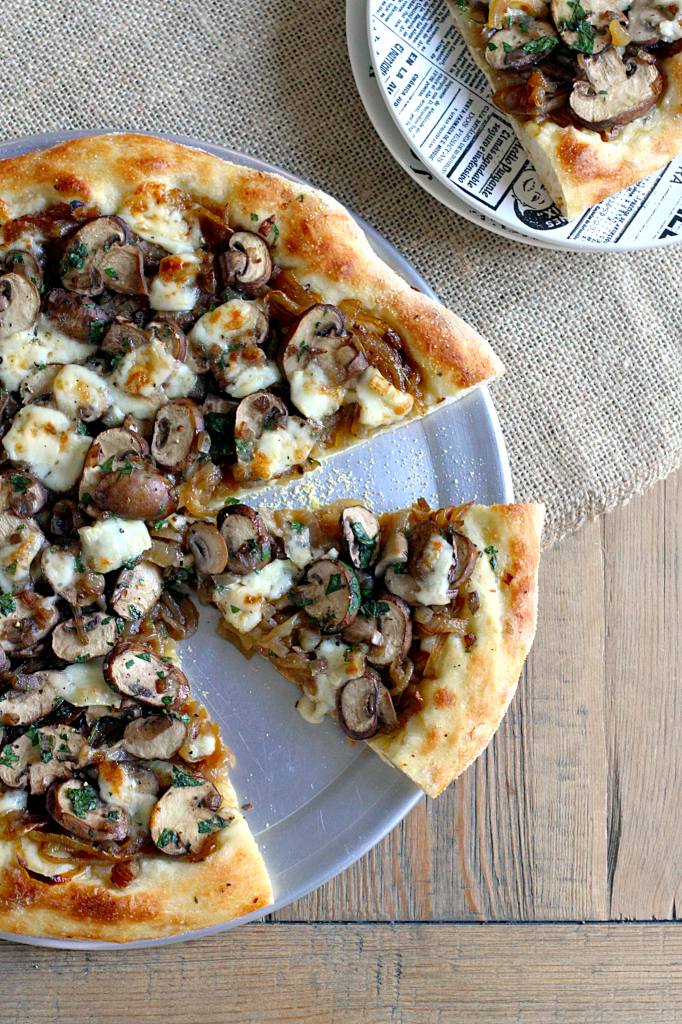 I was craving pizza last week and asked Jason if he was up for going to Pizzeria Delfina Friday evening. But it turned out to be a wet and dreary day, so I decided to bust out my Baking Steel and make dinner for the two of us instead.
And because I didn't feel like braving the rain, I threw together a pie with ingredients I had on hand: kale, roasted carrots, Feta and (gasp!) brie cheese spread. I'm almost embarrassed to mention that last topping, but the darn thing was sitting in my fridge for over a year and I was determined to use it. The pizza was surprisingly delicious …
So much so that I decided to create an encore pie using real brie plus two of my favorite veggies. And so Jason and I dined on this brie, caramelized onion and mushroom pizza on Saturday. Despite its simplicity, this vegetarian dish is packed with flavor – I promise you won't miss the meat, tomato sauce or lashings of cheese.
Next time you're in the mood for healthy homemade food, give this recipe a go – and then tell me what you think!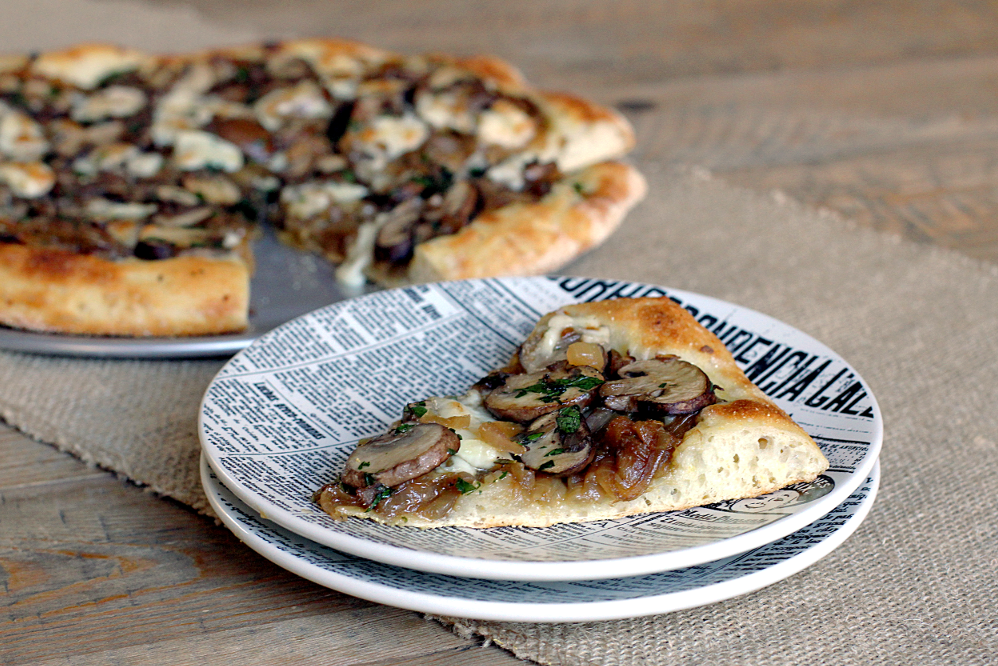 Recipe adapted from Williams-Sonoma.

Brie, Caramelized Onion and Mushroom Pizza
Makes 1 pizza
Ingredients
Pizza dough:
1¾ cups all-purpose flour
2 tablespoons cornmeal
1 teaspoon sea salt
⅛ teaspoon active dry yeast
¾ cup water
Topping:
3 tablespoons olive oil, divided
2 onions, halved and thinly sliced
1 tablespoon chopped fresh rosemary
sea salt and freshly ground black pepper, to taste
¼ cup dry white wine
8 ounces cremini mushrooms, sliced
1 shallot, minced
1 tablespoon chopped fresh flat-leaf parsley
4 ounces double cream brie cheese, cut into small pieces
Instructions
Make the pizza dough:
In a large bowl, combine the flour, cornmeal, salt and yeast.
Add water to the flour mixture, stirring everything until it comes together to form a shaggy ball. Cover the bowl with plastic wrap and allow it to rise at room temperature for 18-20 hours.
Flour a work surface and scrape out the dough. Gently and quickly shape it into a ball by taking the ends of the dough and folding them into the middle; place seam side down on your work surface. If you don't plan to use the dough right away, wrap it in plastic and refrigerate for up to 3 days. When ready to use, remove the dough from the refrigerator and let sit at room temperature, covered with a damp cloth, for 2-3 hours before shaping.
Prepare topping:
Heat 1½ tablespoons olive oil in a fry pan over medium heat. Add onions and rosemary, season with salt and pepper, and sauté until caramelized, about 20 minutes. Add the wine and simmer until evaporated, about 1 minute. Transfer the onions to a bowl and set aside.
Heat 1 tablespoon olive oil in a fry pan over medium heat. Add mushrooms and shallot, season with salt and pepper, and sauté until the mushrooms are tender and juices evaporate, about 5 minutes. Remove from pan and stir in parsley.
Make and bake the pizza:
Adjust oven rack to the second-highest position and place Baking Steel on rack. Preheat oven to 500 degrees for approximately 45 minutes. (See notes)
Stretch out dough to the desired shape and thickness and place on a floured pizza peel (or inverted baking sheet). If the dough is resisting, let it sit for about 5 minutes.
Drizzle with remaining ½ tablespoon olive oil. Spread caramelized onions over the dough in an even layer all the way to the edges.
Top with mushrooms and brie. Season with salt and pepper.
Slide the pizza onto the Baking Steel and bake for 8-9 minutes or until crust is golden. Broil for 1-2 minutes to brown top, if desired.
Notes
If you don't have a Baking Steel, you can prepare and cook the pizza on a baking sheet. Preheat oven to 450 degrees and bake pizza for about 18 minutes or until crust is golden.