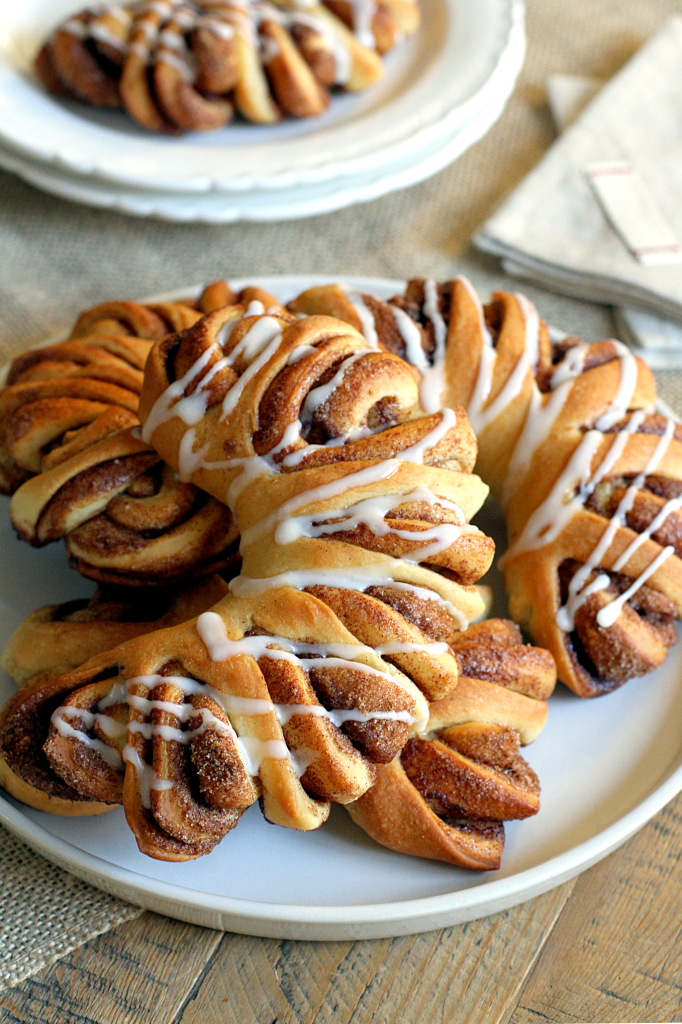 I'm always on the hunt for a good cinnamon roll recipe. For one thing, my dad loves them – and I enjoy making them for him. And second, who can resist a buttery bun bursting with cinnamon and sugar? Not I.
These cinnamon roll bear claws, a slight twist on a pastry I spotted on foodgawker, are a definite keeper. They are tender on the inside and slightly crisp on the outside and scream, "Eat me!" This recipe makes six bear claws, but I recommend doubling it because they will disappear quickly.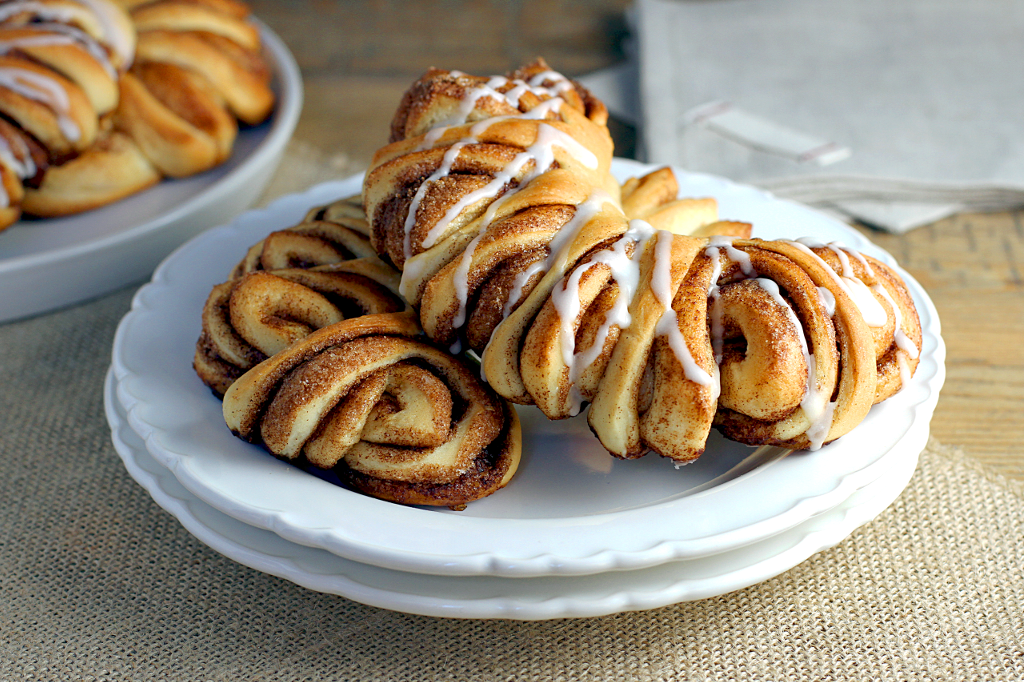 Recipe adapted from Savory Nothings.

Cinnamon Roll Bear Claws
Makes 6 bear claws
Ingredients
Dough:
1¼ cups milk
5 teaspoons active dry yeast
¼ cup granulated sugar, divided
4 tablespoons unsalted butter, melted
3½ cups all-purpose flour
1½ teaspoons salt
Filling and finish:
⅓ cup granulated sugar
⅓ cup light brown sugar
2 tablespoons ground cinnamon
6 tablespoons unsalted butter, softened, divided
Glaze:
½ cup powdered sugar
1 tablespoon milk
⅛ teaspoon vanilla extract
Instructions
Make the dough:
In a large bowl, heat milk until warm - about 30 seconds in the microwave should do. Add the yeast and 1 teaspoon granulated sugar. Whisk together until thoroughly combined and let sit until foamy, about 10 minutes.
Add the remaining granulated sugar and the rest of the dough ingredients (butter through salt) to the milk mixture, stirring everything until it comes together to form a shaggy ball. Then knead the dough by hand (or with a dough hook attachment) until it's smooth and elastic - this will take about 10 minutes (or less if using a stand mixer). Shape dough into a ball and place in a lightly oiled bowl, cover and let it rise until doubled in size, 1-2 hours.
Make the filling:
In a small bowl, combine the sugars and cinnamon. Set aside.
Shape and bake the bear claws:
Line a baking sheet with parchment paper.
After the dough has risen, punch it down and divide in half; set one piece aside.
Roll one portion of dough into a 15″x12″ rectangle. Spread 2½ tablespoons butter in an even layer over the top of the dough. Sprinkle half of the filling in an even layer over the top of the dough. Roll it up lengthwise into a long log and pinch seam and ends to seal. Set aside and repeat with remaining dough portion.
Use a serrated knife to cut each log into 3 equal segments for a total of 6 small logs. Pinch ends of each small log to seal. Using kitchen shears, make 5-6 diagonal cuts along one side of each small log, being careful not to cut all the way through.
Place the logs on the prepared baking sheet, curving them slightly. Turn each cut section onto its side.
Preheat oven to 350 degrees.
Melt remaining butter and brush tops of bear claws with butter. Bake for 30-40 minutes until golden, brushing with more butter halfway through. Transfer to a wire rack to cool.
Make the glaze:
In a small bowl, combine the powdered sugar, milk and vanilla extract. Drizzle glaze over cooled bear claws.