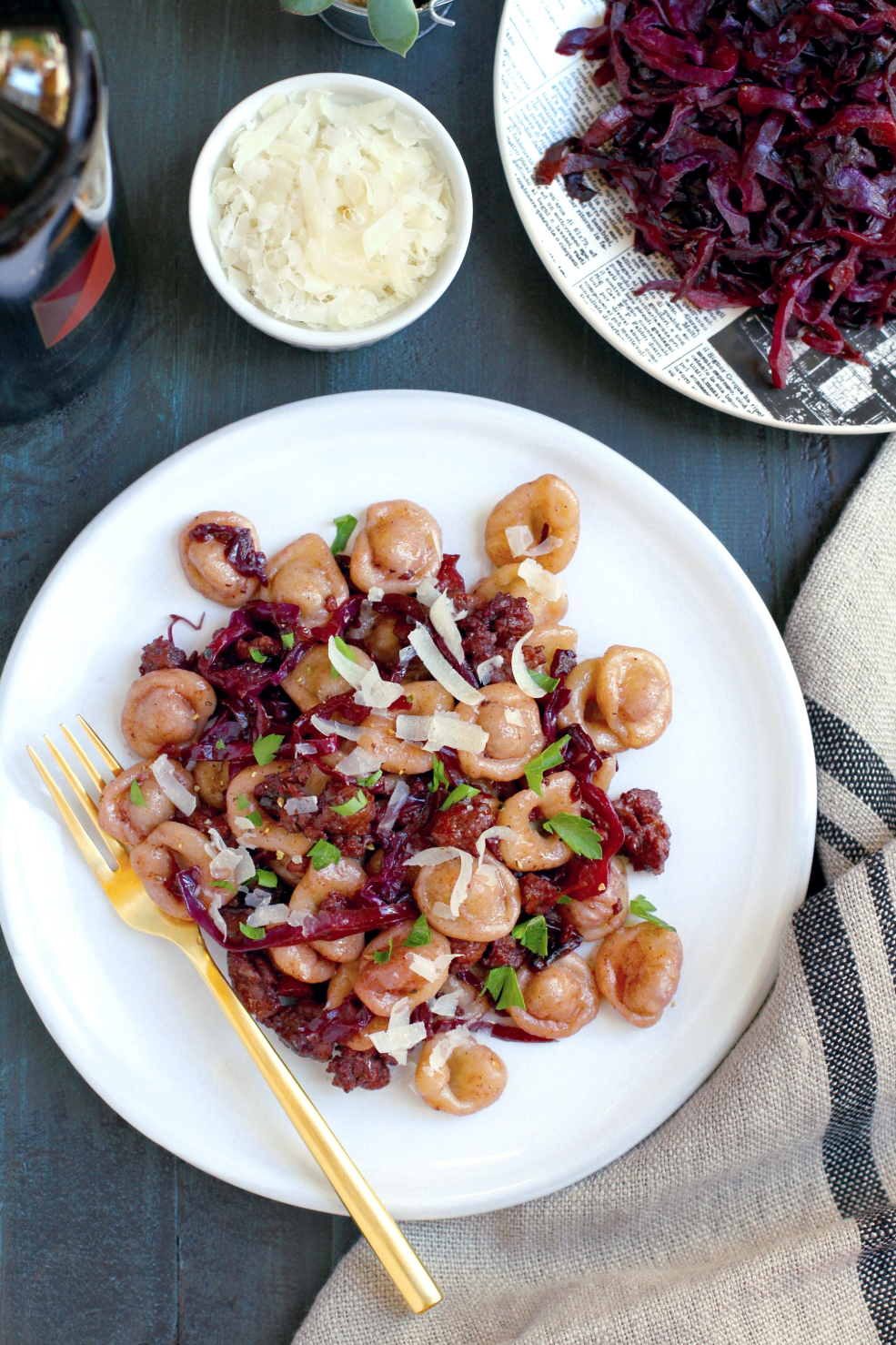 What an eventful week! On Monday, I got my cast removed and was told I'll soon be able to put weight on the injured limb (hooray). On Wednesday, I hitched a ride to attend a meeting in San Ramon and saw my teammates for the first time since mid-May (which made me realize how much I really missed them). And last night, I enjoyed an indulgent meal at Alba Ray's – the crispy boudin balls and Creole chicken and pork jambalaya alone made the trip worth it.
It's also been a busy month at work and hence the lack of posting. But a full plate didn't stop me from taking a day off to cook homemade orecchiette with sausage and braised red cabbage. It was my first attempt at making ear-shaped pasta – and it won't be the last. The process was relatively quick, quite relaxing and very rewarding.
If you're in search of a simple yet satisfying dish, look no further than this homemade orecchiette with sausage and braised red cabbage. After preparing the pasta and veggies, the meal comes together in minutes, and the combination of sweet, sour and savory notes is exquisite.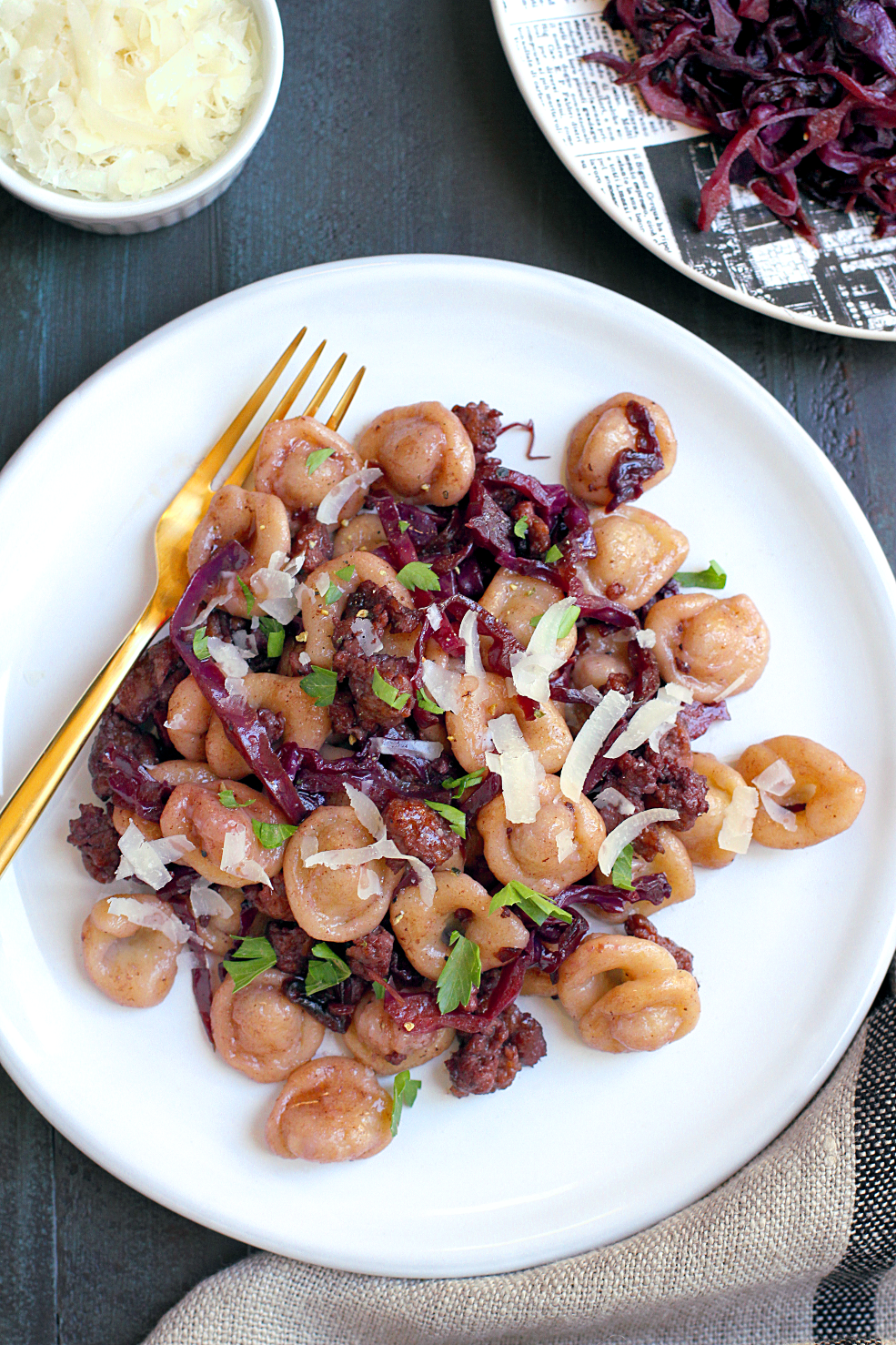 Recipes adapted from Two Red Bowls, Simply Recipes and The New York Times.

Homemade Orecchiette with Sausage and Braised Red Cabbage
Makes 2-4 servings
Ingredients
Orecchiette:
1 cup semolina flour
½ cup all-purpose flour
½ teaspoon sea salt
½ cup lukewarm water
Braised red cabbage (see notes):
2 tablespoons unsalted butter
½ medium head red cabbage, thinly sliced
2 tablespoons sugar
2 tablespoons balsamic vinegar
2 tablespoons apple cider vinegar
2 tablespoons water
sea salt and freshly ground black pepper, to taste
Remaining ingredients:
1 tablespoon unsalted butter
⅔ pound sweet Italian sausage, removed from its casing
½ cup red wine
grated Parmesan cheese, to taste
chopped fresh parsley, to taste
Instructions
Make the orecchiette:
In a medium bowl, combine the flours and salt. Add the water and mix with a fork until the ingredients start to come together. Then knead the dough by hand until it's smooth and elastic - this will take about 5 minutes. Shape dough into a ball and cover with a damp towel or plastic wrap and let it sit for 30 minutes.
Roll out dough to a ¾"-thick rectangle. Using a sharp knife or bench scraper, cut dough lengthwise into ¾"-wide strips. Roll strips into ½"-thick logs.
Cut one log crosswise into ½"-thick pieces; keep remaining logs covered with a damp cloth. Holding a butter knife at a 45-degree angle, press down on one piece of dough and drag it toward you. Invert the flattened piece of dough over your fingertip to form an ear shape and transfer to a baking sheet lined with a silicone baking mat. Repeat with remaining pieces of dough.
Make the braised red cabbage:
In a large pot, melt butter over medium heat. Add cabbage and sauté for 5 minutes.
Add sugar, balsamic vinegar, apple cider vinegar and water and bring to a simmer. Reduce heat to low, cover and cook, stirring occasionally, until cabbage is tender, about 30 minutes. Season with salt and pepper to taste.
Assemble the dish:
In a large fry pan, melt butter over medium heat. Add sausage and brown, breaking it into bite-size pieces with a spoon. Add wine and bring to a simmer.
Meanwhile, bring a large pot of water to a boil. Cook orecchiette until al dente, about 3 minutes. Drain, reserving 1 cup cooking liquid.
Add orecchiette and about 1½ cups braised cabbage to fry pan and toss gently to combine. If necessary, add some of the reserved cooking liquid to loosen the sauce.
Season with salt and pepper to taste. Top with Parmesan cheese and parsley.
Notes
*You will have extra cabbage after assembling the dish, but it's delicious served with poultry or meat. Store it in an airtight container in the refrigerator for up to a week.
If you liked this recipe, you might also enjoy: