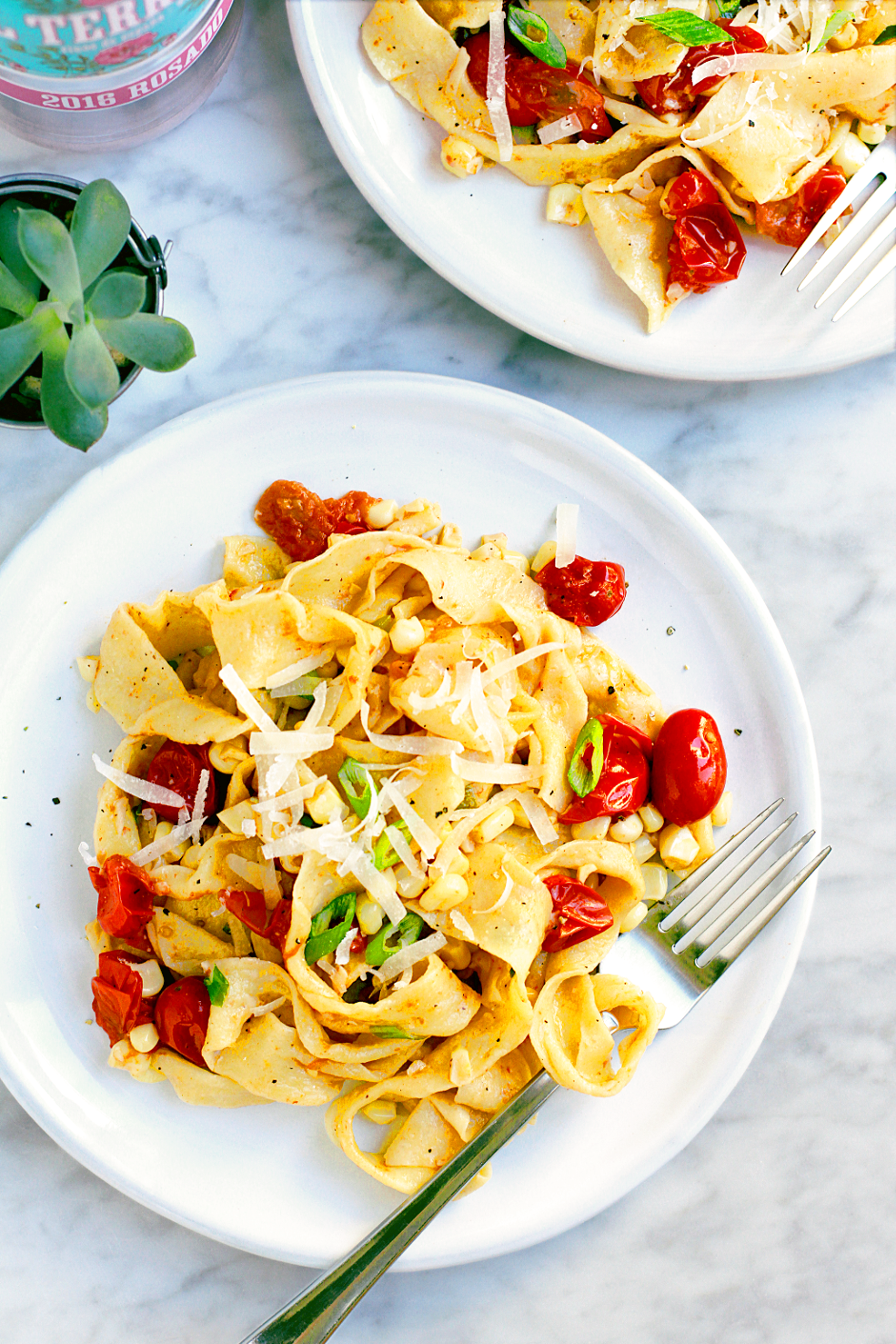 Can you tell I've been into hand-rolled pasta lately? After a successful first attempt at making orecchiette, I was eager to continue experimenting. So on Saturday, I pulled out some flour, eggs and olive oil and took a crack at Michael Chiarello's homemade pappardelle.
The following day, I used it to prepare this summery pappardelle with tomatoes and corn. It's a simple yet satisfying dish that calls for just a handful of staple ingredients, like garlic and rosé wine.
There's just one caveat: Homemade pappardelle with tomatoes and corn must be served straightaway. Wait too long and the pasta soaks up the sauce and loses its chew. And who likes a wet noodle?
P.S. I started walking hobbling around on two legs (with a boot and no crutches)! My right foot and ankle are still swollen, bruised and achy, but it's such a relief to be somewhat mobile. I have one last checkup with the podiatrist, and then hopefully I'll be up and running again soon.
Recipe adapted from Food Network.

Homemade Pappardelle with Tomatoes and Corn
Makes 4 servings
Ingredients
2 ears corn
4 tablespoons unsalted butter, divided
2 cups grape tomatoes
1 teaspoon sea salt, plus more to taste
½ teaspoon freshly ground black pepper, plus more to taste
2 garlic cloves, minced
½ cup rosé wine
½ cup chicken broth
10 ounces homemade pappardelle (see notes)
2 green onions, thinly sliced
½ cup grated Parmesan cheese
Instructions
Bring a large pot of salted water to a boil. Add corn, cover and cook for 3 minutes. Remove from pot and reserve water. When cool enough to handle, use a sharp knife to shave off kernels from corn cobs.
In a large fry pan, melt 2 tablespoons butter over medium heat. Add tomatoes, salt and pepper and cook, stirring occasionally, for 4 minutes. Add garlic and cook until fragrant, about 1 minute.
Add wine and simmer until the liquid has reduced by half, about 5 minutes.
Add chicken broth and corn kernels and bring to a simmer.
Meanwhile, bring reserved water to a boil. Add pappardelle and cook until al dente, about 2 minutes. Drain, reserving 1 cup cooking liquid.
Add pappardelle, green onions and remaining 2 tablespoons butter to fry pan and toss gently to combine. If necessary, add some of the reserved cooking liquid to loosen the sauce. Remove from heat and stir in Parmesan cheese.
Season with salt and pepper to taste and serve immediately.
Notes
A half batch of
Michael Chiarello's homemade pappardelle
yields the perfect amount for this recipe. If you prefer or it's more convenient, you can substitute store-bought pappardelle and cook it until al dente according to package directions.
If you liked this recipe, you might also enjoy: