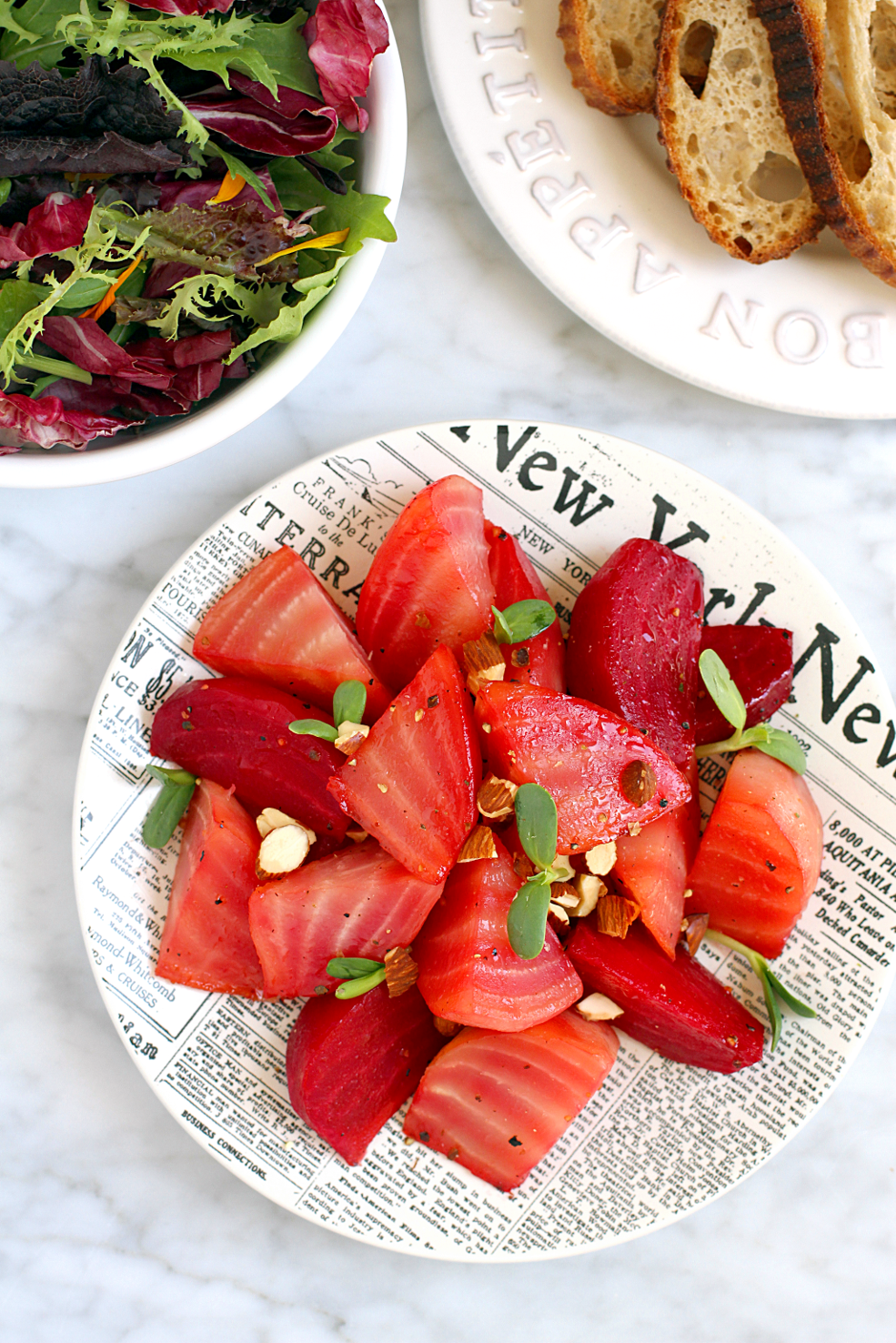 What a fun long weekend! I took Friday off to mess around in the kitchen. And on Saturday, I headed to the City to peruse the Ferry Plaza Farmers Market, grab lunch at Tsubasa Sushi, shop around Hayes Valley and pick up a drink at Boba Guys (my latest obsession). Now that I can stand on two feet, I feel like the world is my oyster (and I can't even drive yet)!
Now, back to the matter at hand: these glazed Chioggia beets with sunflower shoots and toasted almonds. The inspiration for the dish came from a recent Good Eggs delivery. As soon as I spotted the two ravishing roots from Riverdog Farm, I was eager to cook and consume them.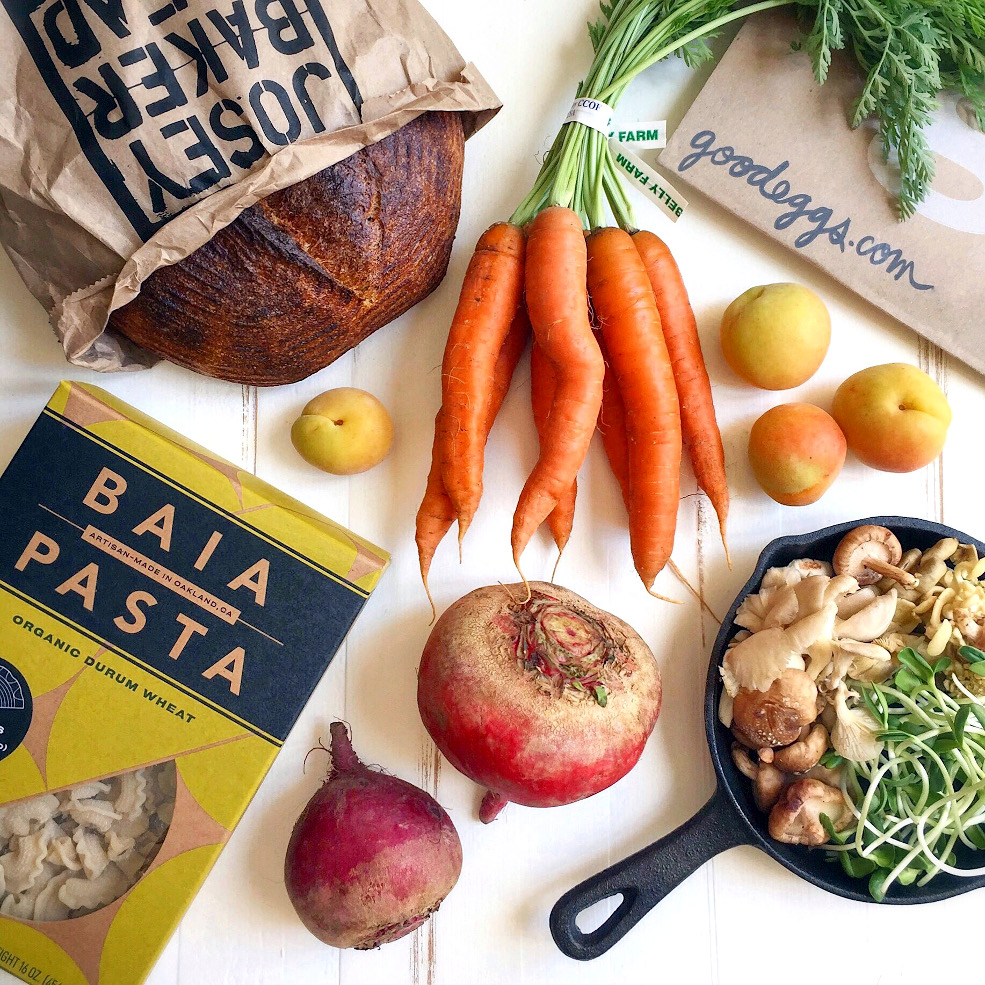 Glazed Chioggia beets are sweet, slightly sour and absolutely stunning. I mean, just look at the color – they're almost too pretty to eat. But go ahead and dig in … you won't be sorry.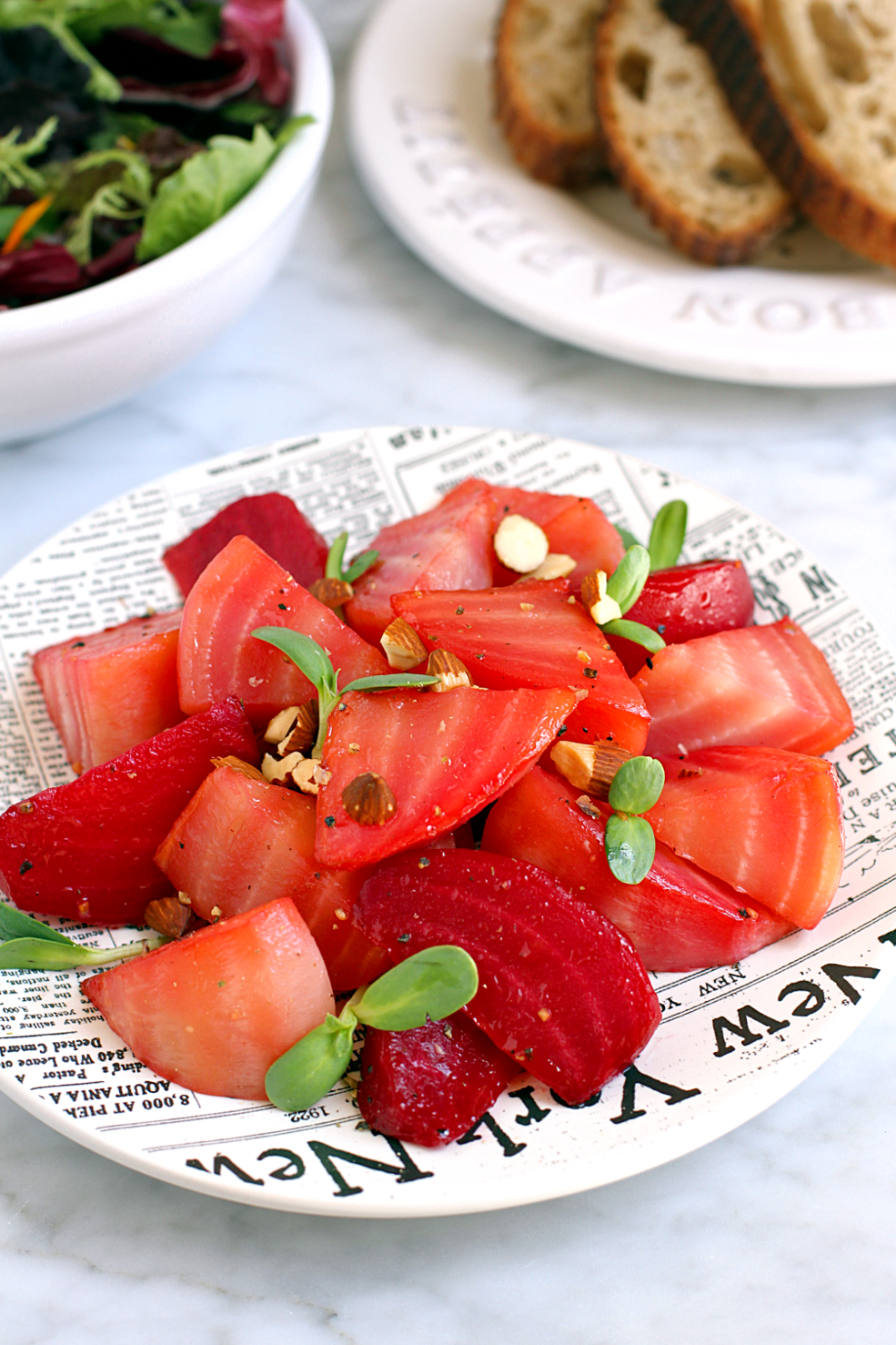 Recipe adapted from Eating Well.

Glazed Chioggia Beets
Makes 4 servings
Ingredients
1 pound Chioggia beets, cut into 1"-thick wedges
2 tablespoons rice vinegar
2 teaspoons water
2 teaspoons unsalted butter
1½ teaspoons sugar
¼ teaspoon sea salt
¼ teaspoon freshly ground pepper
sunflower shoots (optional, for garnish)
chopped toasted almonds (optional, for garnish)
Instructions
Fill a medium pot with about 2 cups water and bring to a simmer. Place beets in a steamer basket (see notes) and set it over simmering water. Cover and let steam for 15 minutes or until tender.
In a medium fry pan, combine rice vinegar, water, butter, sugar, salt and pepper. Bring to a simmer over medium-high heat.
Add beets and cook, stirring occasionally, until most of the liquid has evaporated, 3-5 minutes.
Remove from heat and garnish with sunflower shoots and almonds, if using.
Notes
If you don't have a steamer basket on hand, try one of these
handy tricks
; I used method 2.
If you liked this recipe, you might also enjoy: