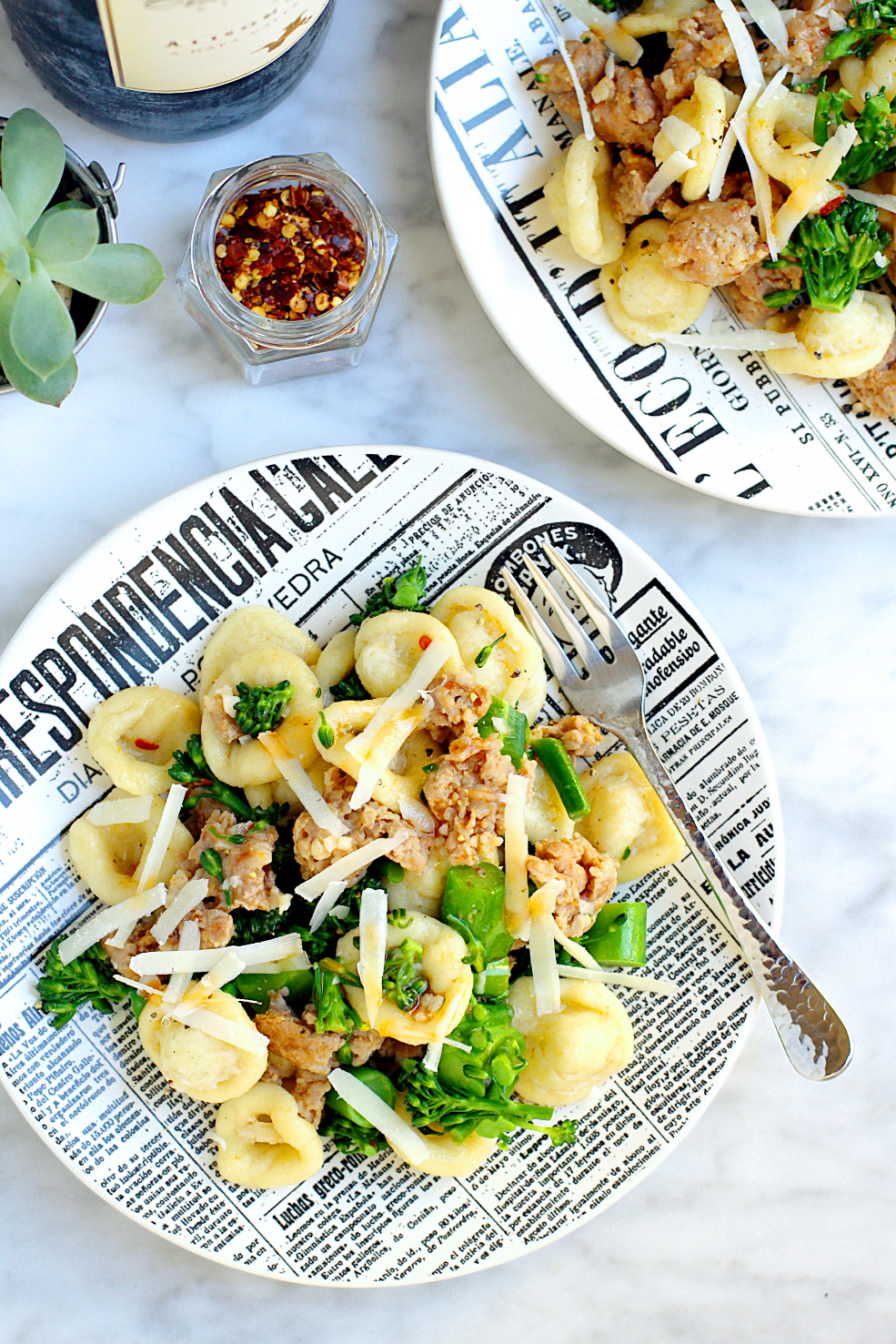 Yes, I made – and ate – more pasta over the weekend. Apparently, I wasn't lying when I said I'd turn out a second batch of "small ears" in the near future. The result? This homemade orecchiette with sausage and broccolini.
The dish may not look like much, but it packs a flavor punch – think subtly sweet pasta, pretty spicy pork and mildly bitter veg. Top homemade orecchiette with sausage and broccolini with some Pecorino Romano cheese (and serve it with a bottle of wine), and your appetite will be more than satisfied.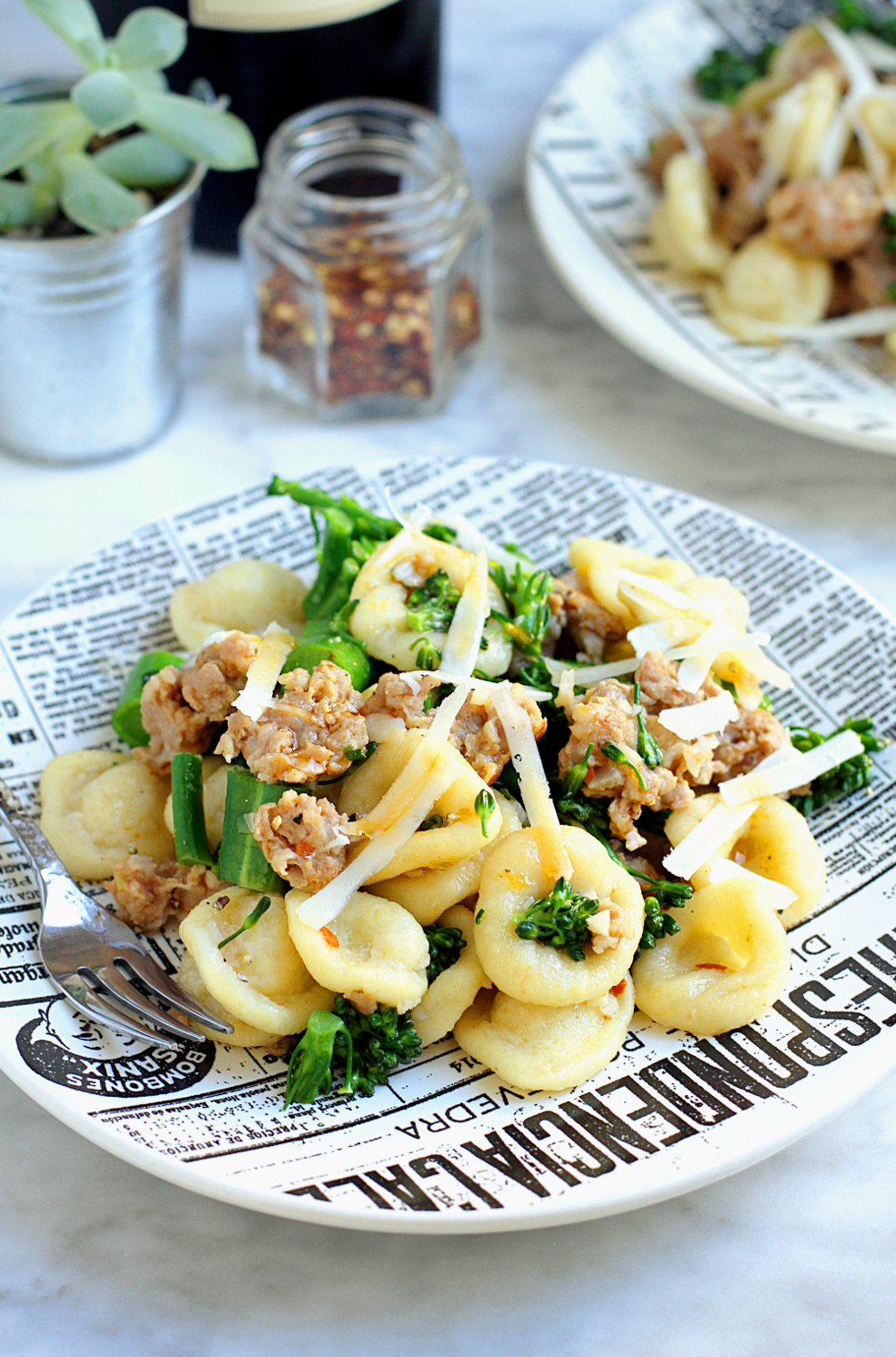 Recipe adapted from All Food Considered.

Homemade Orecchiette with Sausage and Broccolini
Makes 2-4 servings
Ingredients
Orecchiette:
1 cup semolina flour
½ cup all-purpose flour
½ teaspoon sea salt
½ cup lukewarm water
Remaining ingredients:
½ pound broccolini, cut into ½" pieces
1½ teaspoons sea salt
1 tablespoon olive oil
½ pound hot Italian sausage, removed from its casing (see notes)
3 garlic cloves, minced
1 anchovy fillet in oil, removed from oil and minced
1 teaspoon all-purpose flour
½ cup white wine
¼ cup chicken broth
grated Pecorino Romano cheese, to taste
Instructions
Make the orecchiette:
In a medium bowl, combine the flours and salt. Add the water and mix with a fork until the ingredients start to come together. Then knead the dough by hand until it's smooth and elastic - this will take about 5 minutes. Shape dough into a ball and cover with a damp towel or plastic wrap and let it sit for 30 minutes.
Roll out dough to a ¾"-thick rectangle. Using a sharp knife or bench scraper, cut dough lengthwise into ¾"-wide strips. Roll strips into ½"-thick logs.
Cut one log crosswise into ½"-thick pieces; keep remaining logs covered with a damp cloth. Holding a butter knife at a 45-degree angle, press down on one piece of dough and drag it toward you. Invert the flattened piece of dough over your fingertip to form an ear shape and transfer to a baking sheet lined with a silicone baking mat. Repeat with remaining pieces of dough.
Assemble the dish:
Prepare a medium bowl of ice water and set aside.
Bring a large pot of water to a boil. Add broccolini and salt and cook, uncovered, for 2 minutes. Transfer broccolini to the prepared ice bath to cool and reserve water. Drain broccolini and set aside.
In a large fry pan, heat olive oil over medium heat. Add sausage and brown, breaking it into bite-size pieces with a spoon. Remove all but 1 tablespoon of fat from pan.
Add garlic, anchovy and flour and cook for 1 minute.
Add wine and chicken broth and bring to a simmer.
Meanwhile, bring reserved water to a boil. Cook orecchiette until al dente, about 3 minutes. Drain, reserving 1 cup cooking liquid.
Add orecchiette and prepared broccolini to fry pan and toss gently to combine. If necessary, add some of the reserved cooking liquid to loosen the sauce. Top with Pecorino Romano cheese.
Notes
If you can't handle heat, use sweet versus hot Italian sausage.
If you liked this recipe, you might also enjoy: