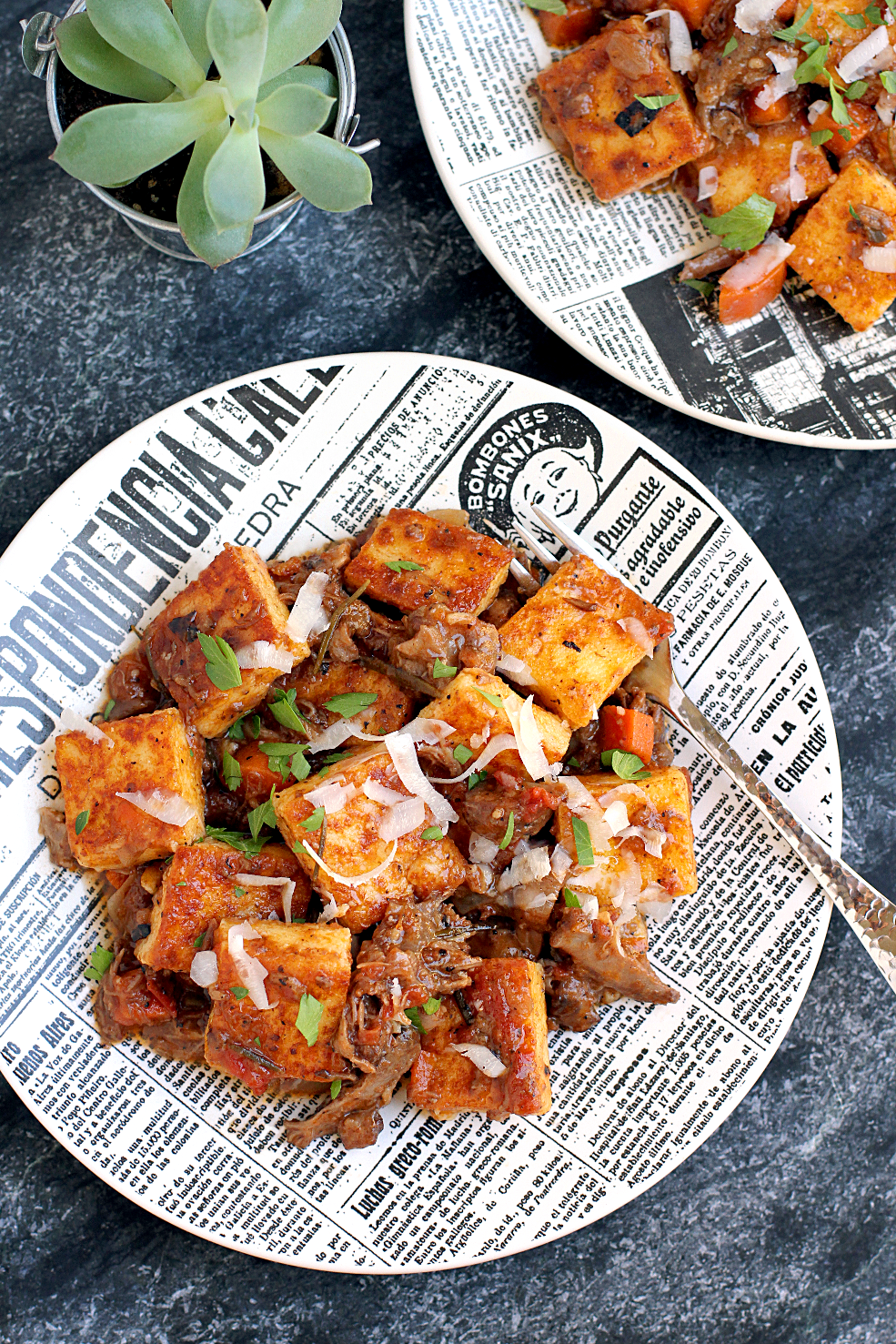 Last night I ventured to the City to have dinner at Beso Bistronomia. Despite being on crutches, it was a treat to get out of the house and enjoy an evening of good food and good company. (If you ever visit the Spanish-inspired eatery, be sure to order the croquetas de champiñones, paella de pescado and torija.)
A week ago, I was stuck at home with a casted leg, cooking up a rich oxtail ragù with gnocchi alla Romana. The entire process took hours, but the finished product was so flavorful and well worth the effort.
If you want to try your hand at this dish, start a day before you want to serve it. Why? After preparing the oxtail mixture, you need to let it sit in the fridge for 12 hours. The same goes for the gnocchi alla Romana. Be patient.
When you're ready to plate up the oxtail ragù with gnocchi alla Romana, assembly is a breeze. In fact, you can finish the recipe in less than 30 minutes. After one bite, you'll be glad you waited.
Recipe adapted from Bon Appétit.

Oxtail Ragù with Gnocchi alla Romana
Makes 4 servings
Ingredients
Oxtail ragù (see notes):
5 pounds oxtails, cut crosswise into 3"-thick pieces
¼ cup all-purpose flour
1 tablespoon sea salt, plus more, to taste
2 teaspoons freshly ground black pepper, plus more, to taste
2 tablespoons olive oil
1 large onion, diced
2 large carrots, peeled and diced
2 stalks celery, diced
1 head garlic, cloves separated, peeled and smashed
4 sprigs rosemary
1 750-ml bottle red wine
1 14.5 oz. can fire roasted diced tomatoes
¼ cup red wine vinegar
1 tablespoon honey
Gnocchi alla Romana:
1½ cups milk
1 tablespoon unsalted butter
sea salt
½ cup semolina flour
½ cup grated Parmesan cheese, plus more for serving
1 egg yolk
1 tablespoon olive oil
chopped fresh parsley (optional, for garnish)
Instructions
Make the oxtail ragù:
In a large bowl, combine the oxtails, flour, salt and pepper. Use your hands to mix until all the oxtails are coated with seasoning.
Warm olive oil in a large pot over medium heat. Working in batches, arrange oxtails in the pot in a single layer and cook, turning occasionally, until browned all over, 15-20 minutes. Remove from pot and set aside.
In the same pot used to cook the oxtails, add onion, carrots, celery, garlic and rosemary. Cook, stirring occasionally, until vegetables are caramelized and fork tender, about 10 minutes.
Add wine, tomatoes, red wine vinegar and honey and bring to a boil, scraping any brown bits from the bottom of the pot with a wooden spoon. Season with salt and pepper to taste.
Fill pot with just enough water to cover the oxtails and bring to a simmer. Cook, partially covered, until meat is fork tender, about 3½ hours.
Let cool, cover and refrigerate for at least 12 hours.
Make the gnocchi alla Romana:
Line an 8" square baking pan with parchment paper, leaving a 2" overhang on 2 sides.
In a medium sauce pan, combine the milk, butter and a pinch of salt. Bring to a simmer and then gradually whisk in the semolina flour. Cook, stirring constantly, until thickened, about 3 minutes.
Remove from heat, add Parmesan cheese and stir to combine. Add egg yolk and stir to combine.
Transfer mixture to the prepared pan and smooth evenly with an offset spatula. Cover with plastic wrap and chill in the refrigerator for at least 2 and up to 12 hours.
Assemble the dish:
Remove the oxtail mixture from the refrigerator and skim off any fat that has risen to the top. Cook over low heat until heated through.
Remove the oxtails from the pot and transfer to a plate. Increase heat to medium and cook until liquid is slightly thickened, 5-10 minutes.
Meanwhile, remove the oxtail meat from the bones, shred any large pieces into bite-size morsels and return them to the pot. Discard the bones. Season ragù with additional salt and pepper to taste. Transfer half of the ragù to an airtight container and store in the refrigerator or freezer for another use.
Remove the gnocchi mixture from the refrigerator and cut into 1" pieces.
Heat olive oil in a fry pan over medium-high heat. Add gnocchi to pan and cook for 2-3 minutes on each side until browned. Add to ragù and toss gently to combine.
Garnish with additional Parmesan cheese and parsley, if desired.
Notes
You will have extra ragù after assembling the dish, but it stores well in an airtight container in the refrigerator for a few days or in the freezer for up to a month.
If you liked this recipe, you might also enjoy: