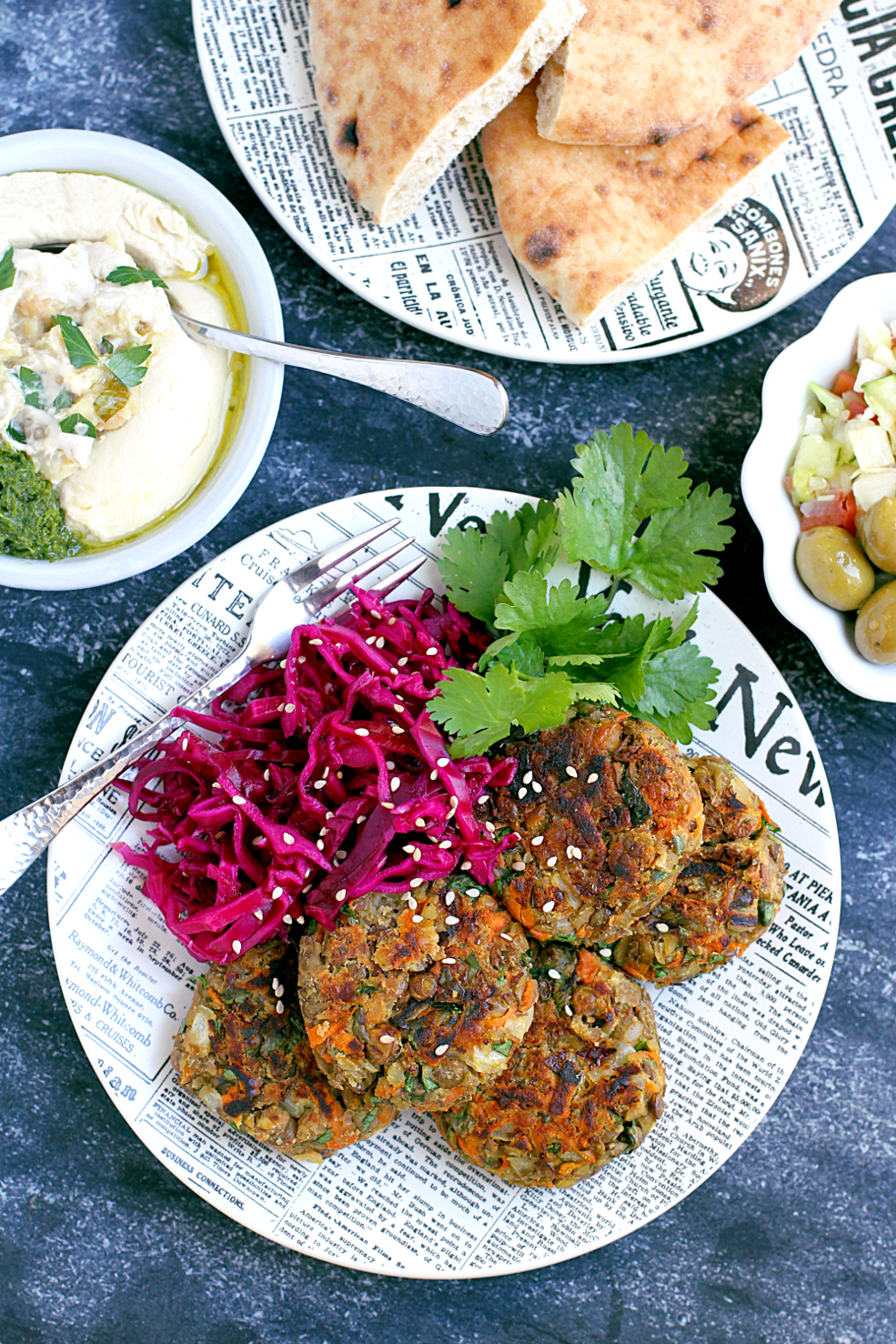 Six days before I fractured my fibula, I was flouncing around the kitchen and preparing these petite lentil patties with pickled cabbage like it was nothing. Today, it's an effort just to brew a pot of coffee and make a bowl of oatmeal while hobbling on crutches. But I'm managing, with help from family and a good friend.
That said, I'm anxious to regain use of my right leg. Everything – from going up and down the stairs and showering to refilling Rookie's food and water dish – takes so much time. And, unless I get visitors who are willing to drive me around town, I'm housebound.
Thankfully, I still had some lentil patties with pickled cabbage (which keep well in the refrigerator) to chow down on immediately post-injury. You can serve the combo on slider buns with your favorite saucy condiment or alongside warm pita bread and hummus, as I prefer to do.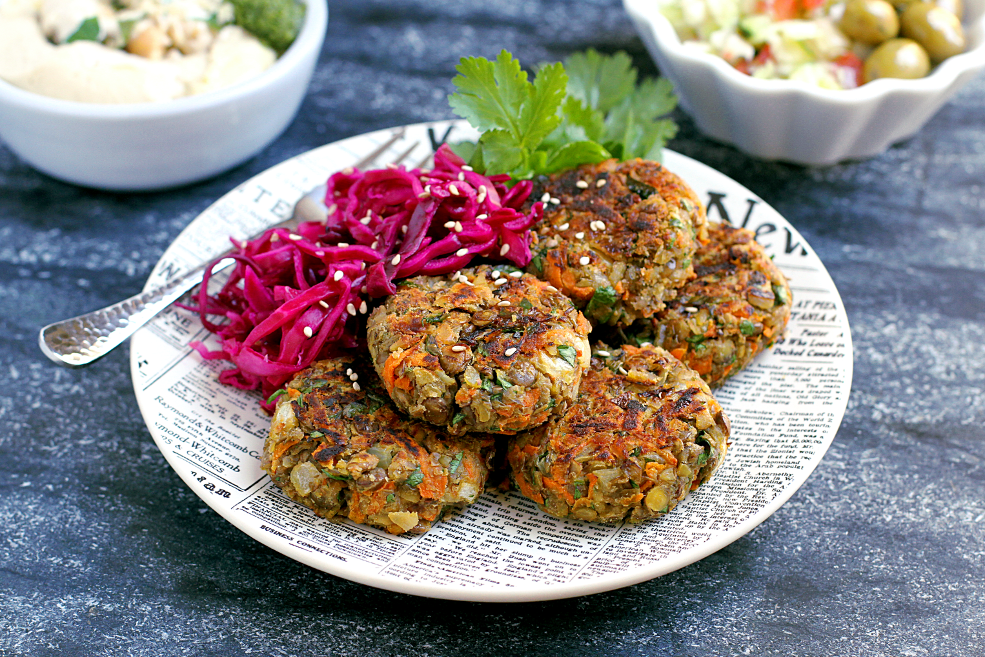 Recipe adapted from Cooking Light.

Lentil Patties with Pickled Cabbage
Makes 4 servings
Ingredients
Pickled cabbage:
2 cups thinly sliced red cabbage
3 tablespoons red wine vinegar
½ teaspoon sea salt
Lentil patties:
4 teaspoons olive oil, divided
½ cup diced yellow onion
½ cup peeled and grated carrot
1⅓ cups cooked lentils
2 tablespoons tahini
½ teaspoon ground cumin
½ teaspoon freshly ground black pepper
¼ teaspoon sea salt
¼ cup chopped fresh cilantro
Instructions
Make the pickled cabbage:
Place cabbage in a glass jar with a lid.
Add red wine vinegar and salt. Seal jar, shake vigorously and let sit at room temperature for 2 hours. Transfer to the refrigerator to chill for at least 2 hours.
Make the lentil patties:
In a medium fry pan, heat 1 teaspoon olive oil over medium-high heat. Add onion and cook, stirring occasionally, until translucent, about 3 minutes. Add carrot and cook for 1 minute. Remove from heat and set aside.
Combine the lentils, tahini, cumin, pepper and salt in a food processor. Pulse until coarsely chopped. Add onion and carrot mixture and cilantro and pulse a few times until well combined.
Form lentil mixture into 8 patties (about 2 tablespoons each).
Heat remaining 1 tablespoon olive oil in a fry pan over medium-high heat. Add lentil patties to pan and cook for 3-4 minutes on each side until lightly browned.
Serve with pickled cabbage.
If you liked this recipe, you might also enjoy: