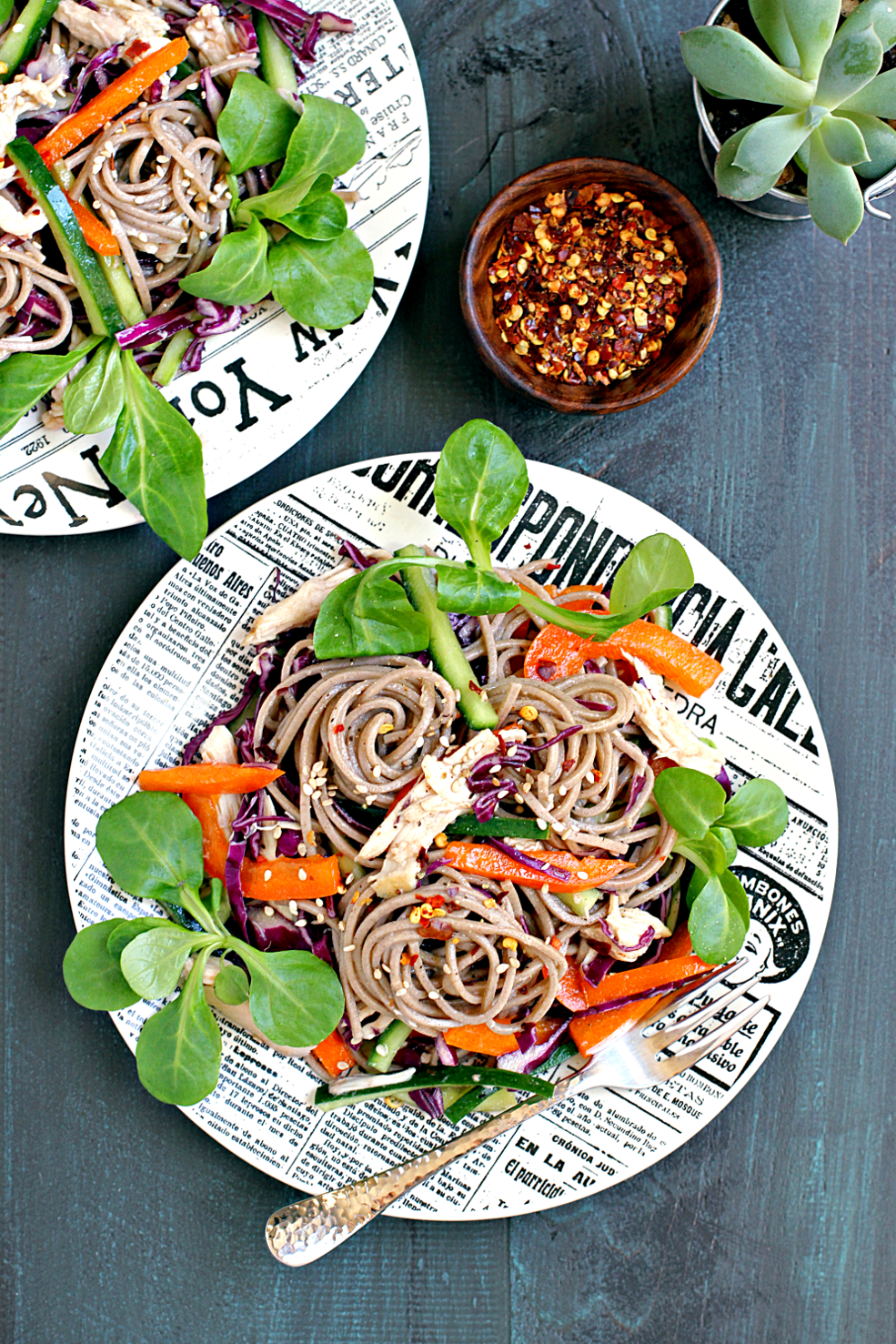 Since fracturing my fibula, I've gotten quite good at getting around on one leg. In fact, I even made it out of the house Thursday evening to pick up a few ingredients at Whole Foods Market so I could throw together this cold soba noodle salad with chicken and vegetables.
The dish is super easy to prepare, especially if you rely on store-bought versus homemade rotisserie chicken. Simply cook and chill the soba noodles, and toss them with the meat, some veggies and a simple soy sauce dressing. Dig in straightaway or store the soba noodle salad in the fridge to enjoy when hunger eventually hits.
Recipe adapted from Sweet Peas and Saffron.

Soba Noodle Salad with Chicken and Vegetables
Makes 6 servings
Ingredients
Salad:
2 bundles soba noodles (3.2 ounces each)
1 cup cooked, shredded chicken (see notes*)
2 cups thinly sliced red cabbage
1 orange bell pepper, cut into thin matchsticks
½ English cucumber, cut into thin matchsticks
Dressing:
3 tablespoons soy sauce
3 tablespoons honey
2 tablespoons toasted sesame oil
1 tablespoon avocado oil (see notes**)
1 tablespoon rice vinegar
½ teaspoon dried chili flakes
sesame seeds (optional, for garnish)
Instructions
Make the salad:
Prepare a medium bowl of ice water and set aside.
Cook soba noodles according to package directions until al dente. Drain and transfer to the prepared ice bath to cool. Drain soba noodles and transfer to a large bowl.
Add chicken, cabbage, bell pepper and cucumber to bowl with soba noodles.
Make the dressing:
In a small bowl, combine the dressing ingredients and whisk until emulsified.
Drizzle dressing over soba noodle mixture and toss gently to combine.
Garnish with sesame seeds, if using, and serve at room temperature or slightly chilled.
Notes
*I used the white meat from a tequila lime rotisserie chicken from Whole Foods Market.
**If you prefer or it's more convenient, you can substitute vegetable oil.
If you liked this recipe, you might also enjoy: