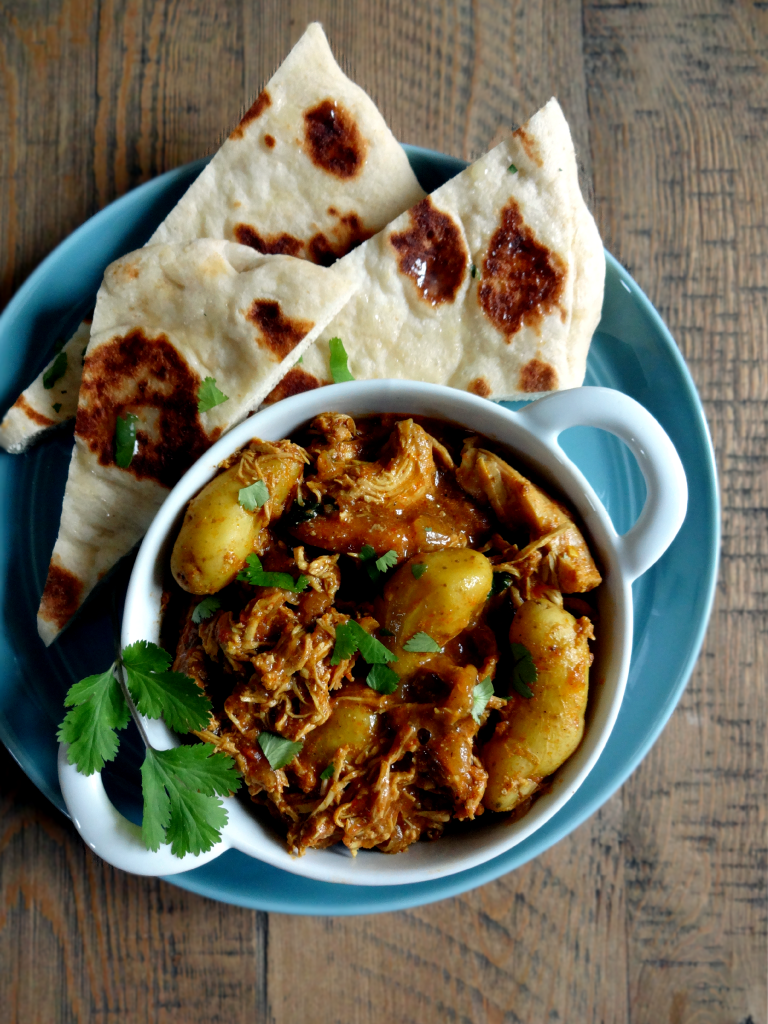 One should not live on bread alone. Otherwise, I'd subsist on carbs. But one can certainly plan a meal around bread – and in many cases, that's what I do. Take for instance the dinner I made yesterday. I felt like making homemade naan, so started searching for a saucy Indian dish to pair with it. I was also in the mood for meat, which narrowed down the list. Eventually, I settled on this creamy, tomato-based chicken and potato stew.
Don't let the long list of ingredients scare you. I used to avoid making Indian dishes for this exact reason. But once I built up my spice collection, I realized many of the recipes are within reach. (Whole Foods and Trader Joe's offer a nice variety of spices if you don't live near an ethnic or spice market.)
This stew is packed with flavor and heat, depending on how much cayenne pepper you add. Searing and then simmering the chicken in the sauce keeps the white meat tender and moist. And, like most stews, it tastes better the second day – if it lasts that long.
Recipe adapted from Seasons & Suppers.

Indian Spiced Chicken Stew
Makes 4 servings
Ingredients
3 tablespoons vegetable oil
3 large skin-on, bone-in chicken breast halves
sea salt and freshly ground black pepper, to taste
1 small onion, finely diced
4 garlic cloves, minced
1 tablespoon grated ginger
2 tablespoons tomato paste
2 teaspoons garam masala
2 teaspoons ground cumin
2 teaspoons ground turmeric
1½ teaspoons ground coriander
½ teaspoon cayenne pepper (more or less depending on how spicy you like your food)
¾ teaspoon ground cardamom
3 cups low-sodium chicken broth (plus more, for thinning)
¾ cup tomato purée (see notes*)
½ cup half-and-half (see notes**)
½ pound tiny fingerling potatoes
chopped cilantro, Greek yogurt, naan or cooked rice (for serving, optional)
Instructions
Warm vegetable oil in a large pot over medium heat. Season chicken with salt and pepper and place skin side down in the pot. Cook until golden brown without turning, 8-10 minutes. Transfer chicken to a plate.
To the same pot, add onion, garlic and ginger. Cook, stirring occasionally, until onion is soft and golden brown, about 8 minutes. Add tomato paste, garam masala, cumin, turmeric, coriander, cayenne pepper and cardamom. Cook, stirring often, until tomato paste begins to darken, about 4 minutes.
Nestle the seared chicken in the pot and pour the chicken broth, tomato purée and half-and-half on top. Season with salt and pepper, stir gently and bring to a boil. Reduce heat and simmer, partially covered, until chicken is almost falling off the bone and liquid is slightly thickened, about 1 hour. Remove the chicken from the pot and let cool slightly. Discard the skin and bones, shred the chicken into bite-sized pieces and return chicken to pot.
Add the potatoes and cook, partially covered, until they are fork tender and the sauce is thickened, 35-45 minutes. Stir occasionally to ensure the sauce hasn't thickened too much and potatoes aren't sticking to the bottom of the pot. If sauce is too thick, thin with a bit of chicken broth.
Sprinkle chopped cilantro over stew, and serve with a dollop of Greek yogurt and warm naan or steamed rice.
Notes
*If you can't find tomato purée, whir canned diced tomatoes in a food processor or blender until smooth.
**For a richer flavor, use heavy cream.