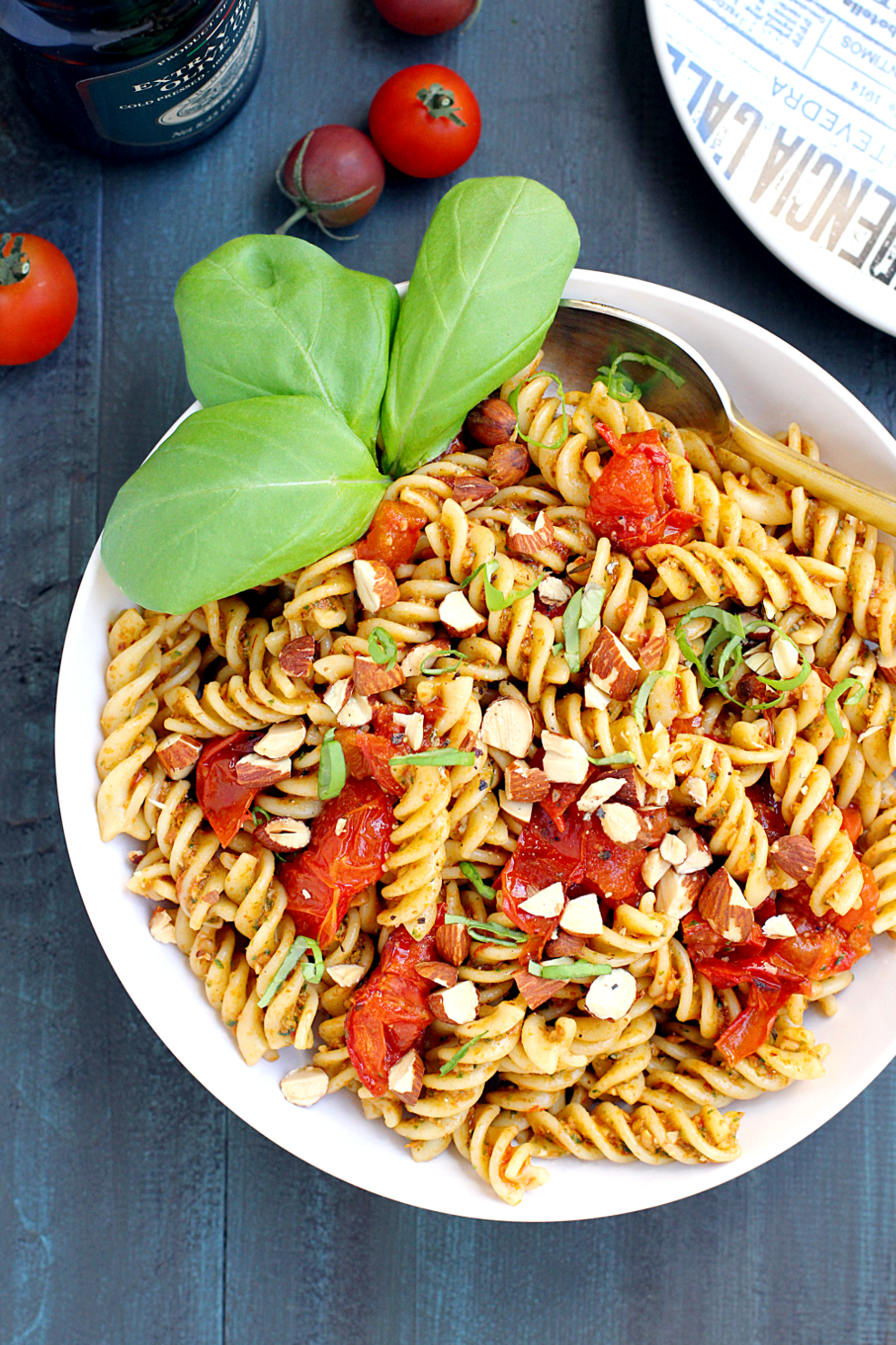 It's peak tomato season, and hence the perfect time to prepare this pasta with roasted tomato pesto! Pick up a bagful of Romas and some fresh basil on your next trip to the grocery store or farmers market, and you can whip up the recipe at your convenience.
Once you bake the tomatoes, assembly takes minutes. And the result? A simple yet satisfying dish that bursts with flavor. Serve pasta with roasted tomato pesto as a light meal or side to grilled chicken or shrimp. Or pack it up to bring to a picnic. The medley is delicious warm, at room temperature or slightly chilled – and tastes even better the day after it's made.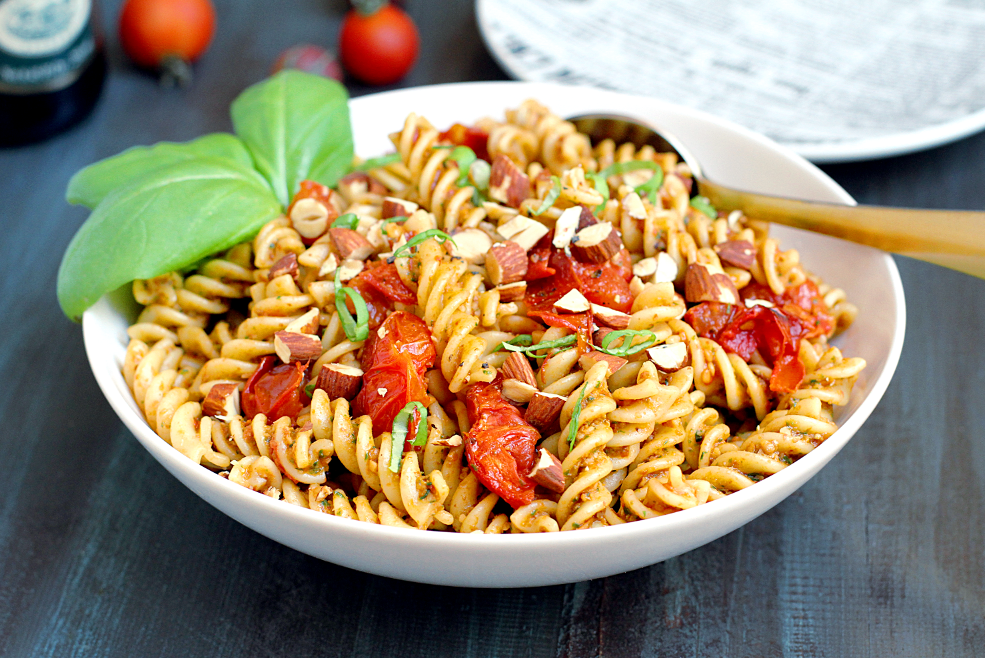 Recipe adapted from Oh She Glows.

Pasta with Roasted Tomato Pesto
Makes 4-6 servings
Ingredients
Roasted tomato pesto (see notes*):
9 large Roma tomatoes, cut in half lengthwise
1 tablespoon olive oil
1 teaspoon fresh thyme leaves
sea salt and freshly ground black pepper, to taste
½ cup tightly packed fresh basil, torn into small pieces
1 garlic clove
3 tablespoons chopped toasted almonds (see notes**)
2 tablespoons olive oil
1 tablespoon nutritional yeast (optional)
Remaining ingredients:
8 ounces short pasta, like rotini or casarecce
chopped toasted almonds, to taste
fresh basil, torn into small pieces, to taste
Instructions
Make the roasted tomato pesto:
Preheat oven to 400 degrees.
Place tomatoes on a baking sheet, cut side up, and drizzle with olive oil. Sprinkle on thyme and season with salt and pepper. Bake for 1 hour.
In a food processor or blender, purée basil, garlic, almonds, olive oil and nutritional yeast, if using. Add ¾ cup roasted tomatoes and purée. Roughly chop remaining roasted tomatoes and set aside.
Make the pasta:
Bring a large pot of water to a boil. Cook pasta until al dente according to package directions. Drain, reserving 1 cup cooking liquid.
Add about ½ cup pesto to the pasta and toss to coat. Add some of the reserved cooking liquid if pasta seems dry.
Add chopped roasted tomatoes and toss gently to combine. Season with salt and pepper to taste. Top with chopped toasted almonds and basil.
Notes
*You will have extra pesto after making the pasta; store it in an airtight container in the refrigerator for up to a week or in the freezer for up to a month.
**To toast raw almonds, cook them in a fry pan over medium-low heat, stirring occasionally, until fragrant, about 5 minutes. Let cool and then chop.
If you liked this recipe, you might also enjoy: