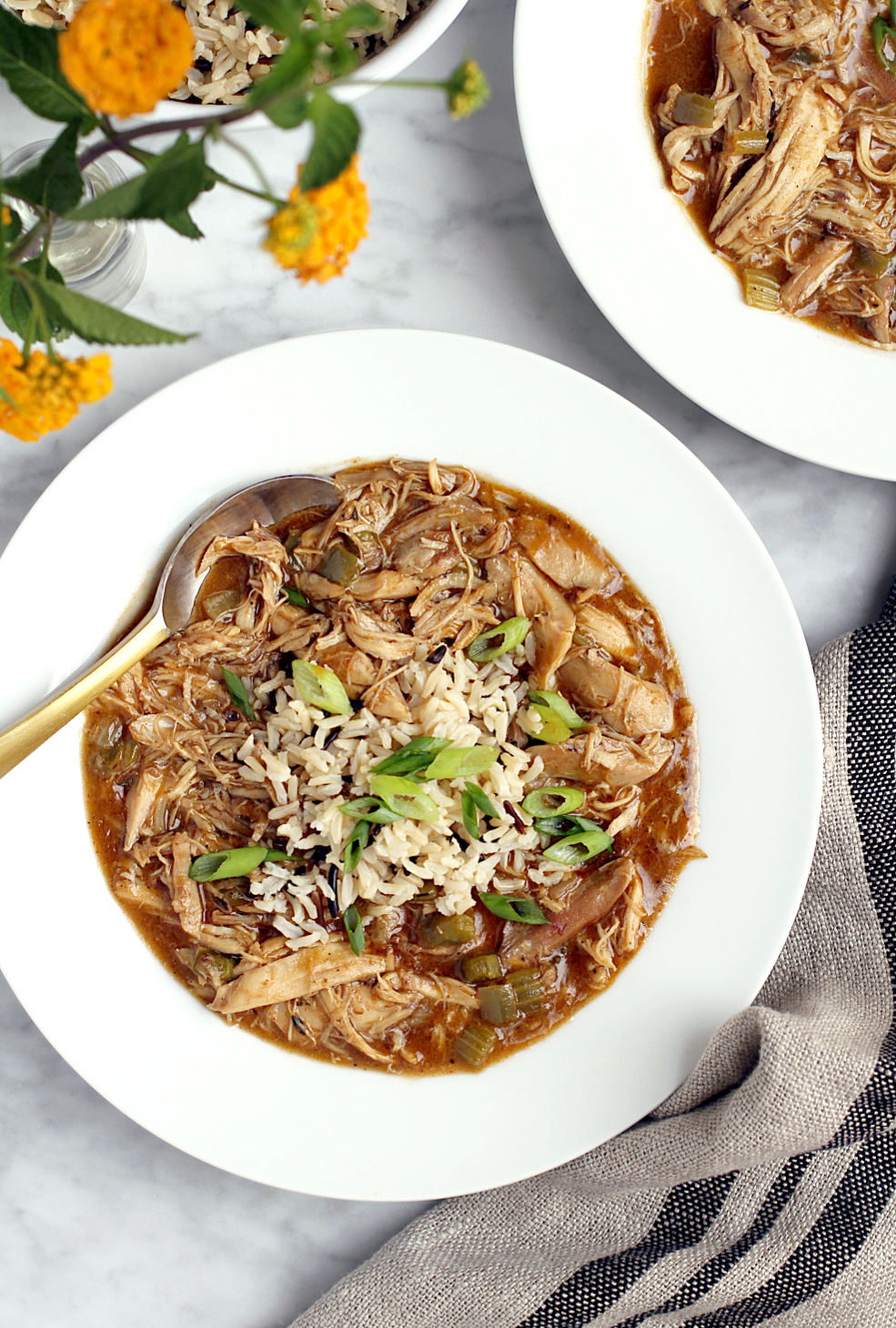 Have seven hours to spare? If you're craving a home-cooked meal and don't mind spending half the day in the kitchen, you should make this pastured chicken gumbo with wild rice.
Why pastured chicken gumbo? To be honest, I've never handled pasture-raised poultry and wouldn't normally seek it out. But Belcampo Restaurant & Butcher Shop Larkspur had a buy one, get one promotion that was too good to pass up. The hitch? I had no idea what to do with them.
Then I stumbled across Shaun Doty's pastured chicken gumbo recipe, and my problem was solved. It's labor intensive but well worth the effort. If you'd like, split up the work by preparing the broth one day and finishing the dish the next. Pastured chicken gumbo freezes well, too, which means you can enjoy some immediately and save the rest for later.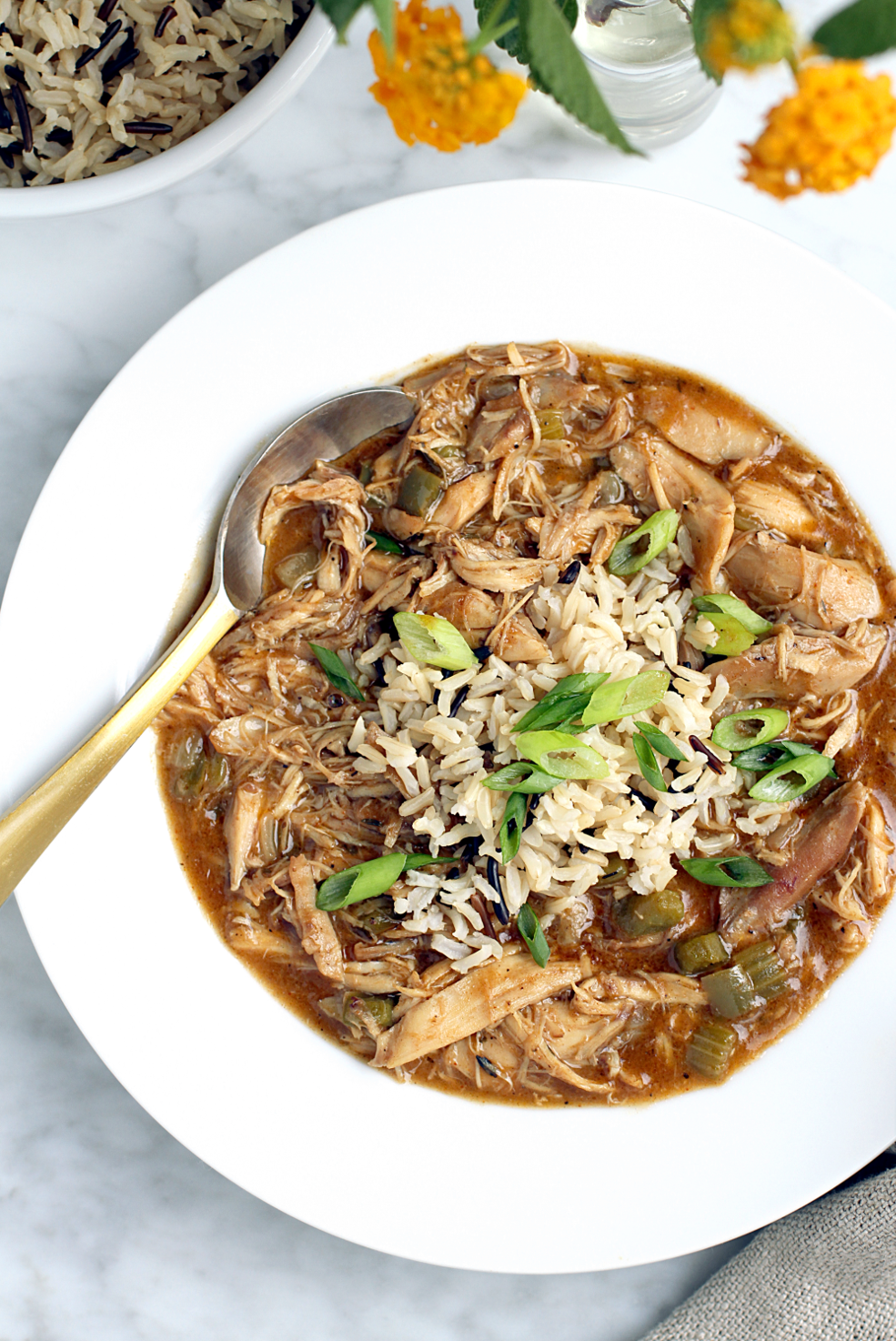 Recipe adapted from The Local Palate.

Pastured Chicken Gumbo with Wild Rice
Makes 8-10 servings
Ingredients
Broth:
2 whole pastured chickens (about 3 pounds each, see notes*)
1 small onion, cut into 1" pieces
1 stalk celery, cut into 1" pieces
1 carrot, cut into 1" pieces
2 bay leaves
Gumbo:
¾ cup chicken fat and/or avocado oil (see notes**)
1 cup all-purpose flour
1½ cups diced onion
1½ cups diced celery
1½ cups diced green bell pepper
2 teaspoons garlic powder
2 teaspoons onion powder
2 teaspoons dried thyme
2 teaspoons Creole or Cajun seasoning
2 teaspoons smoked paprika
2 teaspoons freshly ground black pepper
½ teaspoon cayenne pepper
2 bay leaves
2 teaspoons gumbo filé
sea salt, to taste
cooked wild rice, for serving
thinly sliced green onions, for serving
Instructions
Make the broth:
Place chickens in a large stock pot. Fill pot with just enough cold water to cover the chickens. Bring to a boil, skimming off any scum that rises to the top.
Add onion, celery, carrot and bay leaves. Reduce heat to medium-low, cover and simmer for 3 hours.
Remove chicken from broth and place on a baking sheet to cool. Remove the meat from the bones and shred any large pieces into bite-size morsels. Discard the bones and skin.
Strain broth through a fine-mesh sieve; discard vegetables and bay leaf. Skim off any fat that has risen to the top and transfer to a small bowl.
Make the gumbo:
In a large stock pot, combine the chicken fat or avocado oil and flour. Cook over low heat, stirring constantly, until the mixture is milk chocolate colored, 30-40 minutes.
Add onion, celery, bell pepper, garlic powder, onion powder, thyme, Creole or Cajun seasoning, smoked paprika, black pepper and cayenne pepper. Cook, stirring occasionally, for 5 minutes.
Add two quarts broth and bay leaves. Bring to a boil. Reduce heat to medium-low and simmer for 1 hour.
Add shredded chicken to pot and cook, stirring occasionally, for 30 minutes.
Add gumbo filé and season with salt to taste. Serve with wild rice and garnish with green onions.
Notes
*If you can't get your hands on pasture-raised chickens, any kind will do. The final product will have a milder flavor, but it will be delicious, I'm sure.
**I used the reserved chicken fat and added enough avocado oil to measure ¾ cup.
If you liked this recipe, you might also enjoy: