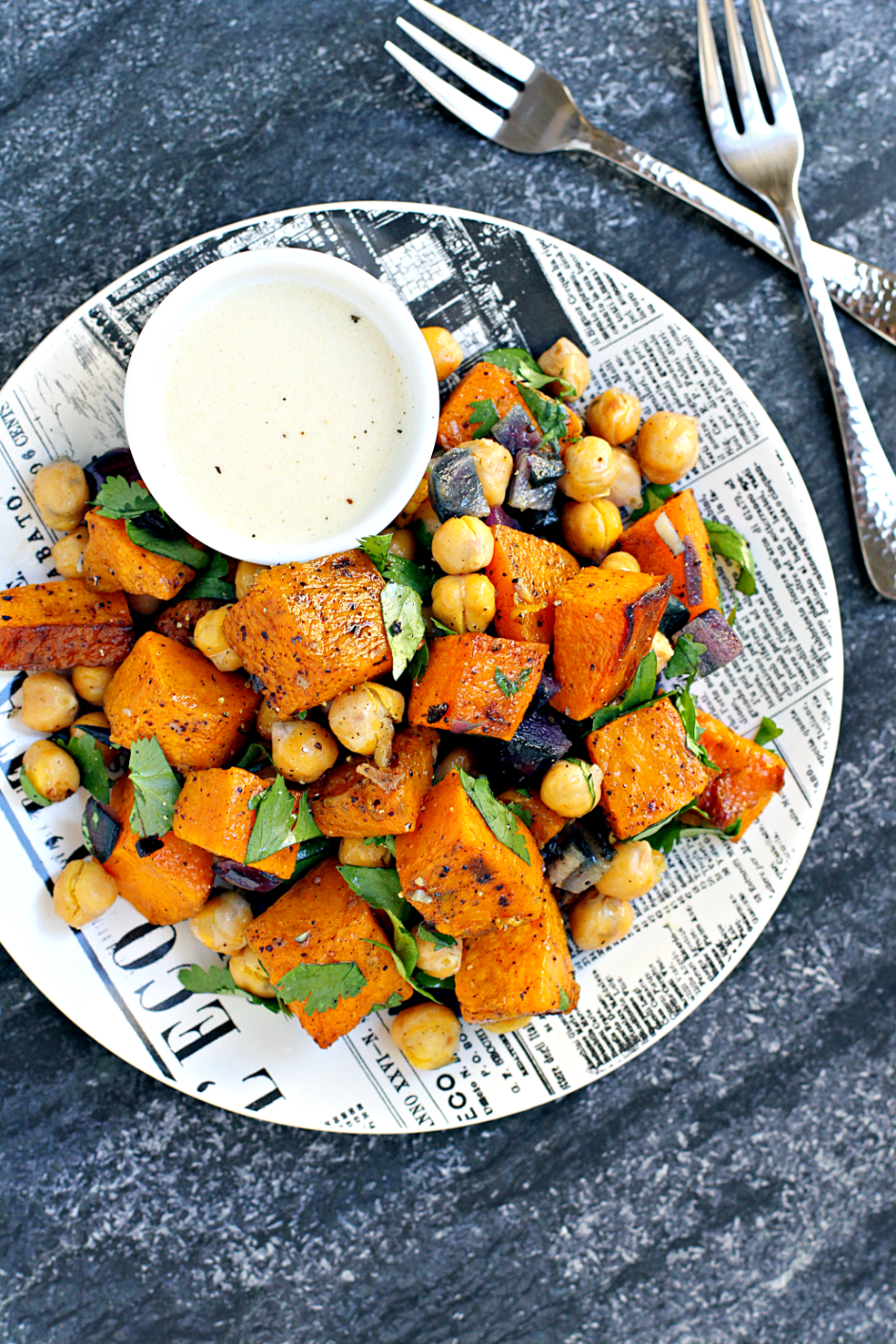 Spring may be in full swing, but I'm still working with winter squash in my kitchen. So what if peak season has passed? I'll gladly fix and feast on the beloved ingredient any day of the year.
This roasted squash and chickpea medley is a riff on one of Deb Perelman's creations. The second I saw a photo of the dish on Instagram, I bookmarked the recipe and put it at the top of my "Things to Cook" list. I tackled the task on Sunday and have been enjoying the fruits of my labor ever since.
The main difference between Deb's version and mine? I lightly roast the chickpeas and red onion to remove moisture and sharpness versus leaving them raw. And I dress the mixture just before serving.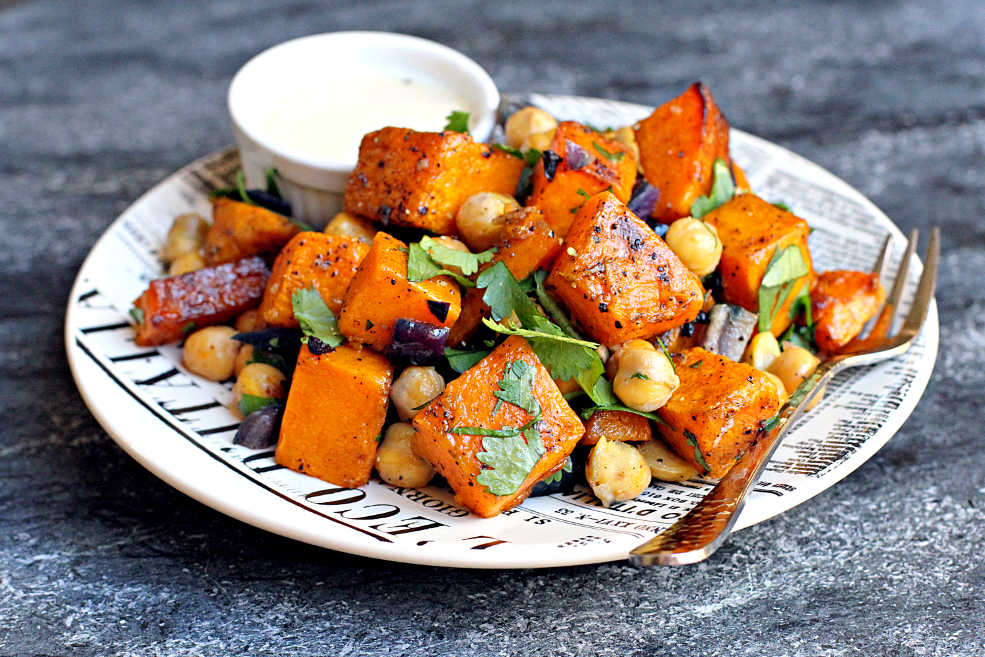 Recipe adapted from Smitten Kitchen.

Roasted Butternut Squash and Chickpeas with Tahini Dressing
Makes 6 servings
Ingredients
Salad:
1 medium butternut squash, peeled, seeded and cut into 1½" cubes
1 garlic clove, minced
2 tablespoons olive oil, divided
½ teaspoon ground allspice
1 15 oz. can chickpeas, rinsed and drained
sea salt and freshly ground black pepper
½ small red onion, diced
¼ cup chopped fresh cilantro
Dressing:
3 tablespoons tahini
¼ cup freshly squeezed lemon juice
1 garlic clove, minced
1 tablespoon olive oil
1-2 tablespoons water
Instructions
Make the salad:
Preheat oven to 425 degrees. Place butternut squash and garlic on a baking sheet. Drizzle with 1 tablespoon olive oil, season with allspice and toss to coat. Spread squash in a single layer.
Pat the chickpeas dry with paper towels. Place on a separate baking sheet and drizzle with remaining 1 tablespoon olive oil. Season with salt and pepper and toss to coat.
Bake butternut squash and chickpeas at the same time, removing chickpeas from the oven after 15 minutes. Remove butternut squash from the oven and stir gently. Bake for an additional 10 minutes and remove from the oven. Add onion, toss gently with butternut squash and bake for an additional 5 minutes or until vegetables are caramelized and fork tender.
In a large bowl, combine the roasted chickpeas and vegetables. Add cilantro and toss gently to combine. Season with salt and pepper to taste.
Make the dressing:
In a small bowl, combine the tahini, lemon juice, garlic and olive oil; stir until smooth. Add water, one tablespoon at a time, for a thinner consistency, if desired.
To serve, drizzle dressing over salad and toss to combine. Or let guests serve themselves and dress the salad to their liking.
If you liked this recipe, you might also enjoy: