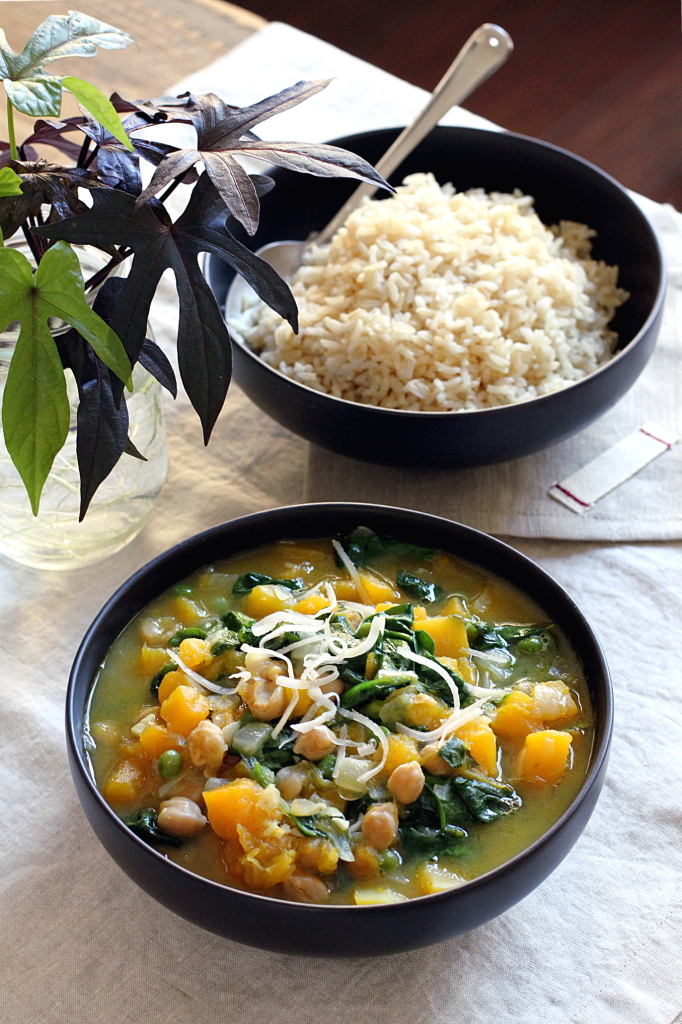 It's official. I bought my first butternut squash of the season. And I promise it will not be the last. Butternut squash is one of my absolute favorite ingredients to prepare. It's sturdy, versatile, and stunning raw or cooked.
This butternut squash and chickpea curry is warm and comforting, perfect for a brisk fall day. Like two-bean turkey chili, it's an effortless one-pot dish that can be made in a little over an hour. I like that the curry flavor is subtle, too, so the sweetness of the squash and coconut milk sings through. Serve it with hot Basmati rice or, better, homemade naan to sop up the delicious sauce.
Have a favorite winter squash recipe? Let me know! I'm always looking for new ways to use this pretty produce.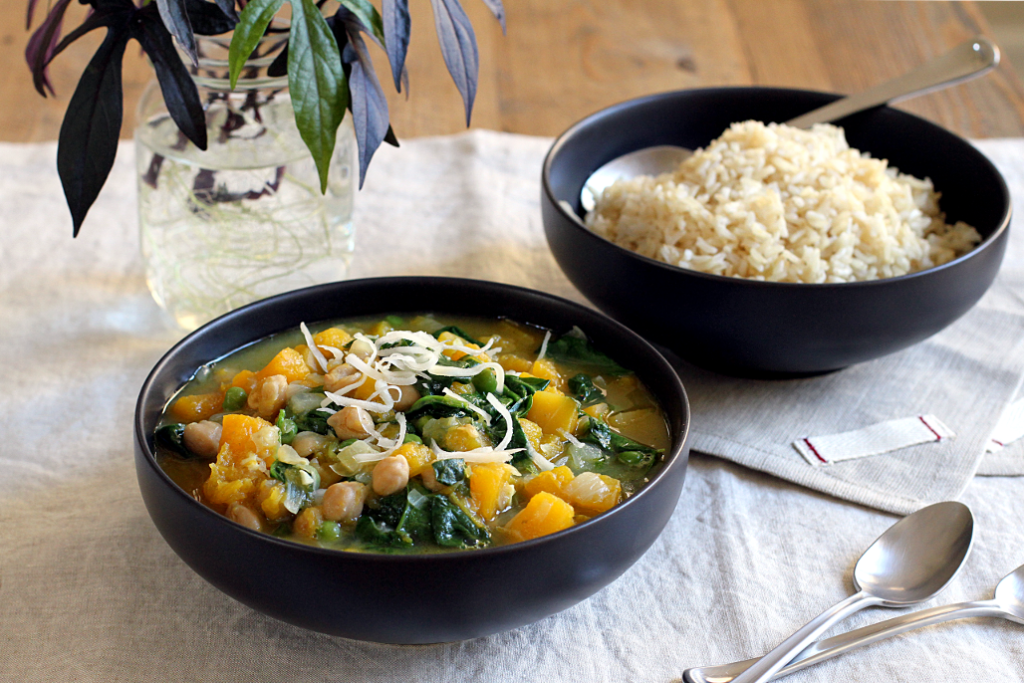 Recipe adapted from Vikalinka.

Butternut Squash and Chickpea Curry
Makes 6-8 servings
Ingredients
1 tablespoon olive oil
2 onions, diced
4 garlic cloves, minced
1 bunch fresh cilantro, stalks and leaves separated, stalks reserved
2 tablespoons green curry paste
1 medium butternut squash, peeled, seeded and cut into ½" cubes
1 15 oz. can chickpeas, rinsed and drained
1 14 oz. can coconut milk
½ teaspoon salt, plus more, to taste
2 cups water
½ cup frozen peas
4 cups tightly packed spinach leaves
shredded coconut (for topping, optional)
Basmati rice, cooked according to package directions (for serving, optional)
Instructions
In a large pot, warm oil over medium heat. Add onions, garlic and cilantro stalks and cook, stirring occasionally, until onions have softened, about 10 minutes.
Add curry paste and cook, stirring constantly, for 1 minute. Then add butternut squash, chickpeas, coconut milk, water and ½ teaspoon salt. Bring to a boil. Then reduce heat to low, cover and simmer until squash is tender, 35-40 minutes.
Uncover and continue simmering until the liquid reduces and curry reaches desired consistency. (This can take up to 20 minutes.) Then stir in peas, spinach and cilantro leaves.
Remove from heat and fish out cilantro stalks, if desired. (It's not necessary, but they are a bit stringy.) Season with additional salt to taste.
Sprinkle with shredded coconut, if using. Serve with hot Basmati rice.