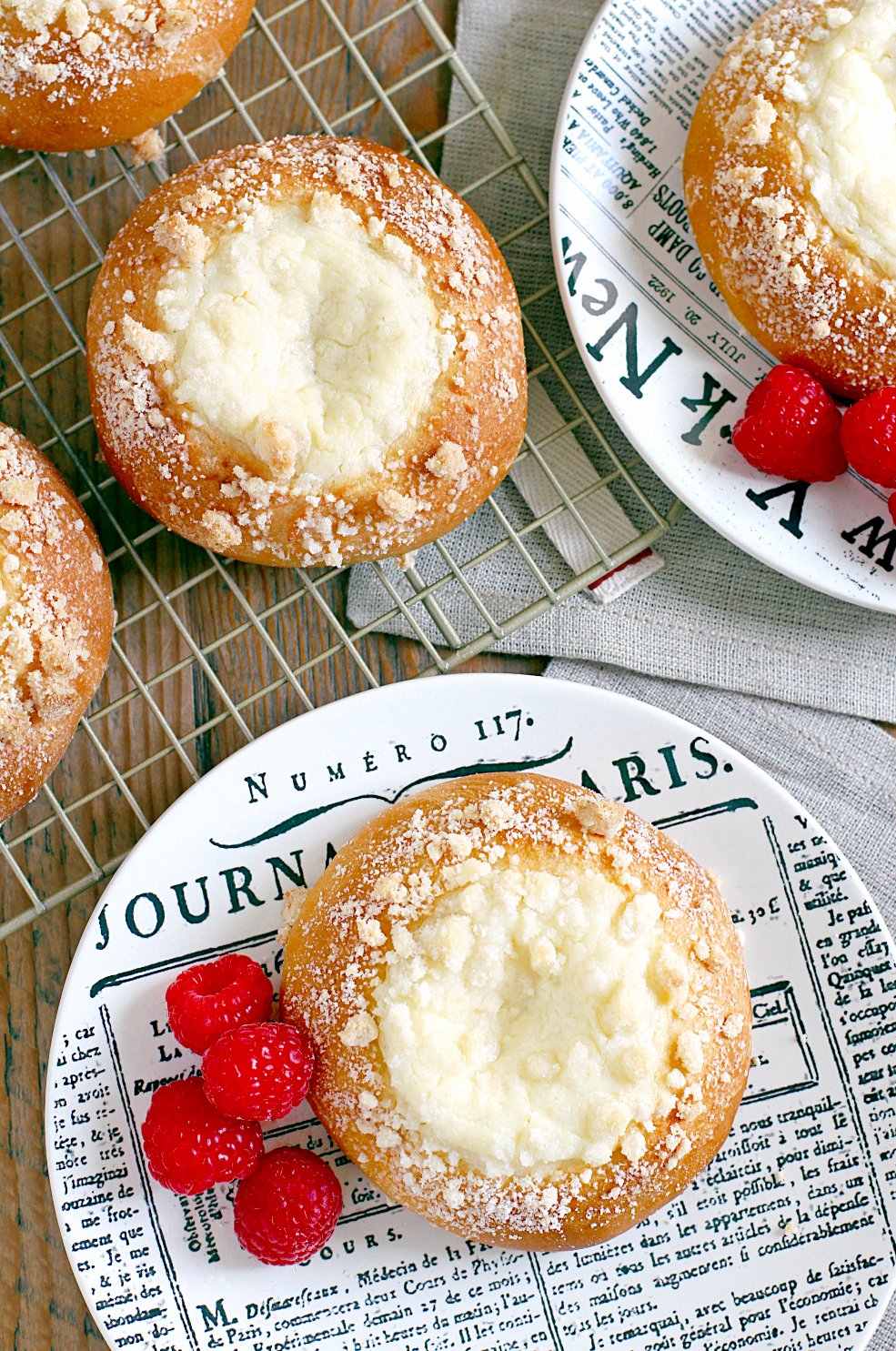 It's been a busy month, so it was nice to spend Sunday at home, baking cottage cheese kolaches with Rookie at my side. What inspired me to make these pretty Czech pastries featuring a sweet yeast dough, creamy filling and crumb topping?
Well, the kind folks at Nancy's sent me coupons so I could taste and experiment with some of their products. And that's just what I did!
On a recent trip to Whole Foods, I picked up a tub of Nancy's organic cottage cheese on a whim. After browsing for recipes online, I settled on cottage cheese kolaches – because who can resist a soft, buttery bun stuffed with a tangy, vanilla-scented filling?
Cottage cheese kolaches are best enjoyed warm from the oven. If you can't manage to eat them all in a day, store any leftovers in the freezer.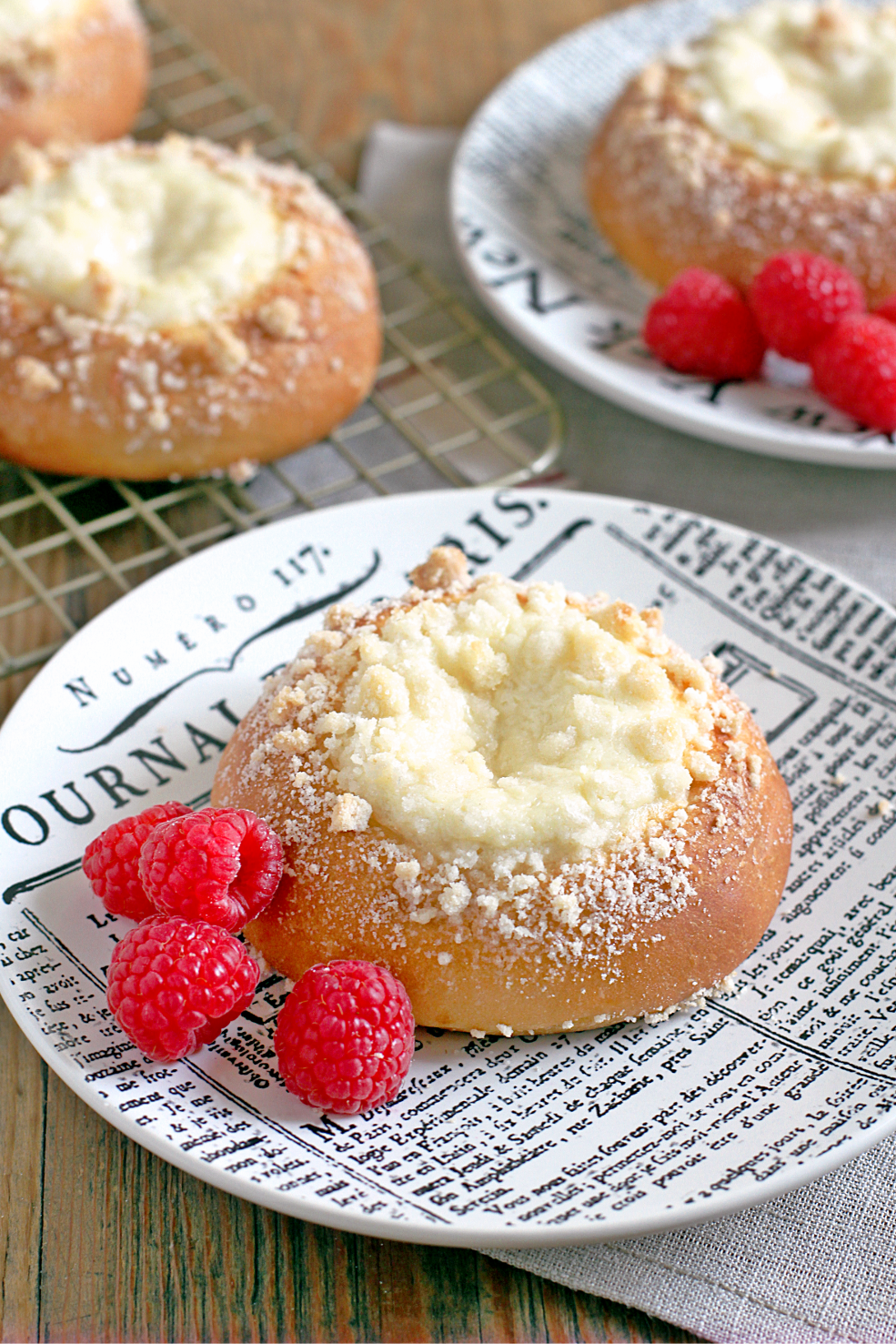 Recipe adapted from Saveur.

Cottage Cheese Kolaches
Makes 6 kolaches
Ingredients
Dough:
6 tablespoons milk
¼ cup water
1⅛ teaspoons active dry yeast
2 teaspoons sugar, divided
2 tablespoons unsalted butter, softened
½ egg yolk
¼ teaspoon sea salt
1¾ cups all-purpose flour
Filling:
¼ cup cottage cheese
1 ounce cream cheese, room temperature
1½ tablespoons sugar
½ egg yolk
⅛ teaspoon vanilla extract
Crumb topping:
½ tablespoon unsalted butter
2 tablespoons all-purpose flour
2 tablespoons sugar
Finish:
½ tablespoon unsalted butter
Instructions
Make the dough:
In a large bowl, heat milk and water until warm - about 30 seconds in the microwave should do. Add the yeast and ½ teaspoon sugar. Whisk together until thoroughly combined and let sit until foamy, about 10 minutes.
Meanwhile, in a small bowl, combine the butter and remaining 1½ teaspoons sugar and stir until smooth. Add the egg yolk and salt and stir to combine.
Add the butter mixture and 1½ cups flour to the milk mixture and stir to combine. Continue adding flour, 1 tablespoon at a time, until dough comes together to form a shaggy ball; it should be tacky but not sticky. Then knead the dough by hand (or with a dough hook attachment) until it's smooth and elastic - this will take about 5 minutes (or less if using a stand mixer). Shape dough into a ball and place in a lightly oiled bowl, cover and let it rise until doubled in size, about 1 hour. While the dough is rising, prepare the filling and crumb topping.
Make the filling:
In a food processor or blender, purée all the filling ingredients. Refrigerate until ready to use.
Make the crumb topping:
Melt the butter in a small bowl. Add the remaining ingredients and stir until well combined. Transfer to the freezer.
Shape and bake the buns:
Line a baking sheet with parchment paper.
After the dough has risen, punch it down and divide into 6 equal pieces. Gently shape each piece into a ball and arrange 3 inches apart on the prepared baking sheet. Cover buns with a clean kitchen towel and let rise until slightly puffed, about 30 minutes.
Preheat oven to 375 degrees.
Brush tops of buns with melted butter. Using the back of a tablespoon, create an indentation in the center of each bun. Distribute the filling among the indentations.
Sprinkle the chilled crumb topping over the filling.
Bake for 20-25 minutes until golden.
If you liked this recipe, you might also enjoy: