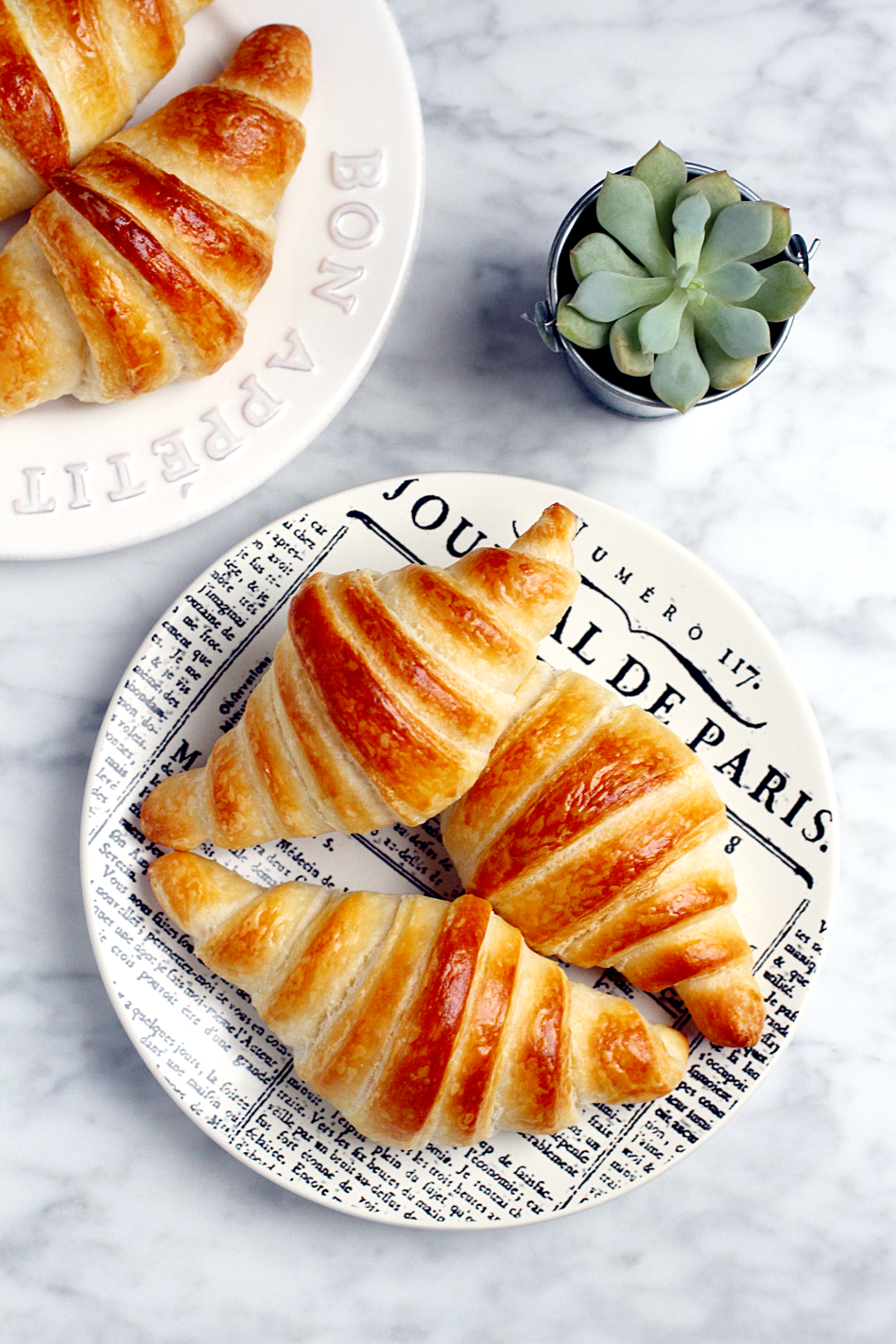 Few things in life are as satisfying as baking bread from scratch – and enjoying the fruits of your labor. So you can imagine how happy I was when these light and airy homemade crescent rolls emerged from the oven. Not only did the buns look and smell amazing, but they tasted good, too.
As the name implies, light and airy homemade crescent rolls are pillowy soft and super fluffy. In fact, they literally melt in your mouth (unlike the kind that comes from a can). While the recipe takes a few hours to prepare, the effort is well worth it.
Serve homemade crescent rolls with bacon and eggs for breakfast or as an accompaniment to soup and salad. They'd also work well as part of a brunch or dinner spread.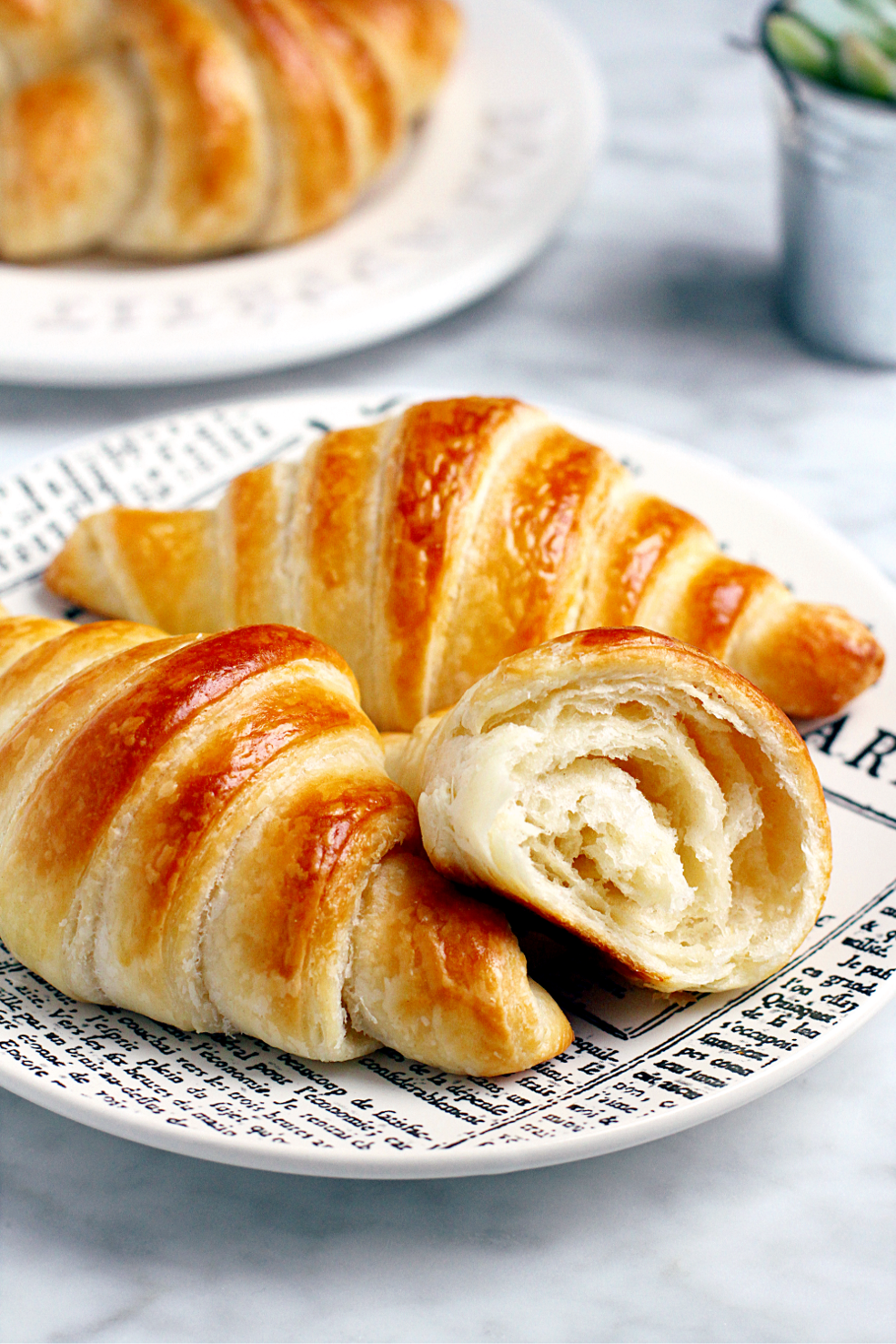 Recipe adapted from Half Baked Harvest.

Light and Airy Homemade Crescent Rolls
Makes 16 rolls
Ingredients
Dough:
¼ cup water
2¼ teaspoons active dry yeast
2 teaspoons sugar
¾ cup warm milk
1 egg
1 tablespoon unsalted butter, softened
1 teaspoon salt
3 cups all-purpose flour
Filling and finish:
8 tablespoons unsalted butter, softened
1 egg, lightly beaten
Instructions
Make the dough:
In a large bowl, heat water until warm - about 30 seconds in the microwave should do. Add the yeast and sugar. Whisk together until thoroughly combined and let sit until foamy, about 10 minutes.
Add the milk, egg, butter, salt and flour to the yeast mixture, stirring everything until it comes together to form a shaggy ball. Then knead the dough by hand (or with a dough hook attachment) until it's smooth and elastic - this will take about 10 minutes (or less if using a stand mixer). Shape dough into a ball and place in a lightly oiled bowl. Cover and transfer to the refrigerator to chill for 30 minutes.
Shape and bake the rolls:
After the dough has chilled, turn it out onto a lightly floured work surface. Roll out dough to a ¼"-thick rectangle.
Spread butter in an even layer over the top of the dough, leaving a 1" border around the edges. Fold into thirds, like a business letter. Wrap in plastic and transfer to the freezer to chill for 10 minutes.
Roll out dough to a ⅓"-thick rectangle. Fold into thirds, like a business letter. Wrap in plastic and transfer to the freezer to chill for 10 minutes. Repeat the process 2 more times, flouring your work surface as necessary to prevent sticking. (See notes.)
Line a baking sheet with parchment paper.
Cut dough in half crosswise. Roll one portion of dough into a ¼″-thick rectangle.
Cut dough crosswise into 4 equal-sized strips. Cut each strip diagonally to make 2 triangles, for a total of 8 triangles.
Starting at the short end of each triangle, roll up dough toward point. Transfer to the prepared baking sheet with the point tucked under the roll. Repeat with second piece of dough. Cover rolls with a piece of plastic wrap and let rise until puffy, about 1 hour.
When rolls have almost finished rising, preheat oven to 400 degrees.
Gently brush tops of rolls with the beaten egg.
Bake rolls until golden brown, about 12-15 minutes.
Notes
At this point, you can proceed with the recipe or wrap the dough in plastic and store it in the refrigerator for up to 3 days.
If you liked this recipe, you might also enjoy: