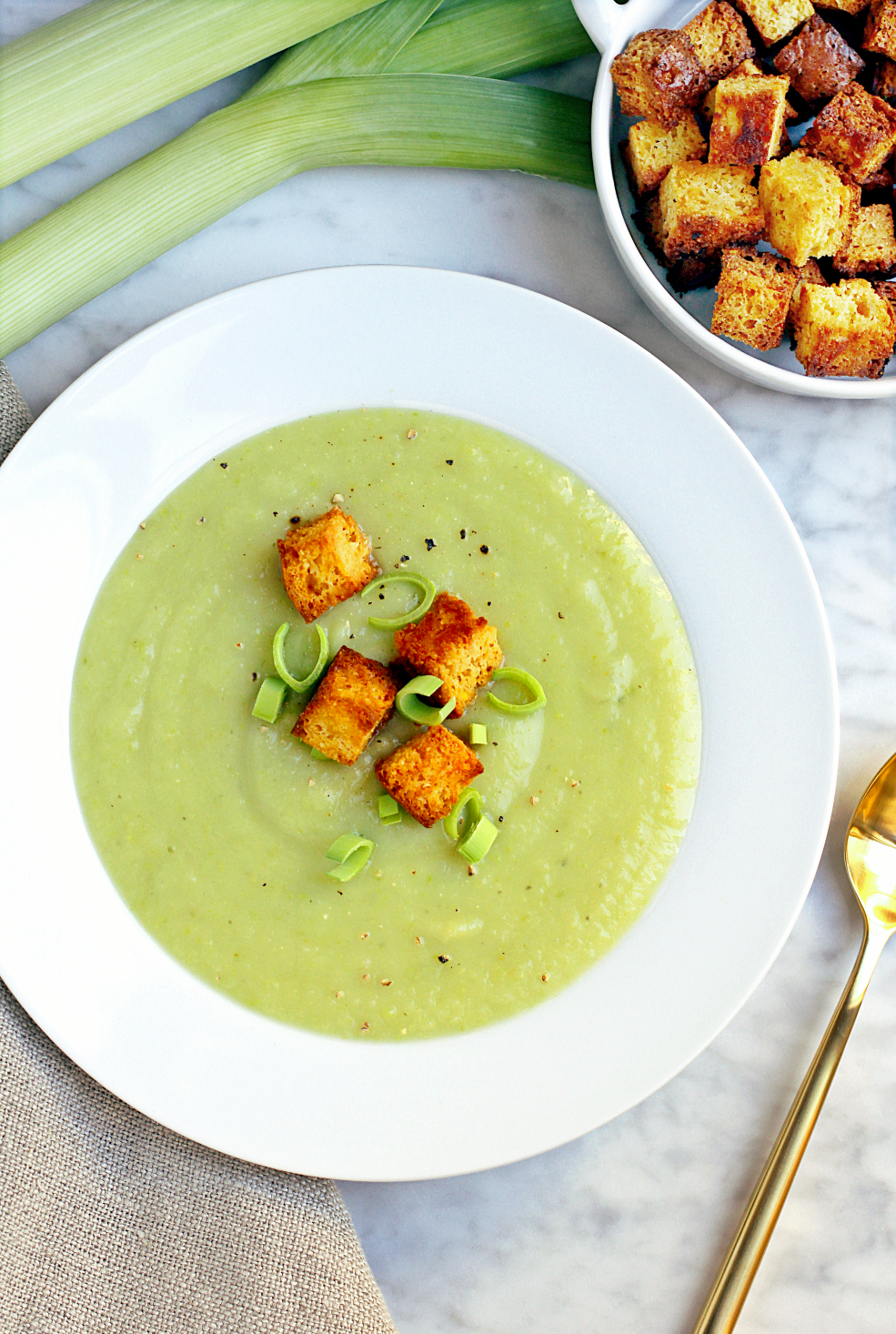 When I was browsing the Ferry Plaza Farmers Market on Saturday, I spotted some leeks at the Dirty Girl Produce stall that were too pretty to pass up. So I bought a big bunch (for just three bucks) and went about my way.
Apparently, I wasn't the only one who was intrigued; two people stopped me in my tracks to say how gorgeous they were. And when I visited the San Francisco Fish Company in the Ferry Building, an employee asked, "What're you gonna do with all those leeks?"
My response: "Make soup!" And that's exactly what I did. The following morning, I whipped up a batch of creamy leek and potato soup – and have been enjoying it for dinner ever since.
The recipe calls for a short list of ingredients and takes less than 30 minutes to prepare. Despite its simplicity, leek and potato soup is delicious to the last drop. For a little crunch, sprinkle a few cornbread croutons on top.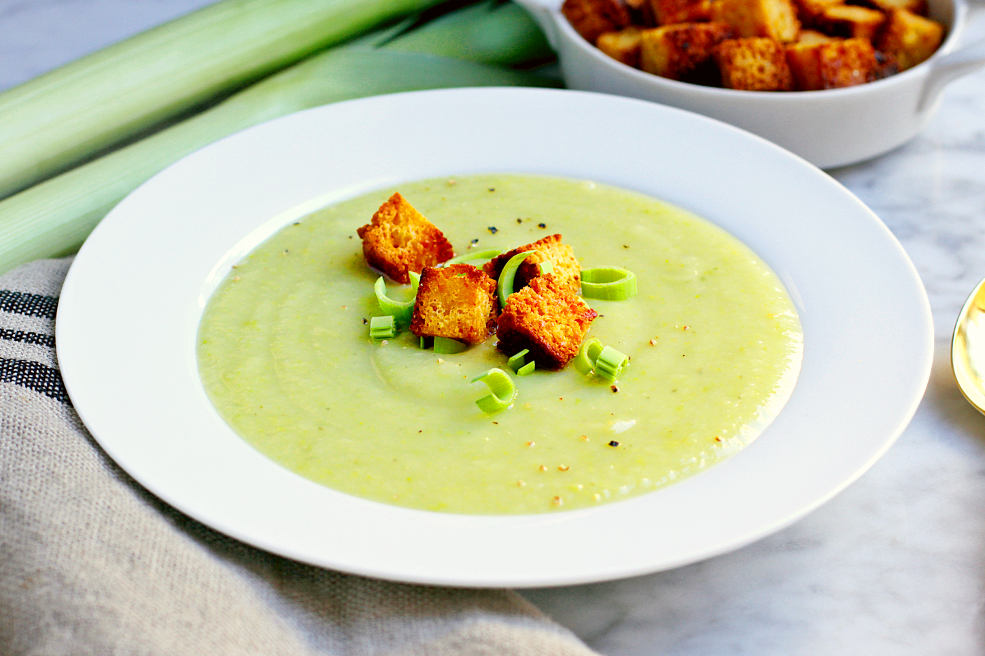 Recipe adapted from The View from Great Island.

Creamy Leek and Potato Soup
Makes 4-6 servings
Ingredients
4 tablespoons garlic and herb butter (see notes*)
2 leeks (white and light green parts only), halved lengthwise, thinly sliced and rinsed
1 onion, diced
2 russet potatoes, peeled and diced
3½ cups chicken broth
½ cup frozen peas
sea salt and freshly ground black pepper, to taste
cornbread croutons (for serving, optional, see notes**)
Instructions
Melt butter in a large pot. Add leeks, onion and potatoes and cook, stirring occasionally, until tender, about 10 minutes.
Add chicken broth, stir and bring to a boil. Reduce heat to medium-low, cover and simmer until vegetables are tender, about 15 minutes.
Add peas and cook for 1 minute.
Remove soup from heat and purée. Season with salt and pepper to taste. Top with cornbread croutons, if using.
Notes
*I used
Kerrygold Garlic & Herb Butter
, but you can substitute unsalted butter if it's more convenient.
**To make croutons, preheat oven to 350 degrees. Cut cornbread into ¾" cubes and spread in a single layer on a baking sheet; I used
leftover cornbread
that I found in the freezer and defrosted, but a store-bought loaf will do. Bake for 20 minutes, stirring halfway through. Turn off oven and leave cornbread in oven for 30 minutes. Let croutons cool completely before using.
If you liked this recipe, you might also enjoy: