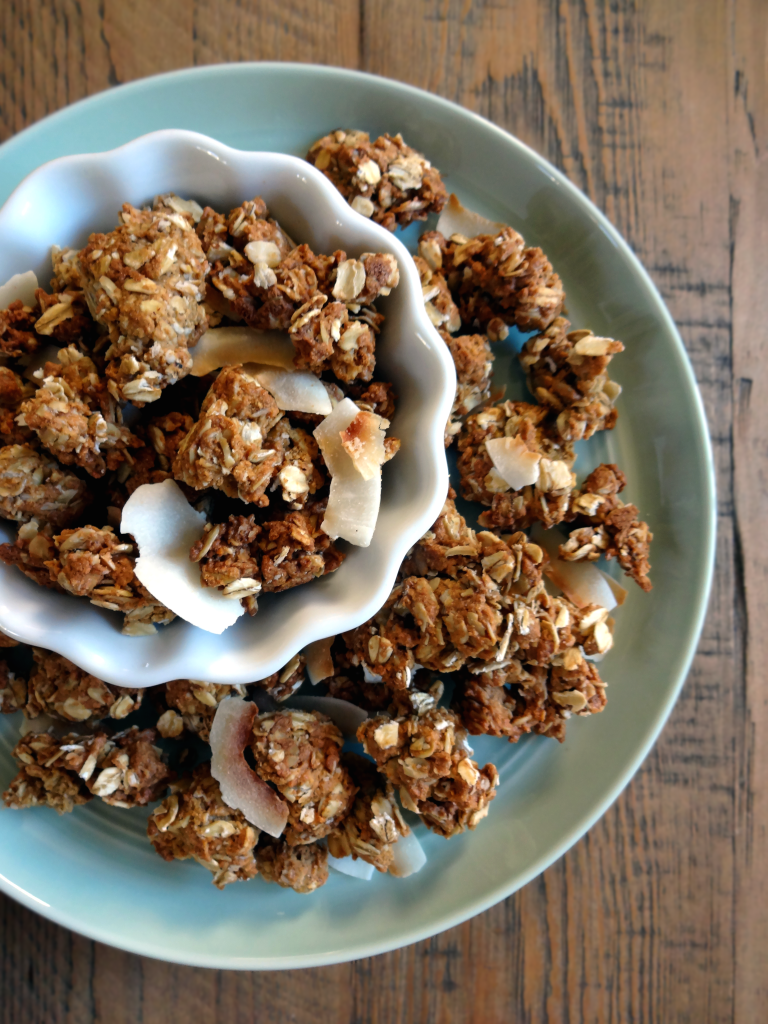 Move over cronut, donart and doughscuit. There's a new hybrid treat in town. And I guarantee it's no passing fad (at least in our household). Meet cranola – aka cookie granola – a Two of a Kind creation. It's crispy and crunchy and extremely addictive. Healthy, it's not – but when it comes to sweets, who's really calorie-counting?
Granola is one of my go-to snacks. I'm partial to the cherry vanilla granola from the bulk aisle at Whole Foods. But I'll eat just about any kind – plain and sprinkled over yogurt, fruit or overnight oatmeal with chia seeds. No matter the flavor, I'm all about the clumps. I'll scoop strategically when buying aforementioned granola just to avoid all the loose crumbly bits that settle at the bottom of the bin.
The beauty of this recipe, aside from the cookie-dough infused flavor, is the option to make your clumps as big as you want them to be. And they don't fall apart when baked and stored – they're quite sturdy. Just remember the bigger you make the clumps, the fewer there will be. I prefer walnut- and grape-sized clusters as a snack or topping.
If you've ever made granola, you know it's as easy as dumping all the ingredients in a bowl at once and stirring. Cranola requires the additional step of creating a cookie dough base. It's what allows for the wonderful clumping. Once the dough is ready, you add a heaping portion of rolled oats and, using your hands, combine everything as if making meatballs. When all the oats are covered with cookie dough, into the oven it goes.
You can use just about any cookie recipe to make cranola – chocolate chip, snickerdoodle, even funfetti. Since I've been on a coconut oil kick, I developed a "heart-healthy" version with whole wheat flour and a dash of cinnamon. You can substitute butter and white flour and get the same delicious result.
Next time you're craving something sweet, make a batch of cranola – and then let me know what you think! Maybe one day I'll try to patent it and apply to be on Shark Tank – wink, wink.

Whole Wheat Cinnamon Coconut Cookie Granola
Makes about 4 cups
Ingredients
¼ cup coconut oil, room temperature
½ cup light or dark brown sugar
1 large egg
½ teaspoon vanilla extract
1 cup white whole-wheat flour
½ teaspoon ground cinnamon
½ teaspoon baking soda
¼ teaspoon salt
2½ cups rolled oats
½ cup unsweetened coconut flakes
Instructions
Preheat oven to 350 degrees. Line a baking sheet with parchment paper or a silicone baking mat.
In the bowl of a stand mixer fitted with a paddle attachment, or in a bowl with a hand-held mixer, beat the coconut oil and sugar on high speed until smooth and creamy, about 3 minutes. Add the egg and vanilla extract and beat until well combined.
Add the flour, cinnamon, baking soda and salt and mix until just combined. Then add the oats and stir with a wooden spoon. When the ingredients start to come together, use your hands to continue mixing until all the oats are covered with dough.
Squeeze off chunks of dough and loosely break them apart over the baking sheet, creating large clumps.
Bake the cranola for 15 minutes, remove from the oven and stir gently. Bake for an additional 10 minutes, remove from the oven, sprinkle on coconut flakes and stir gently. Bake for an additional 5-10 minutes until clumps are dry and coconut is toasted.
Remove the baking sheet from the oven and let the cranola cool completely. It will harden as it cools.
Store cranola in an airtight container at room temperature for up to a week, if it lasts that long.