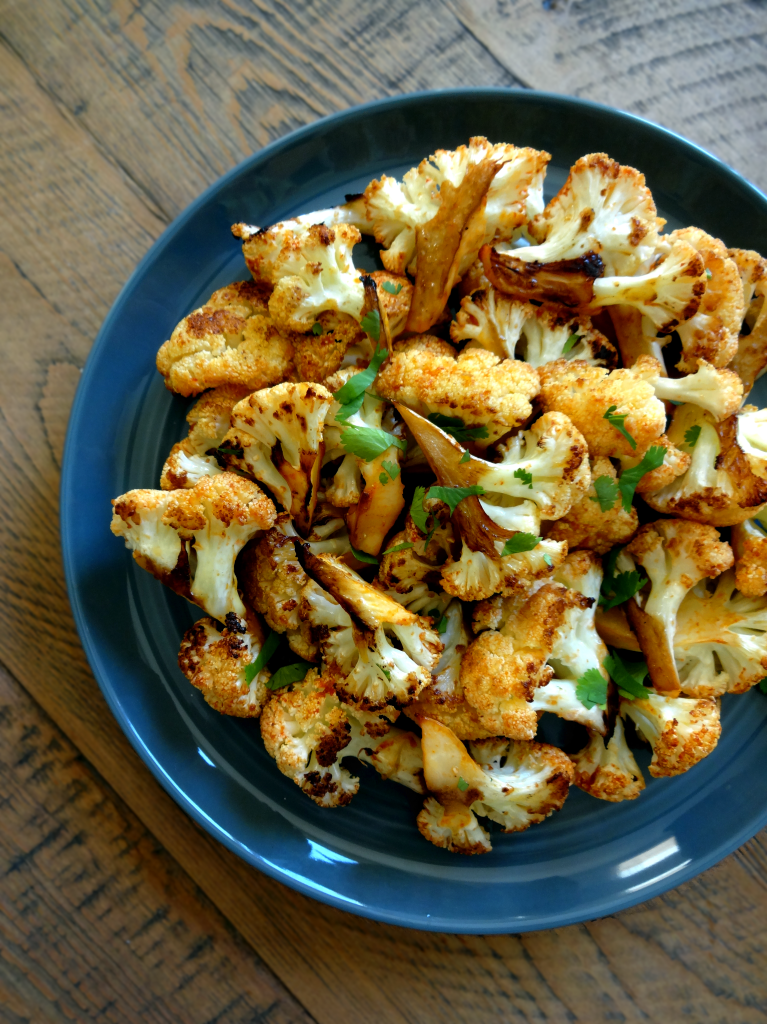 I love vegetables, especially when they're tossed in olive oil, seasoned and baked at high heat. There's something about the caramelized, crispy exterior and creamy interior that makes them irresistible. In the fall and winter, I'll roast chunks of winter squash (acorn, butternut, kabocha) with smashed garlic cloves, salt and pepper. If I feel like it, I'll thrown in some fresh or dried herbs. And in the spring and summer, I'll do the same with whatever is in season: asparagus, eggplant, tomatoes, zucchini. Potatoes (sweet, red, gold, fingerling), carrots and onions get the treatment year-round.
But broccoli and cauliflower are two vegetables that have never appealed to me. It's not that I don't enjoy them in stir-fry, with pasta, etc., but I don't seek them out voluntarily. The other day, my mom and dad stopped by to visit Rookie and drop off two big bags of groceries. (Apparently, the fruit and veggies aren't as fresh and cheap where I shop – and my mom claims it's fun to scout deals and share her findings with me. Who am I to argue?) Among the strawberries, snap peas and baby aubergines was a bag of washed and cut-up cauliflower waiting to be eaten.
Consuming it raw was not an option. (Who does that?) And so I found this spicy, Asian-inspired recipe for roasted cauliflower, featured in Bountiful, a cookbook by White on Rice Couple's Todd Porter and Diane Cu. It does not disappoint. I ate the entire batch in a few sittings. And it's made a cauliflower devotee out of me.
Recipe adapted from White on Rice Couple.

Sriracha Roasted Cauliflower
Makes 2 servings
Ingredients
2 tablespoons olive oil
½ teaspoon sesame oil
1½ teaspoons soy sauce
1½ teaspoons rice vinegar
1 tablespoon Sriracha sauce
½ head cauliflower (about 1 pound), cut into small florets
chopped cilantro (optional, for garnish)
Instructions
Preheat oven to 400 degrees. Lightly grease a baking sheet or line with parchment paper.
In a large bowl, combine the oils, soy sauce, rice vinegar and Sriracha sauce. Whisk well.
Add the cauliflower to the bowl and use your hands to mix until all the florets are coated with seasoning.
Arrange the cauliflower on the prepared baking sheet and roast for 10 minutes. Remove from the oven and toss gently. Roast for another 10 minutes or until tender.
Garnish with chopped cilantro, if desired, and serve warm or at room temperature.