Chinese New Year is almost here! While the family will be getting together for lunch at Chef Chu's to celebrate the holiday (and the one-month birthday of my brother and his wife's newborn), I got a head start on the festivities. How? As you can probably guess, I prepared turnip cake for the first time – and the experiment was an unexpected success.
If you've never tried homemade luóbo gāo, you're missing out. It's so much better than the packaged kind. But this isn't your typical dim sum recipe. You see, I used dried porcini mushrooms and diced bacon in lieu of a few of the Chinese ingredients.
The result? A savory treat that's crispy on the outside, soft and sticky on the inside, and utterly delicious.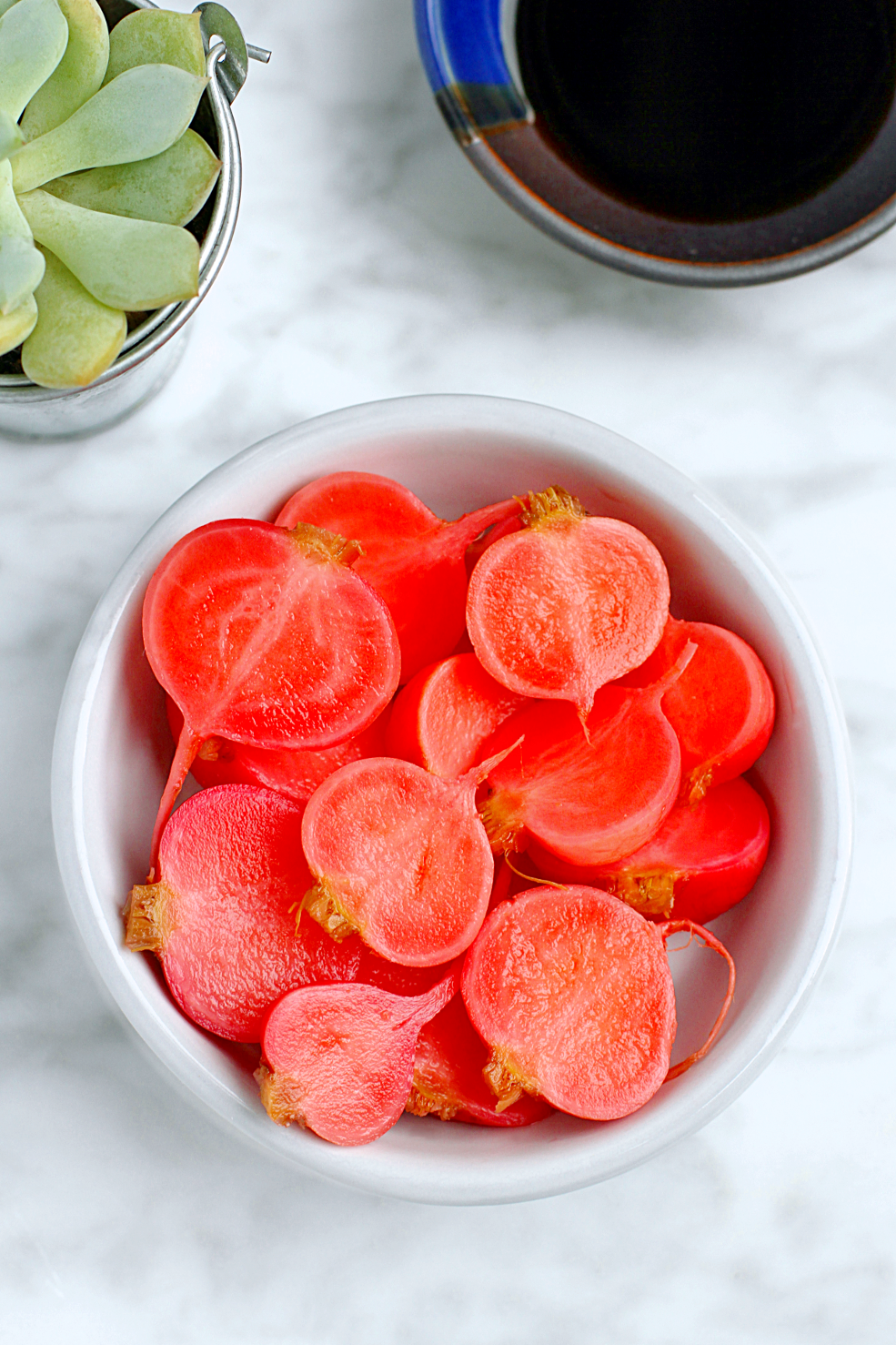 For a double dose of root veggie goodness, serve turnip cake with quick pickled radishes. They can be made days in advance and provide another layer of taste and texture.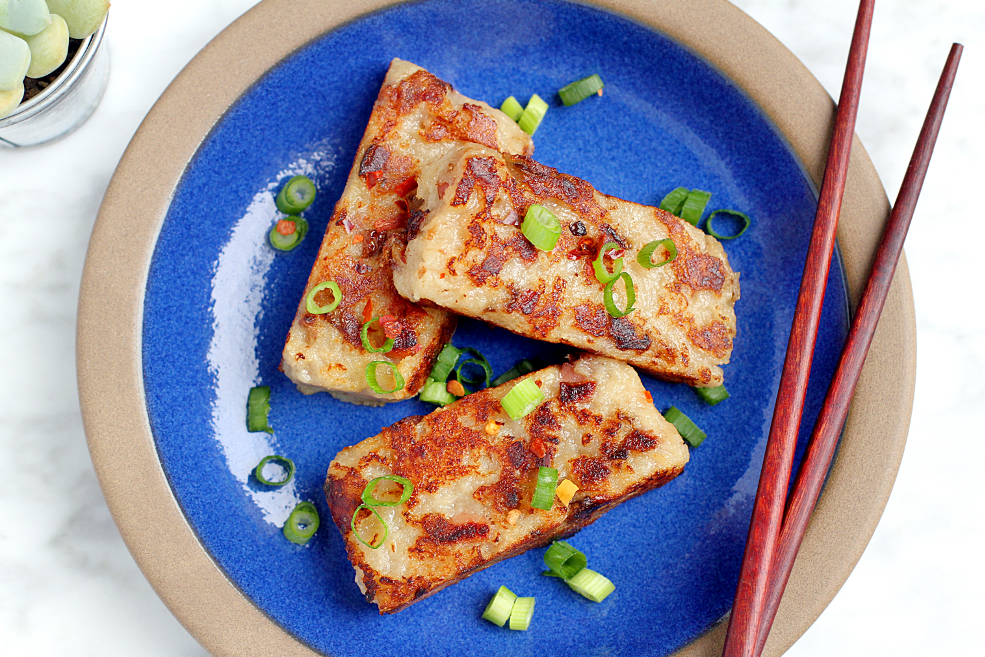 Recipe adapted from Serious Eats.

Turnip Cake with a Twist
Makes 4-6 servings
Ingredients
1 ounce dried porcini mushrooms
4 ounces bacon, diced
3¼ teaspoons brown sugar, divided
2 teaspoons soy sauce
2 pounds daikon, peeled and grated
1 cup rice flour
Finish:
avocado oil
thinly sliced green onions (optional, for garnish)
soy sauce
Instructions
Heat 1 cup water until hot - about 1 minute in the microwave should do. Add dried porcini mushrooms to water and set a small bowl on top of the mushrooms to keep them submerged. Let stand for at least 2 hours or overnight. Remove mushrooms from liquid and dice.
In a large pot, cook rehydrated mushrooms and bacon for 5 minutes. Add 1¼ teaspoons brown sugar and soy sauce and cook, stirring constantly, for 1 minute. Transfer mixture to a small bowl and set aside.
In the same pot, add daikon, cover and cook over medium heat, stirring occasionally, for 20 minutes. Add remaining 2 teaspoons brown sugar and stir to combine.
Remove pot from heat and stir in mushroom and bacon mixture. Gradually add rice flour and stir until well combined.
Grease a 6" square baking pan. Transfer mixture to the prepared pan and smooth evenly with an offset spatula.
Fill a large pot with about 2 cups water and bring to a simmer. Place pan in a steamer basket (see notes) and set it over simmering water. Cover and let steam for 30 minutes. Remove pan from pot and let sit for at least 30 minutes. Cut turnip cake into pieces.
Heat 1 tablespoon avocado oil in a fry pan over medium-high heat. Add a few turnip cake pieces to pan and cook for 1-2 minutes on each side until browned. Repeat with additional oil and remaining turnip cake pieces.
Garnish with sliced green onions, if using, and serve with soy sauce.
Notes
If you don't have a steamer basket on hand, try one of these
handy tricks
; I used method 2.
If you liked this recipe, you might also enjoy: