I've been fighting a cold for the past two weeks, but that didn't stop me from heading to Southern California for six days of fun in the sun (and rain). Despite a constant runny nose and cough, I ate my way through San Diego and Los Angeles. The highlights?
Needless to say, I was craving a home-cooked meal upon returning to San Mateo. That's where this hearty and healthy vegetable and orzo soup comes in. It's chock-full of good-for-you ingredients and takes less than 30 minutes to prepare. What's not to love?
Vegetable and orzo soup is best served straightaway as the pasta quickly absorbs liquid. (Just look at the photos in this post.) That said, leftovers are delicious. Simply add some broth to loosen the mixture and reheat it in the microwave.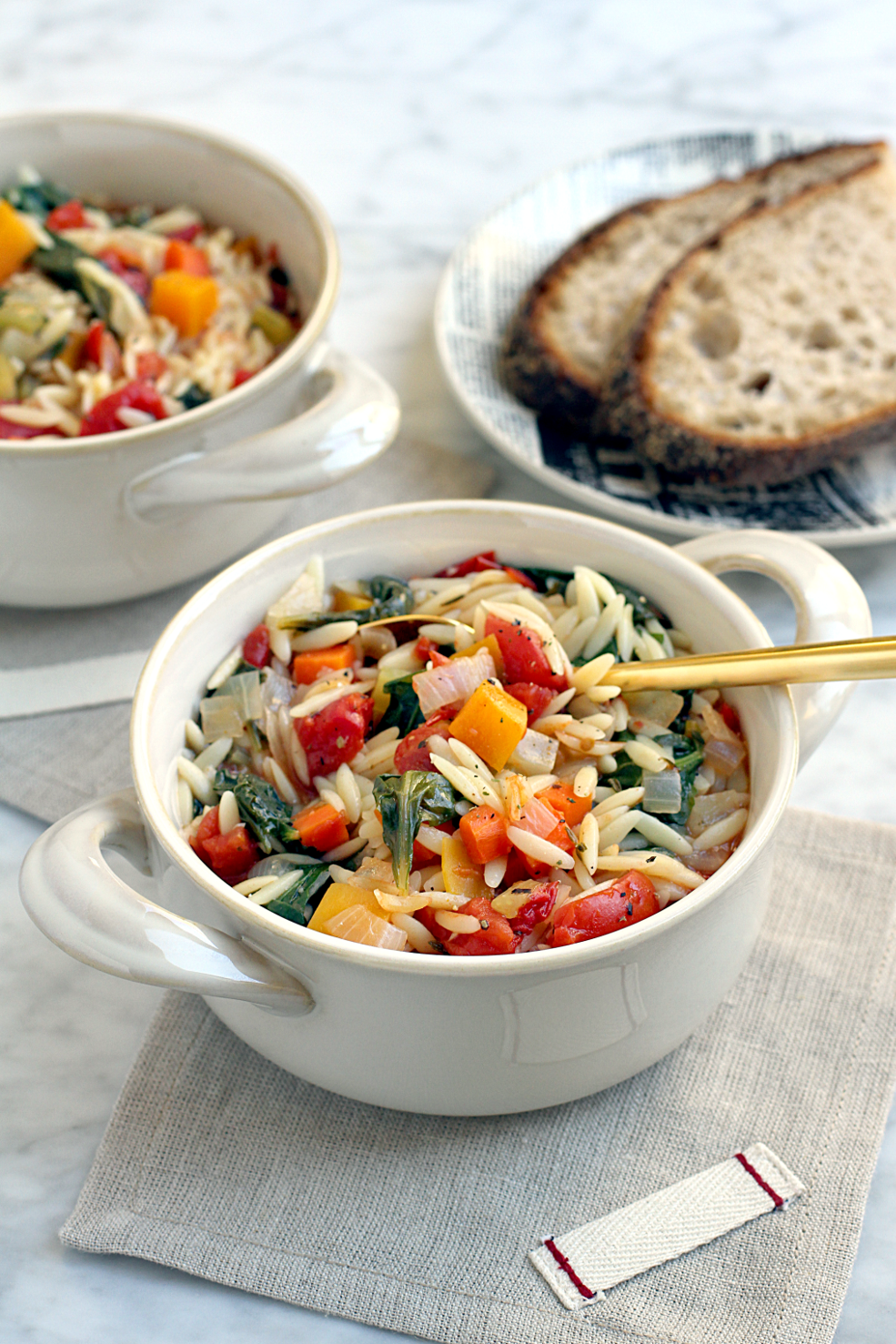 Recipe adapted from Gimme Some Oven.

Healthy Vegetable and Orzo Soup
Makes 8 servings
Ingredients
2 tablespoons olive oil
1 medium yellow onion, diced
1½ cups diced butternut squash
1 cup peeled and diced carrots
1 cup diced celery
3 garlic cloves, minced
1 14.5 oz. can fire roasted diced tomatoes
6 cups chicken broth
1 teaspoon fresh thyme leaves
¼ teaspoon dried oregano
¼ teaspoon dried rosemary
1½ cups orzo
5 cups baby kale
sea salt and freshly ground black pepper, to taste
Instructions
In a large pot, heat olive oil over medium-high heat. Add onion and cook, stirring occasionally, until tender, about 4 minutes.
Add butternut squash, carrots, celery and garlic and cook, stirring occasionally, until tender, about 5 minutes.
Add tomatoes, chicken broth, thyme, oregano and rosemary. Stir and bring to a boil.
Add orzo and bring to a boil. Reduce heat to medium-low and simmer, stirring occasionally, for 8 minutes.
Add kale and simmer until it wilts, about 1 minute. Season with salt and pepper to taste.
If you liked this recipe, you might also enjoy: