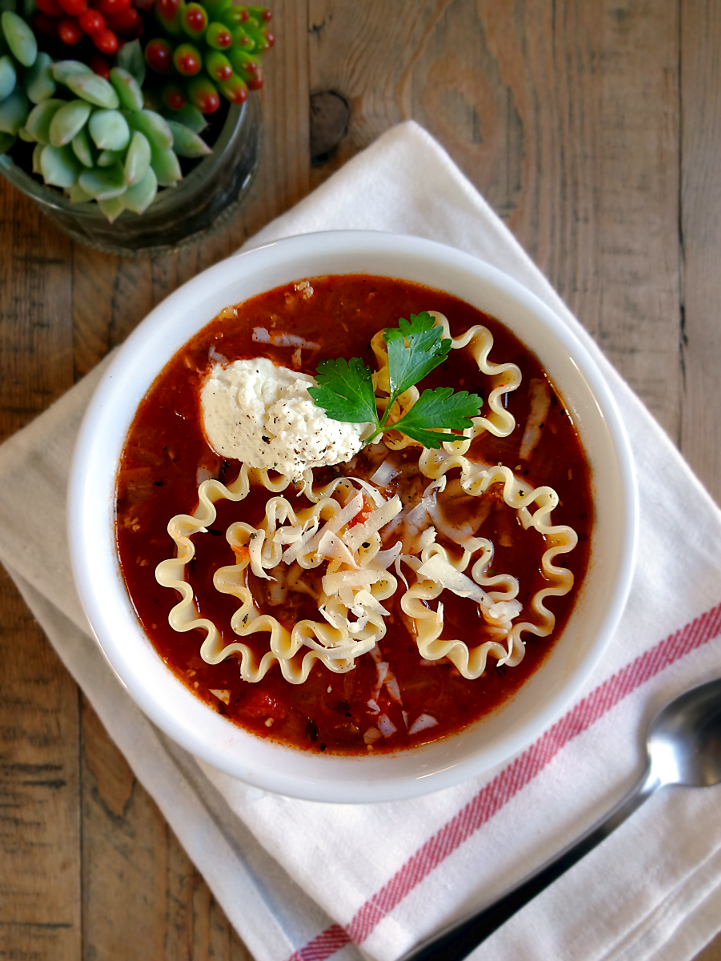 As I write this post, it's 91 degrees, an unseasonably warm day here in the Bay Area. So the last thing I want to think about, much less eat, is lasagna soup, a dish I made over the weekend. But it is a good recipe and one that I want to share with you. And you can bet as soon as the temperature drops, I'll be digging into the leftovers.
The beauty of this dish is it tastes like lasagna but can be made in less time – and it's healthier for you! I also like all the different textures – the slightly chewy pasta, the creamy cheese topping and, of course, the hot soupy broth – that you just don't get in the traditional casserole.
Recipe adapted from a farmgirl's dabbles.

Lasagna Soup
Makes 8 servings
Ingredients
Soup:
1 pound Italian sausage, removed from its casing (see notes*)
3 cups chopped onions
1 celery stalk, diced
4 garlic cloves, minced
2 teaspoons dried oregano
½ teaspoon dried chili flakes
2 tablespoons tomato paste
2 14.5 oz. cans fire roasted diced tomatoes
6 cups chicken broth
2 bay leaves
8 ounces lasagna noodles or mafalda pasta
½ cup chopped fresh basil (see notes**)
sea salt and freshly ground black pepper, to taste
Cheese topping:
8 ounces ricotta
½ cup grated Parmesan cheese
¼ teaspoon sea salt
pinch of freshly ground black pepper
2 cups shredded mozzarella cheese
Instructions
Make the soup:
In a large pot over medium heat, brown sausage, breaking it into bite-size pieces with a spoon.
Once sausage is browned, add onions and celery and cook until softened, about 6 minutes. Add garlic, oregano and chili flakes and cook for 1 minute.
Add tomato paste and stir well to incorporate. Cook for 3-4 minutes until color deepens.
Add tomatoes with juice, chicken broth and bay leaves and stir to combine. Bring to a boil. Then reduce heat to low and simmer for 30 minutes.
Add uncooked pasta and cook until al dente; do not overcook or pasta will get soggy. Alternatively, cook pasta separately and add to individual bowls just before serving (a good strategy if you anticipate having leftovers).
Add basil and season with salt and pepper to taste.
Prepare the cheese topping:
In a small bowl, combine the ricotta, Parmesan, salt and pepper.
To serve, place a dollop of the cheese topping in each soup bowl and sprinkle with mozzarella.
Notes
*You can substitute up to half of the sausage with ground turkey for a healthier but still flavorful meal.
**If you don't have fresh basil on hand, you can add 2 tablespoons of dried basil to the soup with the dried oregano.