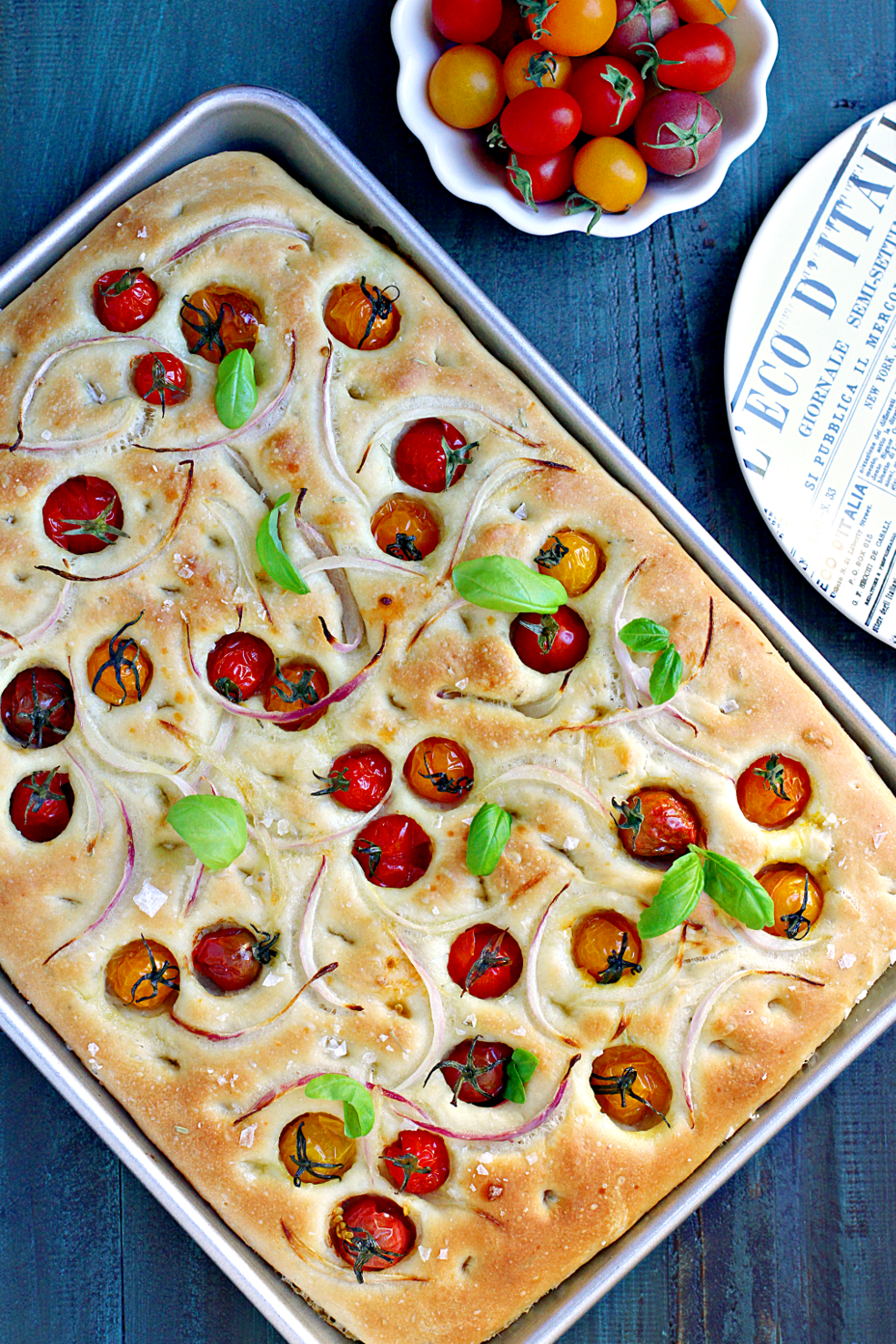 Guess what? I'm in the Big Apple right now! Truth be told, I'm here for business, but I did fly in a day early to play tourist. A big thank you to my coworker, Jenn, for being the quintessential host and sharing good conversation over good food at bartaco, Jack's Wife Freda (can't wait to recreate the hot sauce and chicken kebab, couscous and chopped salad entrée) and PN Pizza. She's a super second mom – there's no doubt about it.
Just before leaving for the trip, I baked a batch of focaccia with cherry tomatoes and red onions. Fortunately, I was able to sample a square at dinnertime before popping the rest in the freezer for safekeeping. Unfortunately, I have to wait 48 hours until I can enjoy another taste.
As you can probably tell from these photos, focaccia with cherry tomatoes and red onions is soft, pillowy and bursting with flavor. Serve it as an appetizer or alongside pasta – and, of course, don't forget the wine!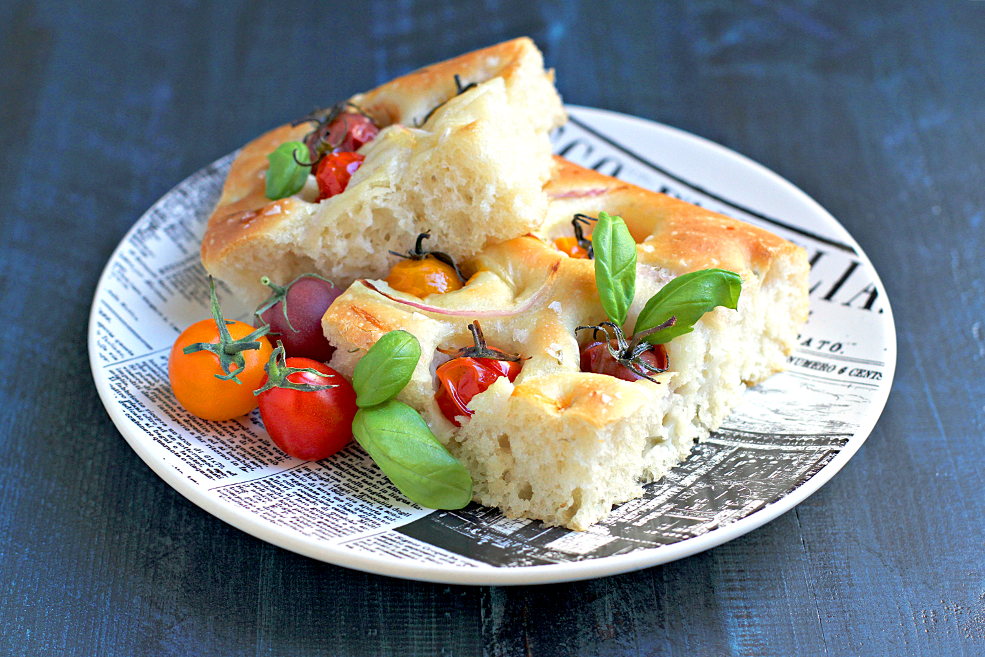 Recipe adapted from Cookin Canuck.

Focaccia with Cherry Tomatoes and Red Onions
Makes 1 9"x13" loaf
Ingredients
1 cup lukewarm water
1 teaspoon honey
2¼ teaspoons active dry yeast
5 tablespoons olive oil, divided
2½ cups all-purpose flour
1 teaspoon sea salt
1 teaspoon dried rosemary
¼ small red onion, thinly sliced
1 cup red and yellow cherry tomatoes
flake salt
Instructions
In a large bowl, combine the water, honey and yeast. Whisk together until thoroughly combined and let sit until foamy, about 10 minutes.
Add 3 tablespoons olive oil and stir to combine.
Add flour, sea salt and rosemary and stir everything until it comes together to form a shaggy ball. Then knead the dough by hand (or with a dough hook attachment) until it's smooth and elastic - this will take about 10 minutes (or less if using a stand mixer). Shape dough into a ball and place in a lightly oiled bowl, cover with plastic wrap and let it rise until doubled in size, about 1 hour.
Oil a 9"x13" baking pan. After dough has doubled in size, gently pour it into the prepared pan. Using your fingers, stretch the dough so it evenly covers the bottom of the pan.
In a small bowl, combine the red onion and 1 tablespoon olive oil and scatter over the dough.
Arrange cherry tomatoes on top and drizzle with remaining 1 tablespoon olive oil.
With your fingertips, poke dimples at 2" intervals over the entire surface of the dough. Cover the dough loosely with a clean kitchen towel and let it rise until puffy, 30-45 minutes.
About 15 minutes before dough has finished rising, preheat oven to 400 degrees.
Sprinkle on flake salt and bake until golden brown, 20-25 minutes.
If you liked this recipe, you might also enjoy: