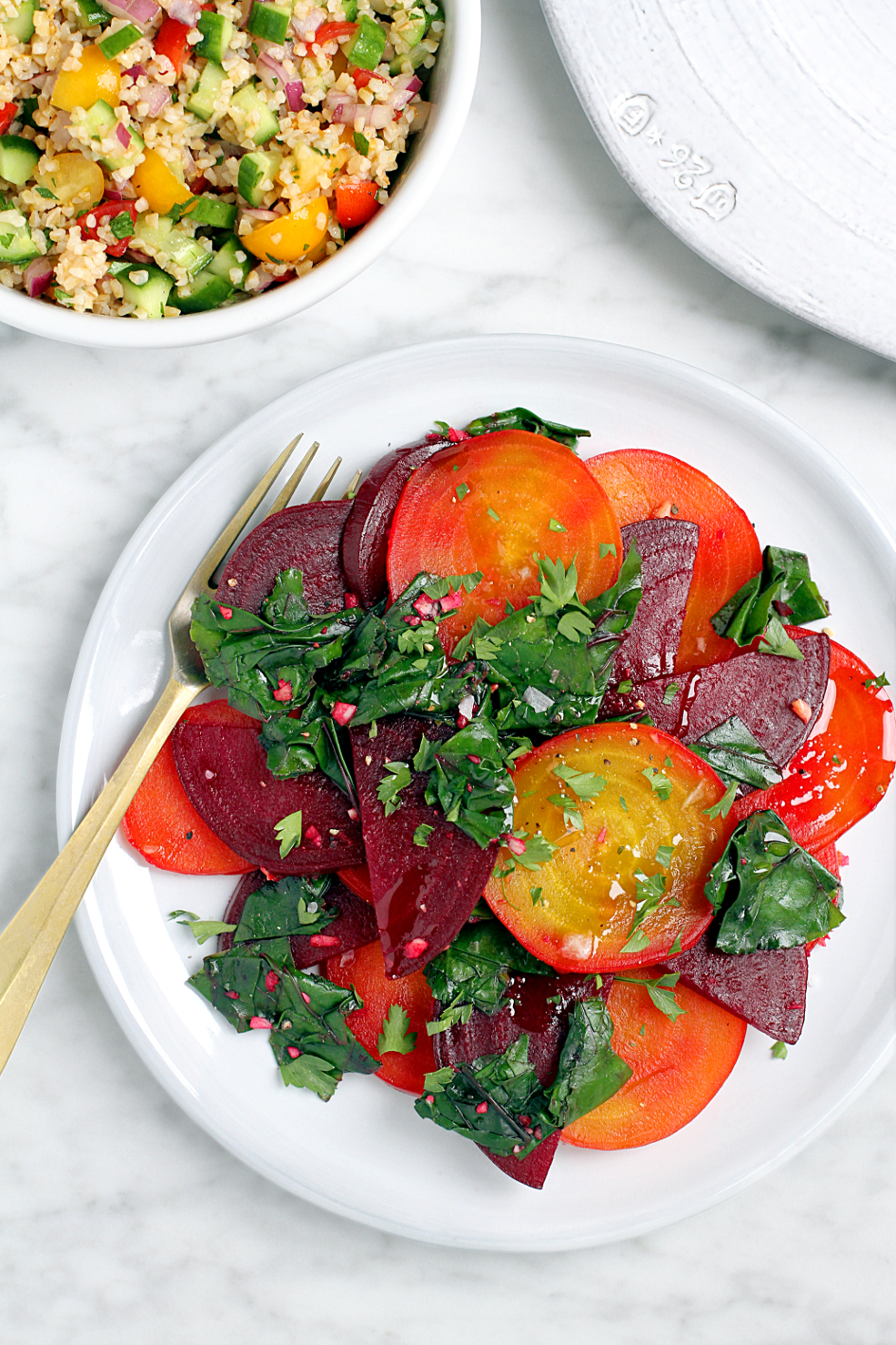 What do you do when your coworkers surprise you with a new cookbook for your birthday? Take a day off and use it! At least that's what I did – and was more than pleased with the decision.
If you enjoy fresh, flavorful food, you will love Rebecca Seal's Postcards from Greece cookbook. It's filled with easy recipes you can throw together in minutes, as well as more labor-intensive meals (that I can't wait to dish up in the fall and winter).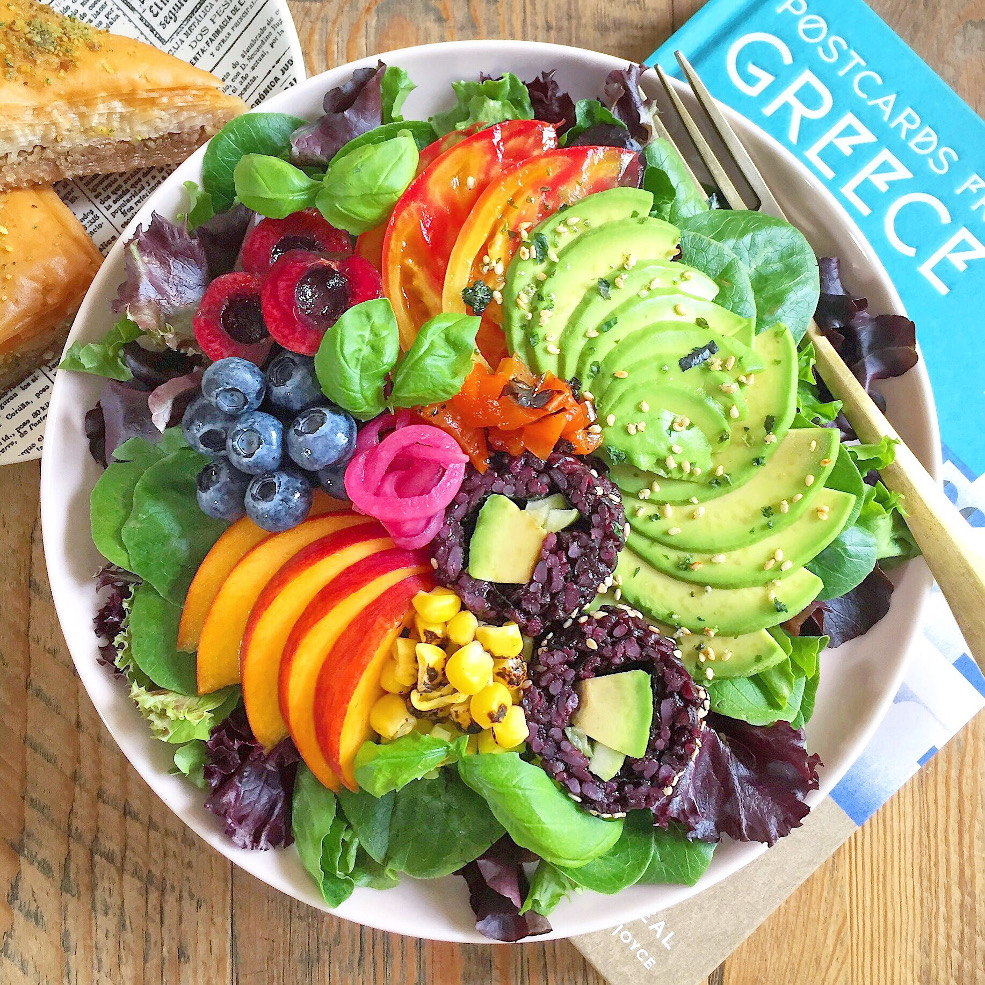 As I was flipping through the pages of Postcards from Greece, I was tempted to tackle every one of Rebecca's creations. But I chose to start with the beetroot salad and bulgur salad.
Both salads are a cinch to make and, more important, pleasing to the palate. Enjoy them separately or serve them together. If you have leftovers, they're delicious piled on toasted bread or lettuce.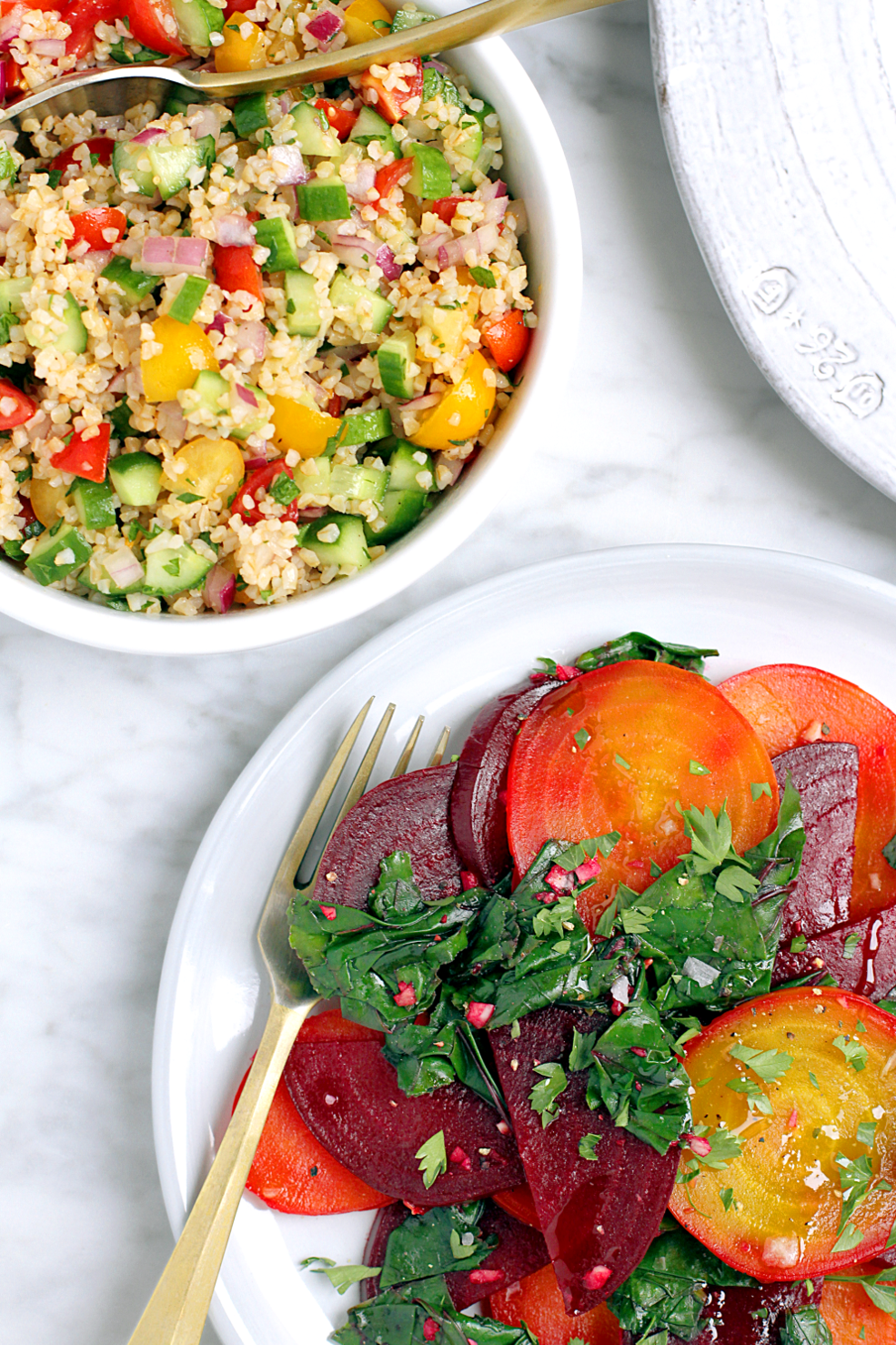 Recipes adapted from Postcards from Greece.

Beetroot Salad and Bulgur Salad
Makes 4 servings
Ingredients
Beetroot salad:
3 red and golden beets with greens
1 teaspoon freshly squeezed lemon juice
1 tablespoon olive oil, divided
1 garlic clove, minced
sea salt and freshly ground black pepper, to taste
chopped fresh parsley (optional, for garnish)
Bulgur salad:
⅔ cup water
⅓ cup bulgur
2 Persian cucumbers, diced
⅔ cup red and yellow cherry tomatoes, diced
½ small red onion, finely diced
2 tablespoons chopped fresh parsley
juice of ½ lemon
1 tablespoon olive oil
sea salt and freshly ground black pepper, to taste
Instructions
Make the beetroot salad:
Preheat oven to 400 degrees.
Remove greens and stems from beetroots. Roughly chop greens and set aside. Discard stems.
Wrap each beetroot loosely in foil and place on a baking sheet. Bake for 50-60 minutes until beets are fork tender. When cool enough to handle, rub off skins and slice into ¼"-thick rounds.
While the beetroots are roasting, fill a small pot with about 1 tablespoon water. Add chopped beet greens and cook until just barely wilted, 1-2 minutes.
In a large bowl, combine the prepared beetroots and beet greens, lemon juice, 1 teaspoon olive oil, and garlic; stir to combine. Season with salt and pepper to taste.
Drizzle with remaining 2 teaspoons olive oil and serve at room temperature or slightly chilled.
Make the bulgur salad:
In a small sauce pan, combine the water and bulgur. Bring to a boil and then reduce heat to medium. Cover and simmer until the bulgur is tender, 10-12 minutes. Drain well and transfer to a bowl to cool.
Add cucumbers, tomatoes, red onion, parsley, lemon juice and olive oil to bowl with bulgur; toss gently to combine. Season with salt and pepper to taste.
If you liked these recipes, you might also enjoy: