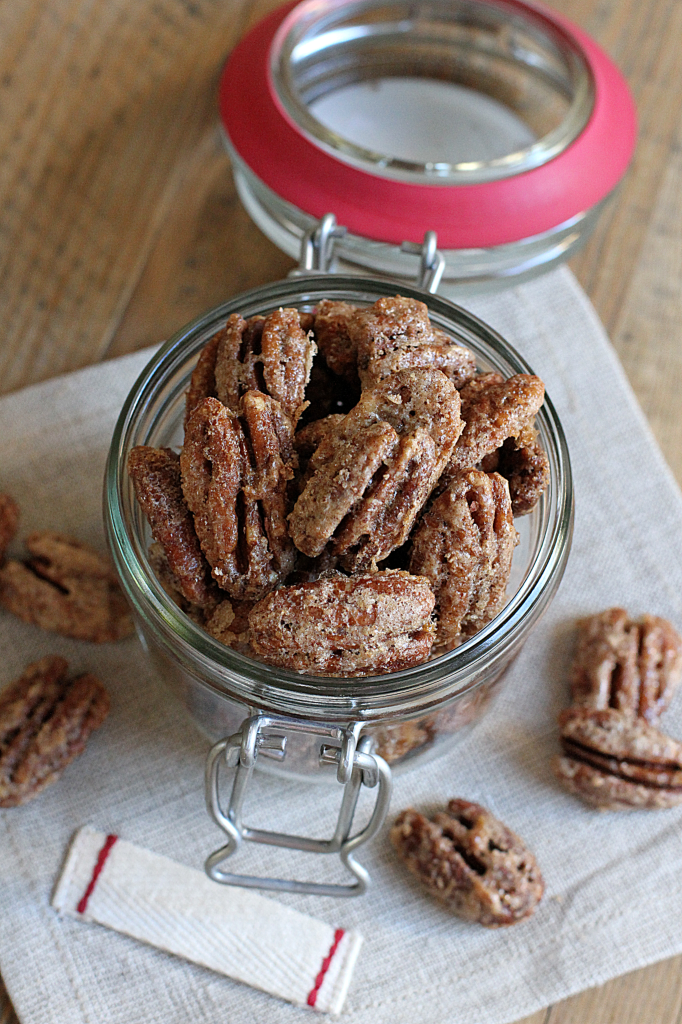 While we're well into November, warm temperatures linger in the Bay Area. But that hasn't stopped me from going into full fall mode in the kitchen. I'm already planning my Thanksgiving menu and stocking up on pantry staples and seasonal ingredients, like fresh cranberries, holiday spices and Brussels sprouts on the stalk.
The autumnal baking has begun, too. First up, these crunchy candied pecans infused with cinnamon, nutmeg and cloves. They are so easy to make and taste 10 times better than the store-bought or mail-order variety – not to mention your kitchen will smell amazing while they're cooking. One taste and you'll know why I dubbed them "pie nuts."
Recipe adapted from Simply Recipes.

Candied Pecans
Makes about 3 cups
Ingredients
½ cup sugar
¾ teaspoon salt
1 teaspoon ground cinnamon
¼ teaspoon ground nutmeg
¼ teaspoon ground cloves
1 egg white
1 tablespoon water
¼ teaspoon vanilla extract
3 cups pecans
Instructions
Preheat oven to 300 degrees.
In a medium bowl, combine the sugar, salt, cinnamon, nutmeg and cloves.
In a large bowl, combine the egg white, water and vanilla extract. Beat until slightly foamy. Add the pecans and toss to coat. Then add the sugar mixture and toss to coat.
Line a baking sheet with a silicone baking mat. Pour the pecans onto the mat and spread in a single layer.
Bake the pecans for 15 minutes, remove from the oven and stir gently; break up any large clumps. Bake for an additional 15-20 minutes and remove from the oven. Let the pecans cool completely before serving.