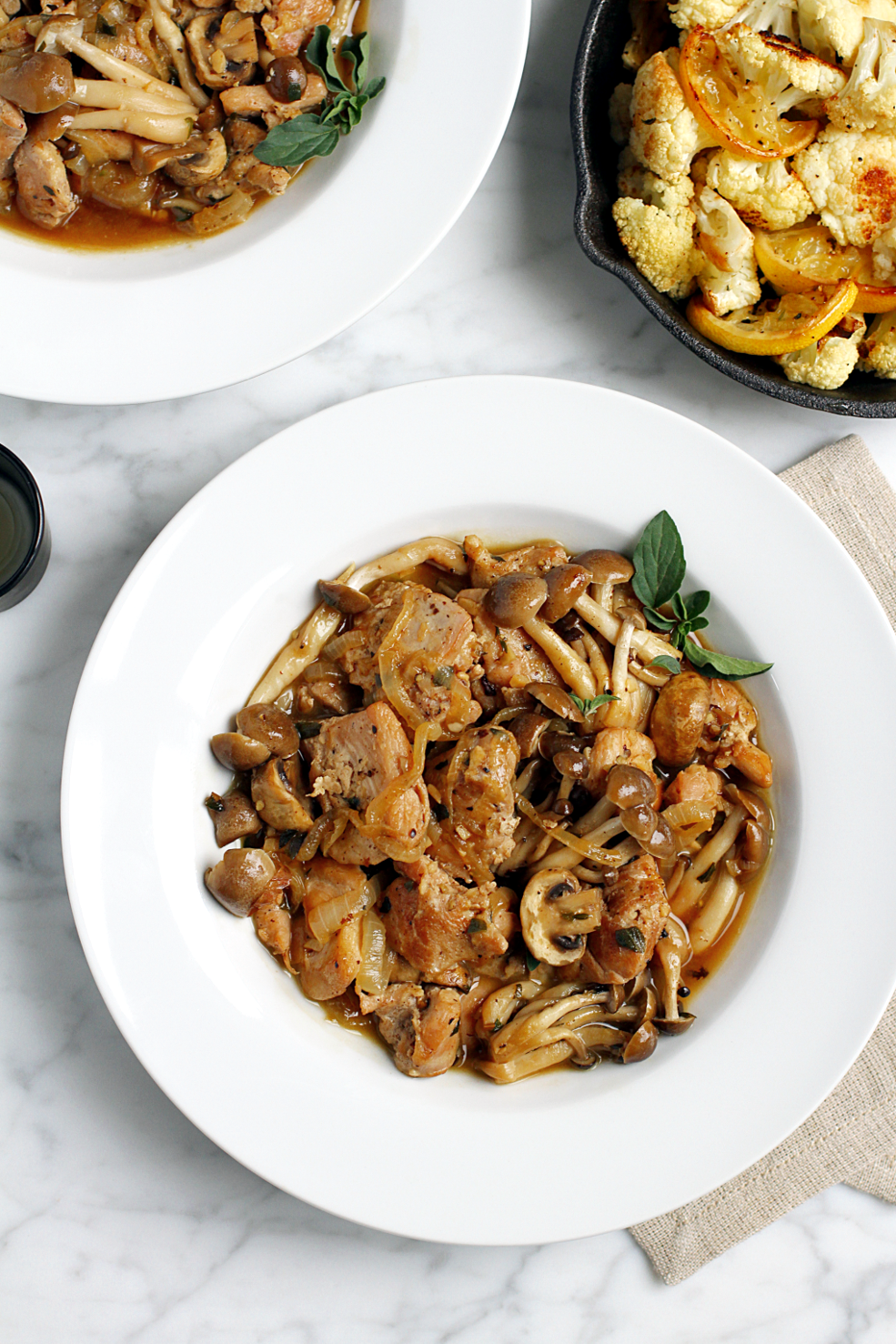 Cooking ruts happen, especially to creatures of habit like me. Enter Sun Basket, the unlikely inspiration – and my personal shopper – for this braised chicken and mushrooms with roasted cauliflower recipe.
I'll admit I never considered trying a meal delivery service. For one, I enjoy grocery shopping. And two, I prefer to pick out my own fruit and veggies. But you're in good hands with Sun Basket. All the produce in the box I received was ripe and unblemished. The ingredients are also pre-portioned and clearly labeled, which makes meal prep a breeze.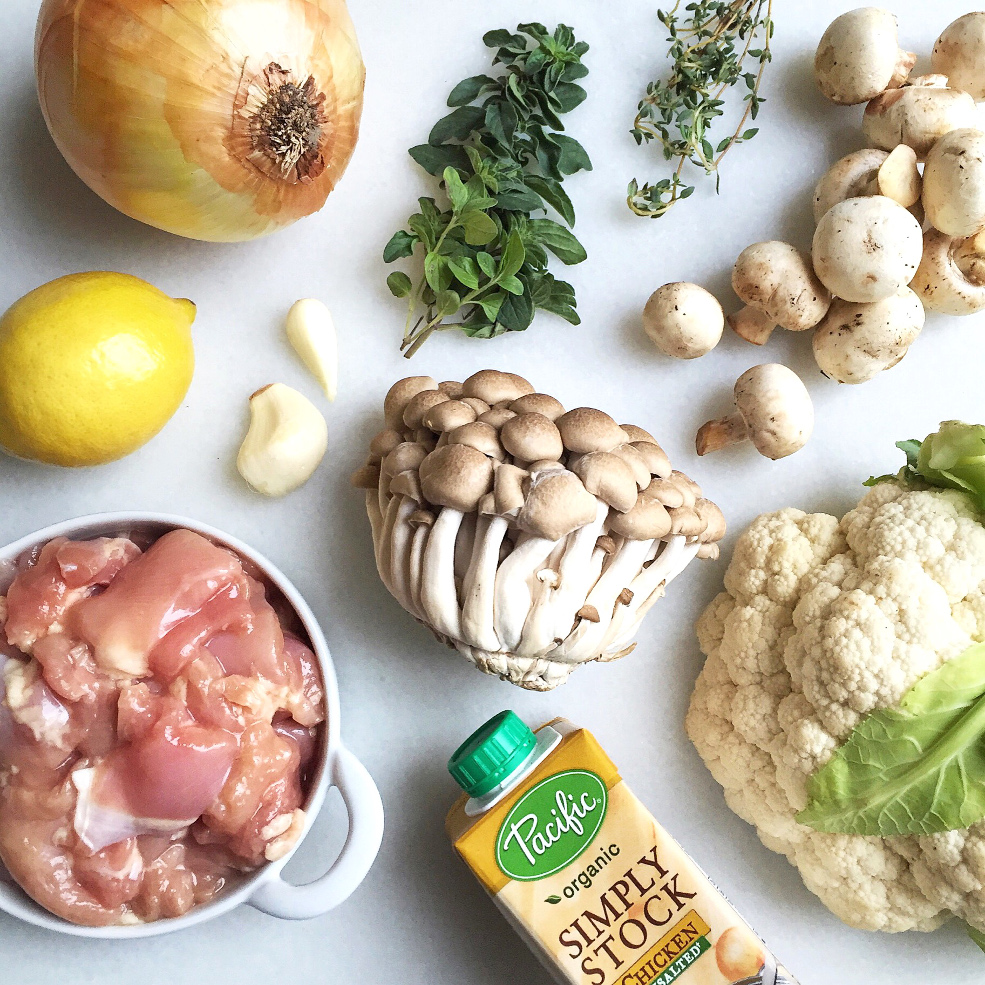 And the best part, in my opinion? Sun Basket offers a variety of healthy options but not so many as to overwhelm you. As a result, I'm discovering new flavor combinations and diversifying my diet. The recipes, developed by The Slanted Door's former chef de cuisine Justine Kelly, are easy to recreate, too.
But is the food any good? It gets my stamp of approval. And the portions don't disappoint. Just take a look.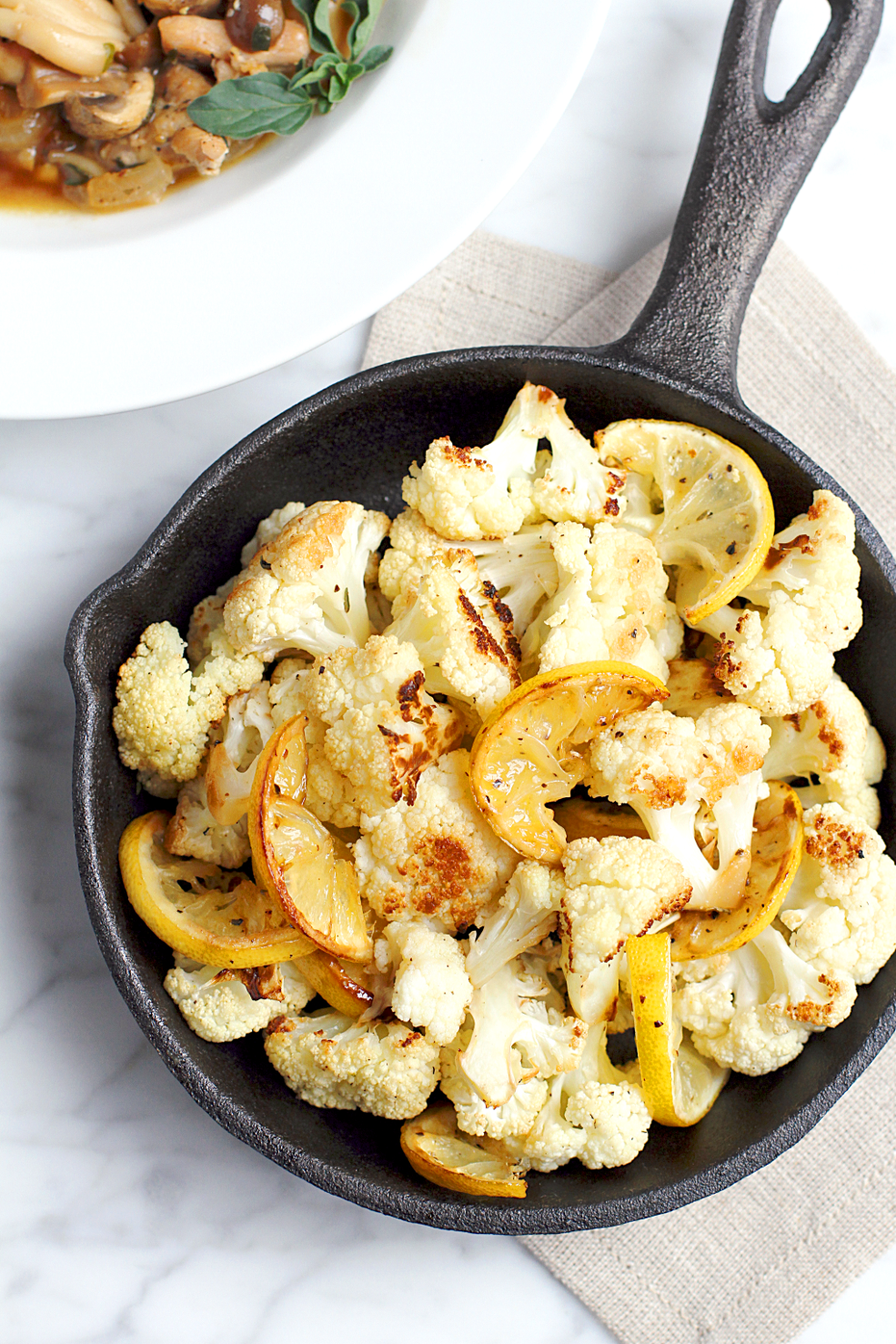 Jason and I had our fill of the braised chicken and mushrooms with roasted cauliflower for dinner, with some to spare.
Get Fresh Seasonal Ingredients Delivered to You
Want to shake up your cooking routine? Browse the Sun Basket menu. If the food strikes your fancy, place an order via this link and get $30 off your first box. It's that simple – the company even offers a "100% Mouthwatering" guarantee!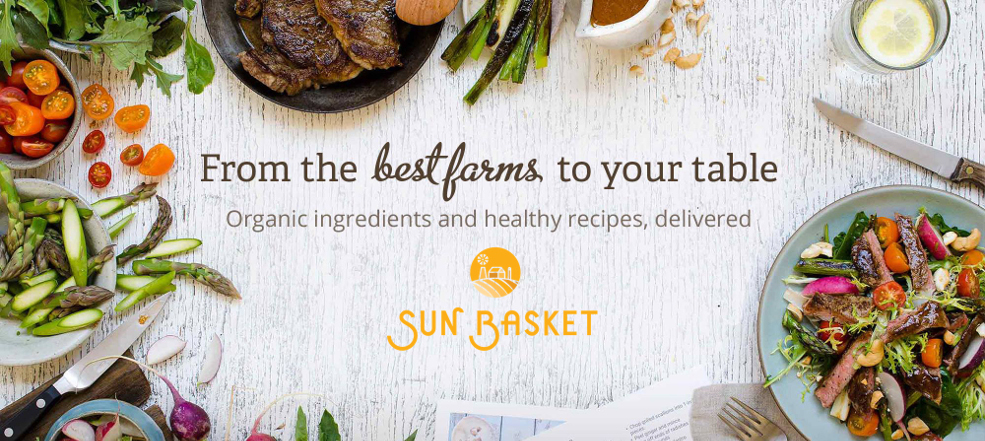 Special thanks to Sun Basket for sending me a two-person meal plan. While I was not paid to write this post, it does contain affiliate links, which means Two of a Kind may earn a commission on any purchase made through the links at no additional cost to you.
Recipe adapted from Sun Basket.

Braised Chicken and Mushrooms with Roasted Cauliflower
Makes 2 servings
Ingredients
Chicken:
¾ pound boneless, skinless chicken thighs, cut into bite-size pieces
1 tablespoon olive oil
½ yellow onion, thinly sliced
2 garlic cloves, minced
2 teaspoons chopped fresh oregano
1 teaspoon fresh thyme leaves
3 ounces button mushrooms, halved
3 ounces beech mushrooms, ends trimmed and separated into small bunches
1 cup chicken broth
sea salt and freshly ground black pepper, to taste
Cauliflower:
½ small head cauliflower, stems removed and florets cut into bite-size pieces
½ lemon, cut in half lengthwise and then crosswise into ¼"-thick pieces
1 tablespoon olive oil
½ teaspoon fresh thyme leaves
sea salt and freshly ground black pepper, to taste
Instructions
Make the chicken:
Season chicken with salt and pepper.
Heat olive oil in a large fry pan over medium-high heat. Cook chicken until golden brown, 6-8 minutes. Transfer chicken to a plate.
Add onion, garlic, oregano and thyme to fry pan and cook until caramelized, about 10 minutes.
Return chicken and any accumulated juices to pan. Add mushrooms and chicken broth and bring to a boil. Simmer, stirring occasionally, until the liquid has reduced by half, about 10 minutes. Season with additional salt and pepper to taste. Serve with roasted cauliflower.
Make the cauliflower:
Preheat oven to 400 degrees.
Place cauliflower and lemon on a baking sheet. Drizzle with olive oil, sprinkle on thyme, season with salt and pepper, and toss to coat.
Bake for 10 minutes, remove from the oven and toss gently. Bake for another 10 minutes or until tender.
If you liked this recipe, you might also enjoy: