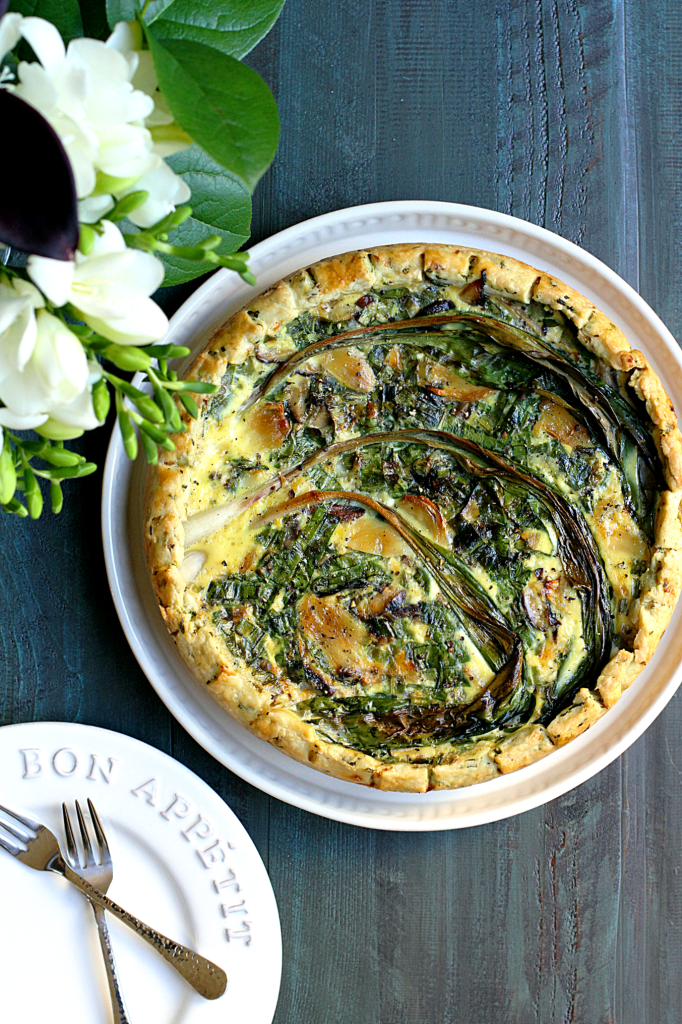 It's no surprise my trip to Chicago for the HOW Design Live conference was a blur. I flew in Monday evening and flew out Thursday morning, and only left the hotel once for a team dinner at Le Colonial. The best and most unexpected part of the excursion? Bumping into and catching up with fellow food blogger Bryn Mooth. She even surprised me with a signed copy of her first cookbook!
Needless to say, I was anxious to get back in the kitchen. And no sooner had I wished for it than I was home. Rookie greeted me with plenty of kisses and I was invited to pick up a new mystery basket at my local Whole Foods.
Come Saturday, I couldn't wait to put the goodies – especially the ramps – to use. I'd seen these wild onions featured in magazines and online but had never cooked with them.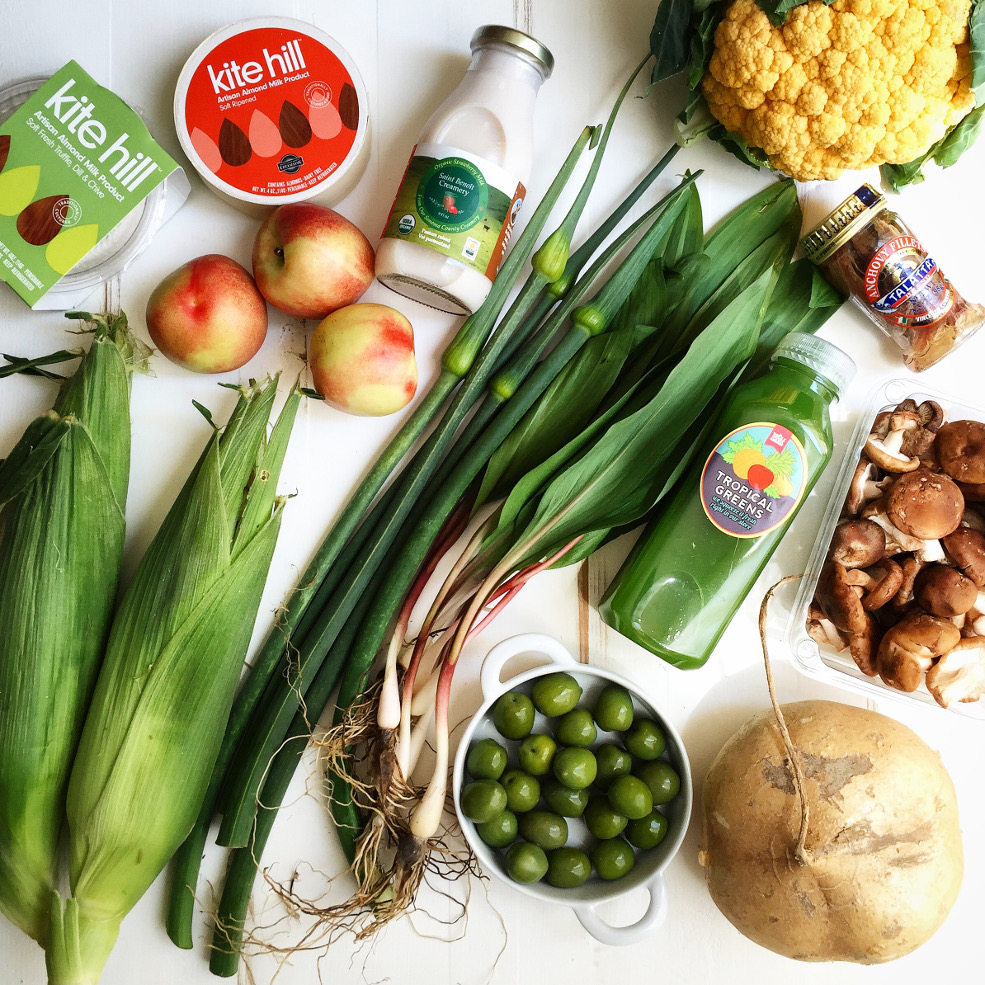 So I did a little research and settled on baking this ramp and mushroom quiche, because who doesn't love a buttery crust filled with eggs and milk?
This dish involves quite a few steps – making a compound butter, preparing dough, roasting garlic, sautéing vegetables – but the effort is well worth it. If you're fortunate to get your hands on ramps this spring, consider taking this recipe for a spin. Or let me know how you enjoy them!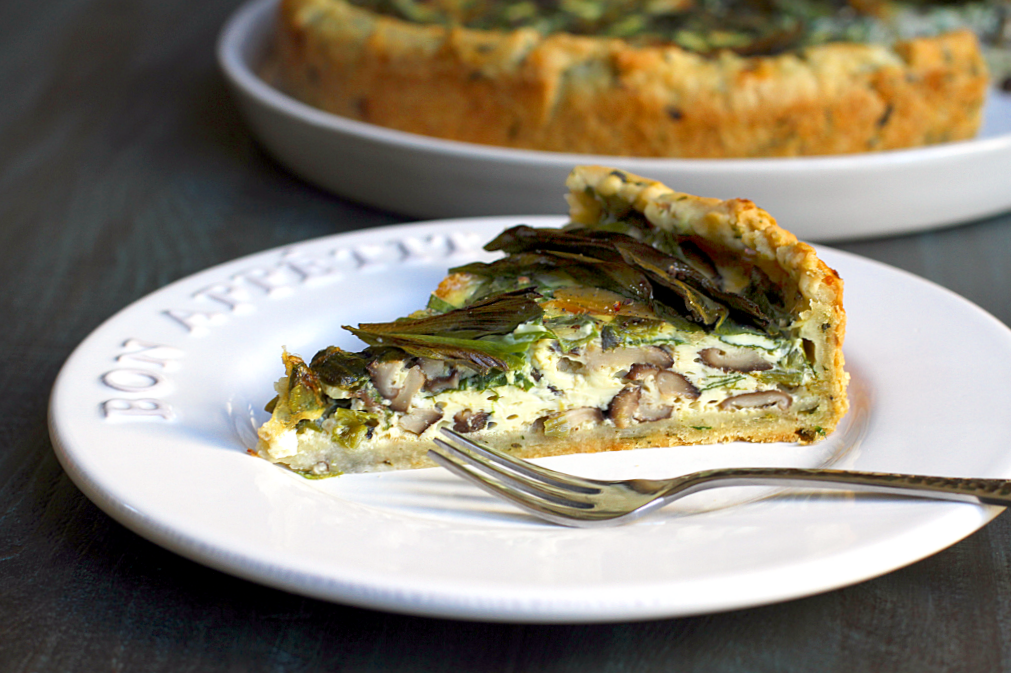 Recipe adapted from Kitchen Tested.

Ramp and Mushroom Quiche
Makes 1 9" round quiche
Ingredients
Crust:
7 tablespoons unsalted butter, softened
3 ramps, finely chopped
½ teaspoon fresh thyme leaves
¾ teaspoon sea salt, divided
¼ teaspoon freshly ground black pepper
1¼ cups all-purpose flour
3-4 tablespoons ice water
Filling:
1 head garlic
1 teaspoon olive oil
2 tablespoons unsalted butter
12 ramps, divided
6 ounces shiitake mushrooms, thinly sliced
4 large eggs
1 cup milk
½ cup grated Asiago cheese
½ teaspoon sea salt
½ teaspoon freshly ground black pepper
Instructions
Prepare the crust:
In a small bowl, combine the butter, ramps, thyme, ¼ teaspoon salt and pepper. Transfer mixture to a piece of plastic wrap and roll gently to form a log; twist ends to seal. Refrigerate until firm.
In a medium bowl, combine the flour and remaining ½ teaspoon salt. Add the ramp butter and rub it into the flour mixture with your fingertips until it resembles coarse meal. Add 3 tablespoons water and mix with a fork. If it is crumbly, add more water, 1 teaspoon at a time, until the ingredients start to come together. Then use your hands to lightly knead the dough in the bowl until it forms a ball. Turn the dough out onto a work surface and shape into a disc; wrap with plastic wrap and refrigerate for at least 1 hour.
Remove the dough from the refrigerator and let it sit for 5-10 minutes. On a lightly floured work surface, roll it out to a 14" circle. Carefully transfer the dough to a 9" springform pan, pressing it against the bottom and sides. Use a sharp knife to trim the edge of the dough so it comes about 2 inches up the side of the pan. Transfer the crust to the freezer and let chill while you prepare the filling.
Prepare the filling:
Preheat oven to 350 degrees.
Cut about ¼ inch off the top of the head of garlic. Place garlic on a piece of foil, drizzle with olive oil and fold to enclose. Bake for 30 minutes and then remove from the oven and let cool.
Meanwhile, heat butter in a fry pan over medium heat. Thinly slice 9 ramps and separate white and green parts. Add the white parts to the fry pan and sauté for about 2 minutes or until soft. Add the mushrooms and sauté until they are tender, about 5 minutes. Transfer to a bowl to cool.
In a medium bowl, combine the eggs and milk and whisk until smooth. Stir in the Asiago cheese, salt, pepper, cooked vegetables and green parts of ramps.
Assemble and bake the quiche:
Preheat oven to 375 degrees. Remove the crust from the freezer. Carefully pour the filling into the crust.
Slice 4 roasted garlic cloves and scatter over filling. Top with remaining 3 ramps.
Fold edge of dough over the filling and brush with some of the filling liquid.
Bake for 45-50 minutes or until the filling is slightly puffed and golden and the tip of a knife inserted into the center comes out clean.
Remove quiche from the oven and let cool for 15 minutes. Then remove ring and transfer quiche to a wire rack to cool for at least 30 minutes before serving.
If you liked this recipe, you might also enjoy: