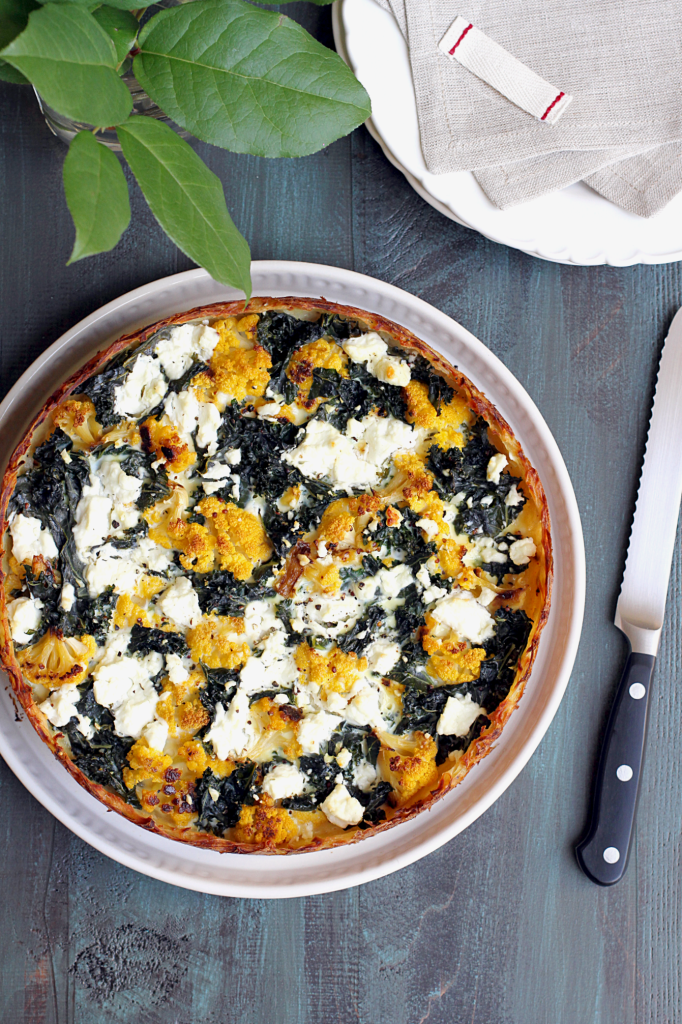 I'm the type of person who doesn't like to waste. When I grocery shop, I buy only what I think I'll need for the week – and a few treats. At the same time, I love a good deal.
Which is why one Sunday I came home from the Burlingame Farmers' Market with a head of butter lettuce, a bag of spring mix, a gorgeous golden cauliflower and a big bunch of kale. It was more than Jason and I could handle but a steal at $7 (and, no, I didn't haggle).
The lettuce went quickly, but the rest of the loot sat untouched for days. So, I challenged myself to clean out the fridge – and ended up throwing together this cauliflower and kale quiche.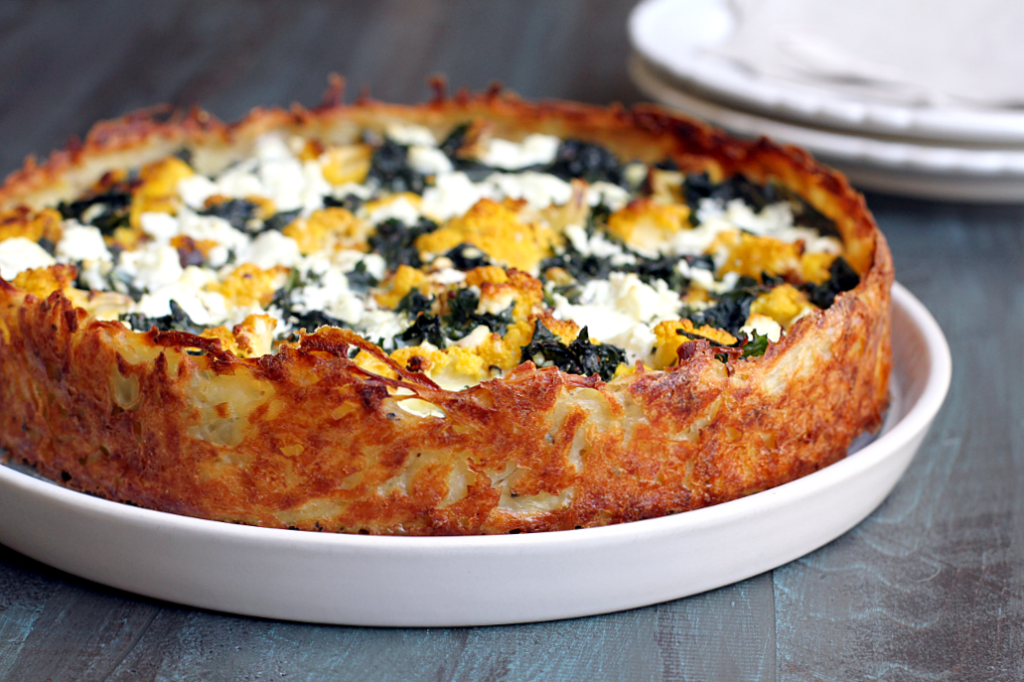 It's not your traditional quiche. For one, it has a potato versus pastry crust. If you're a hash browns fan, you'll enjoy this twist. Second, the filling features more vegetables than eggs, making it a healthy alternative. Cut a slice and you'll see what I mean; there's just enough custard to keep the quiche together, so you can really taste the cauliflower, kale and goat cheese.
Serve this quiche for breakfast or brunch, or as an accompaniment to fish, chicken or meat. The crust is best the day it's baked, but leftovers are delicious reheated.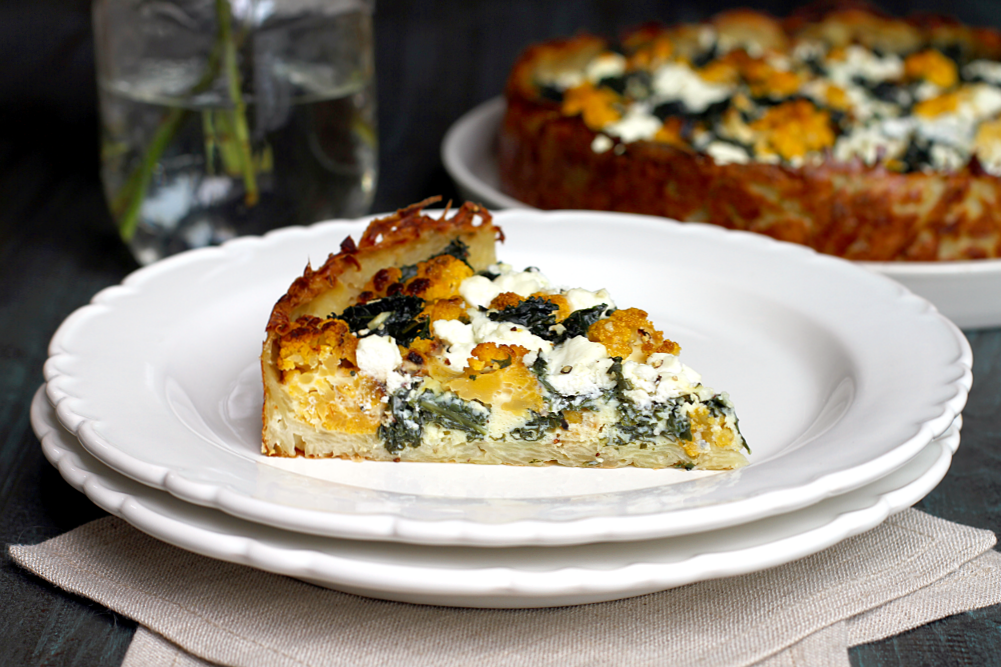 Recipe adapted from 1 Big Bite.

Cauliflower and Kale Quiche
Makes 1 9" quiche
Ingredients
Crust:
3 cups peeled and grated Yukon Gold potatoes
1 teaspoon sea salt
3 tablespoons all-purpose flour
1 large egg
¼ teaspoon freshly ground black pepper
Filling:
1 small head cauliflower, stems removed and florets cut into bite-size pieces
2 tablespoons olive oil
4 cups packed torn kale leaves
½ cup Greek yogurt
3 large eggs
1 garlic clove, minced
1 teaspoon stoneground Dijon mustard
¼ teaspoon dried thyme
1 teaspoon sea salt
2½ ounces goat cheese
Instructions
Prepare the crust:
Preheat oven to 375 degrees. Grease a 9" springform pan.
Place grated potatoes in a colander set over a bowl; sprinkle with salt and let sit for 10 minutes.
Squeeze potatoes to remove excess moisture and transfer to a medium bowl. Add the flour, egg and black pepper and stir to combine.
Press the mixture into the bottom and up the sides of the prepared pan. Set aside.
Prepare the filling and assemble the quiche:
Place cauliflower on a baking sheet. Drizzle with olive oil and toss to coat. Bake cauliflower and prepared crust for 25-30 minutes or until crust is golden, stirring cauliflower halfway through.
Bring a large pot of water to a boil. Add kale and cook, uncovered, for 3 minutes; then drain immediately.
In a large bowl, combine the Greek yogurt, eggs, garlic, Dijon mustard, thyme and salt. Whisk together until thoroughly combined.
Add the roasted cauliflower and blanched kale. Pour filling into the prepared crust and crumble goat cheese over it.
Bake for 35-40 minutes or until the filling is set and the tip of a knife inserted into the center comes out clean. Let the quiche cool for 10 minutes and then remove ring and transfer to a wire rack. Serve warm or at room temperature.