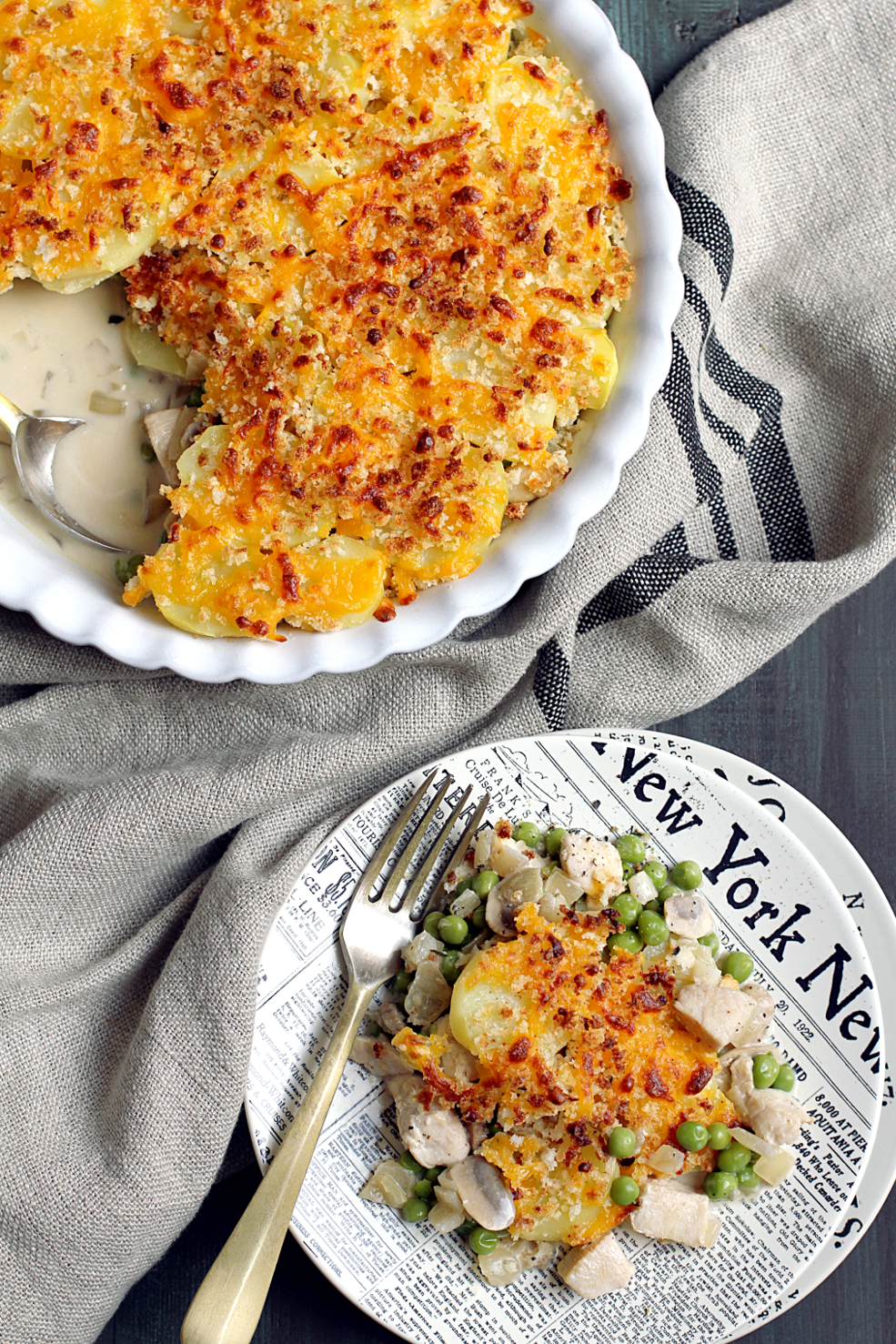 My second free HelloFresh delivery arrived last Friday and, despite a lingering cold and minor loss of appetite, I was inspired to get cooking. That's because every one of the five meals included in the box looked enticing.
As directed, I prepared the sole straightaway (opting to use the fish as a salad add-in rather than taco filling). Then, on Sunday, I turned out this rustic potato-topped chicken pot pie.
It was the perfect project for a gray, rainy afternoon – and the finished product hit the spot. I'd like to think it restored my health, too. (I feel nearly back to normal … finally.)
Even if the weather's nice or nothing ails you, try your hand at this dish. It's easy to assemble and absolutely delicious!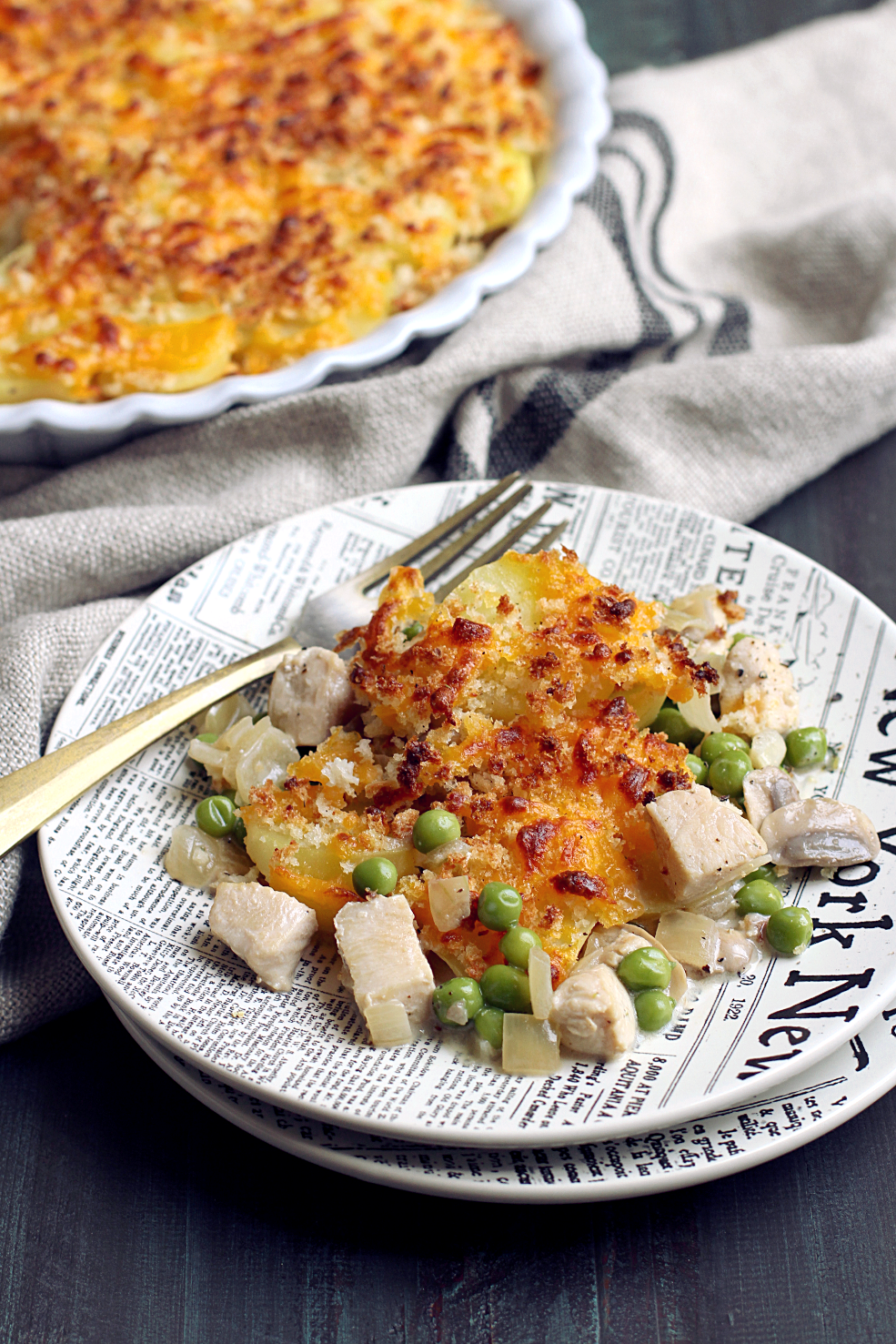 P.S. This is not a sponsored post; I just enjoyed the potato-topped chicken pot pie recipe so much that I wanted to share it with you.
Recipe adapted from HelloFresh.

Rustic Potato-Topped Chicken Pot Pie
Makes 3 servings
Ingredients
¾ pound Yukon Gold potatoes, peeled and sliced into ⅓" discs
2 tablespoons olive oil, divided
¾ pound chicken breast, cut into ½" pieces
sea salt and freshly ground black pepper, to taste
1 small yellow onion, diced
8 ounces button mushrooms, sliced
¾ cup frozen peas, thawed
½ cup chicken broth
½ teaspoon fresh thyme leaves
¼ cup sour cream
½ cup grated cheddar cheese
½ cup panko bread crumbs
Instructions
Bring a large pot of salted water to a boil. Add potatoes and cook, uncovered, until just tender, 8-10 minutes. Drain and set aside.
Preheat oven to 400 degrees.
Heat 2 teaspoons olive oil in a fry pan over medium-high heat. Season chicken with salt and pepper and place in the pan. Cook chicken until golden brown, 4-5 minutes. Transfer chicken to a plate.
Heat 2 more teaspoons olive oil in the fry pan over medium-high heat. Add onion and cook, stirring occasionally, until tender, about 3 minutes. Add mushrooms and cook, stirring occasionally, until lightly browned, about 3 minutes.
Return chicken and any accumulated juices to pan. Add peas, chicken broth and thyme and bring to a boil. Simmer, stirring occasionally, until the liquid has reduced by half, 3-4 minutes.
Remove pan from heat and stir in sour cream. Season with additional salt and pepper to taste.
Transfer mixture to a 9" pie plate. Arrange the potato slices over the mixture.
In a small bowl, combine the cheddar cheese, panko and remaining 2 teaspoons olive oil; toss to combine. Sprinkle over the potato slices.
Bake for 8 minutes and then broil for 2-3 minutes to brown top.
If you liked this recipe, you might also enjoy: