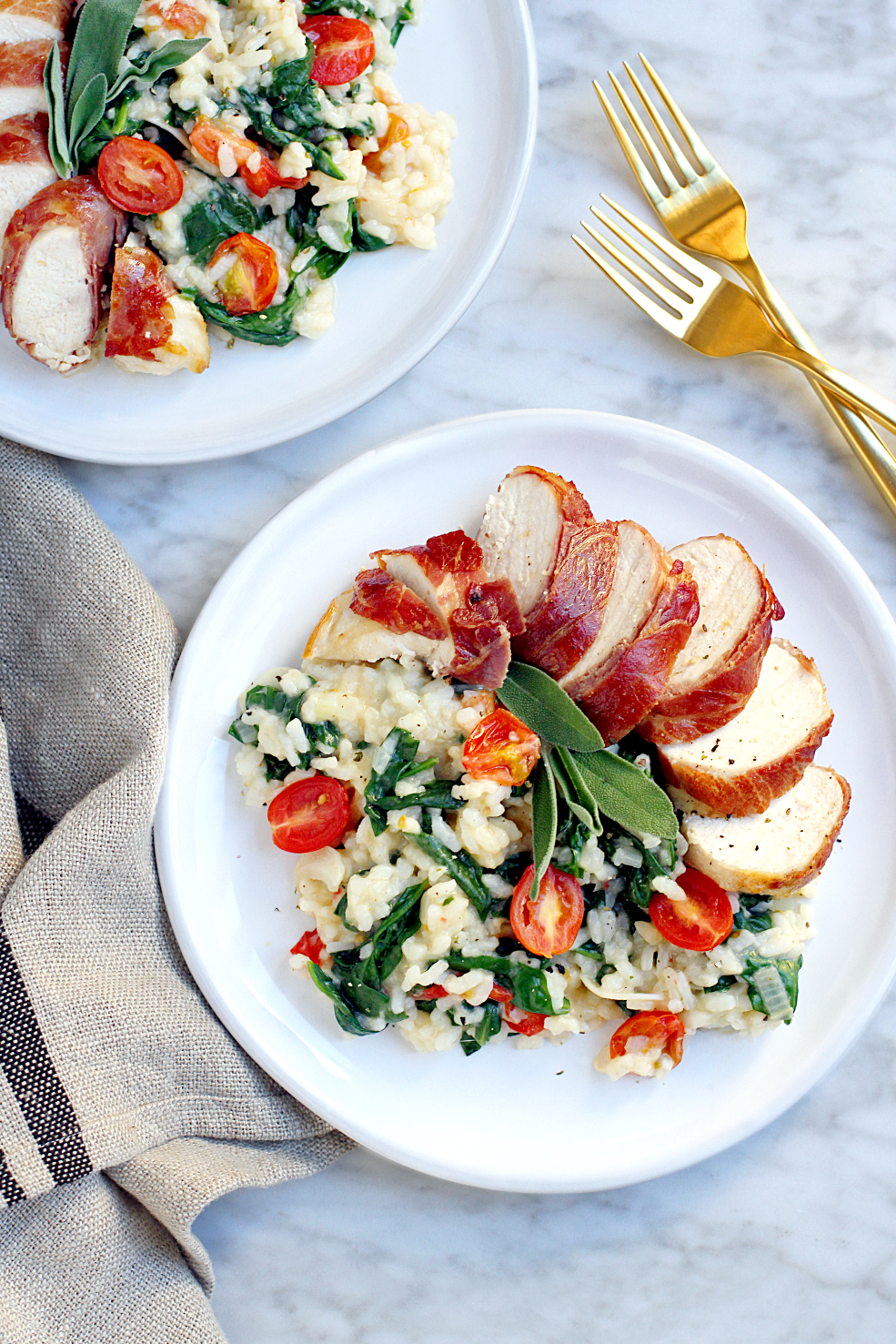 I went out for pizza twice in two days – to my favorite place Friday night and then to a long-standing establishment that I was unaware of the following afternoon. Come Sunday, I was craving some (healthy) home cooking.
So I threw together this prosciutto-wrapped chicken with tomato and spinach risotto. It was the perfect dish to mark the start of daylight saving time – and warmer temperatures, to boot.
The meal is easy on the eyes and palate, and relatively fast to prepare. If you multitask – i.e., cook the protein and rice simultaneously – you can get food on the table in under an hour.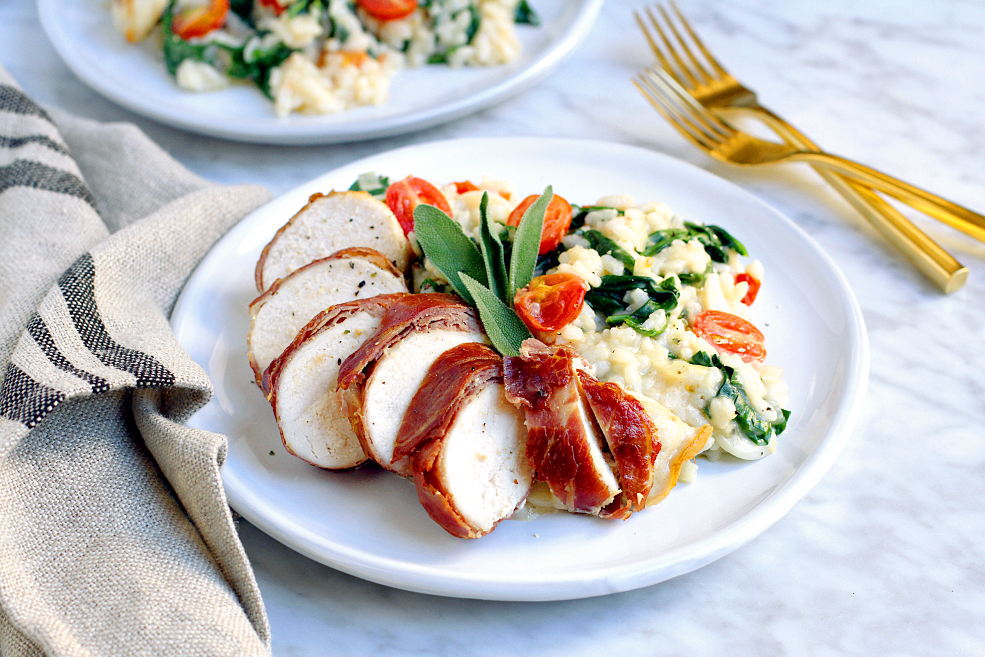 P.S. This is not a sponsored post; I just enjoyed the prosciutto-wrapped chicken with tomato and spinach risotto recipe so much that I wanted to share it with you.
Recipe adapted from HelloFresh.

Prosciutto-Wrapped Chicken with Tomato and Spinach Risotto
Makes 2-3 servings
Ingredients
Chicken:
2 boneless, skinless chicken breast halves (6 ounces each)
4 slices prosciutto
1 tablespoon olive oil
Risotto:
4 cups chicken broth
2 sprigs fresh sage, stems and leaves separated
1½ tablespoons olive oil
1 medium shallot, minced
2 garlic cloves, thinly sliced
¾ cup Arborio rice
½ cup grape tomatoes, halved lengthwise
4 cups fresh spinach
½ cup grated Parmesan cheese
1 tablespoon unsalted butter
sea salt and freshly ground black pepper
Instructions
Make the chicken:
Preheat oven to 400 degrees.
Pat the chicken dry with paper towels. Wrap 2 slices prosciutto around each chicken breast half.
In a medium fry pan, heat olive oil over medium-high heat. Add chicken and cook for 2 minutes. Flip and cook for another 2 minutes.
Place chicken on a baking sheet lined with foil. Bake for 15 minutes or until cooked through. Remove from the oven and let rest until ready to serve.
Make the risotto:
In a medium sauce pan, bring broth and sage stems to a simmer.
Meanwhile, heat olive oil in a large pot over medium heat. Add shallot and garlic and cook, stirring occasionally, until softened, 1-2 minutes.
Add Arborio rice; cook, stirring constantly, for 1 minute. Add ½ cup hot broth; simmer, stirring occasionally, until almost absorbed. Continue adding ½ cup hot broth in this manner until rice is tender and mixture is creamy, about 20 minutes. Discard sage stems.
Add tomatoes and spinach and cook, stirring occasionally, for 2 minutes.
Turn off heat and stir in Parmesan cheese and butter. Season with salt and pepper to taste.
Cut prosciutto-wrapped chicken diagonally into ½"-thick pieces. Divide chicken and risotto among two or three plates. Top with sage leaves and serve immediately.
If you liked this recipe, you might also enjoy: