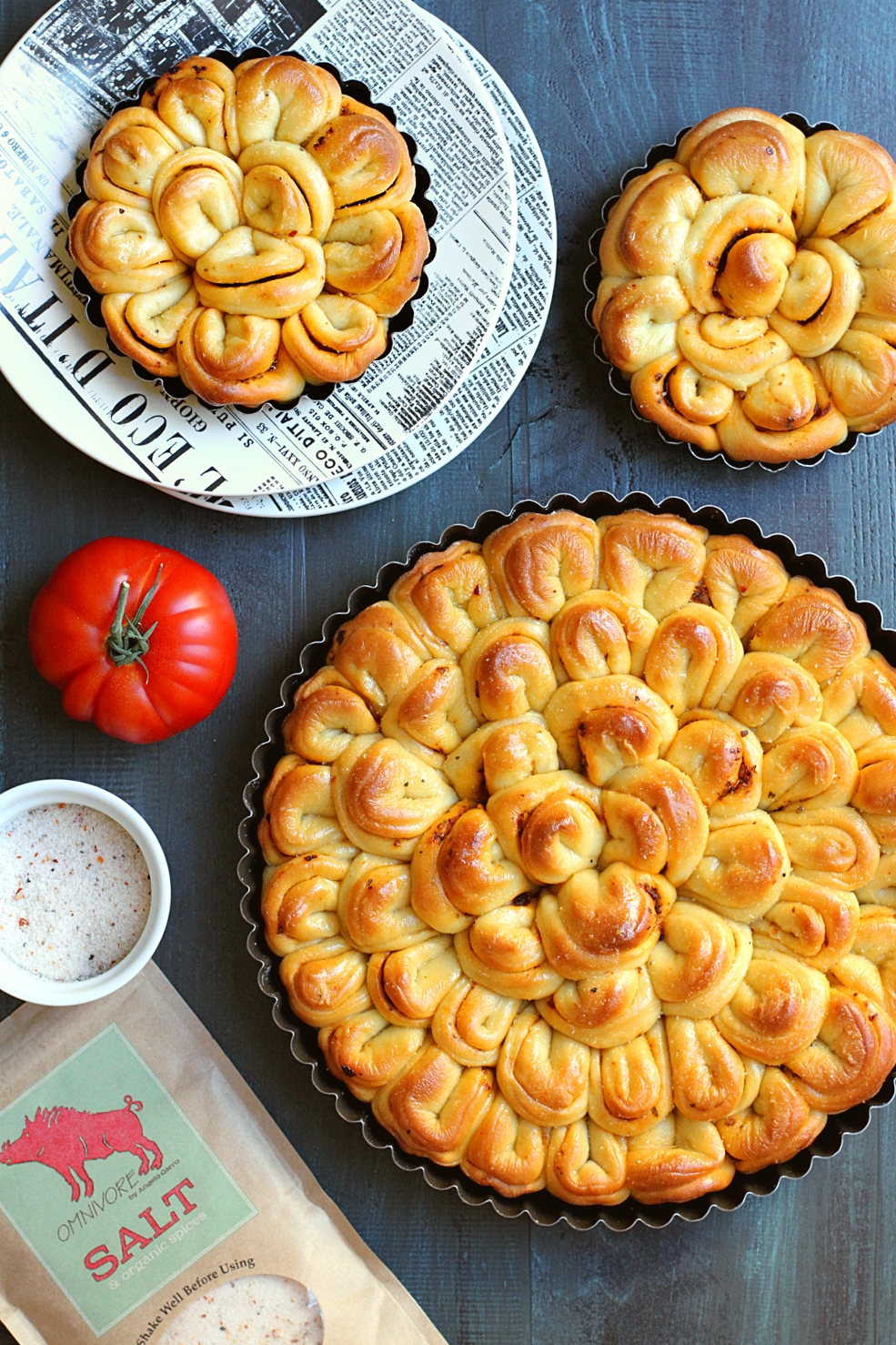 If you haven't made my pasta with roasted vegetables and sun-dried tomato pesto yet, what are you waiting for? I can think of two reasons why you should give the recipe a go. First, it's super easy to prepare and packed with flavor. And second, you'll have just enough sauce left over to assemble this pretty pull-apart bread.
Be warned: The loaf is not just a looker – it's fun to eat and tastes good, too! As you might expect, there's a touch of sun-dried tomato pesto in every wine-scented morsel.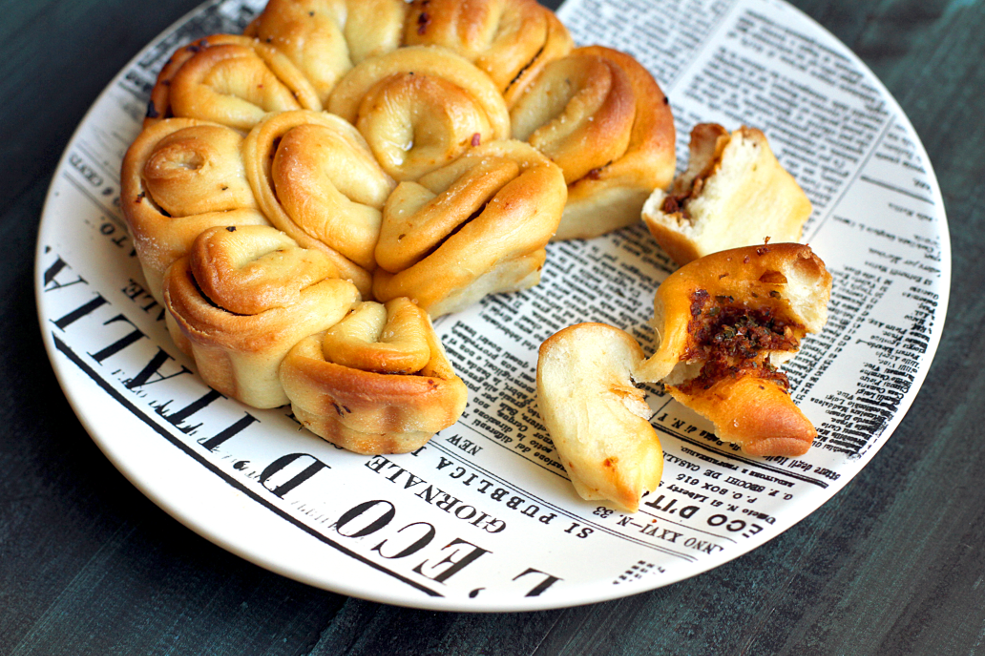 For an extra special touch, finish the pull-apart bread with a thin coat of extra virgin olive oil and a sprinkling of Omnivore Salt. (Since discovering this product in a mystery basket from Whole Foods Market Stevens Creek, I've been putting it on everything, including grilled shrimp, fried eggs and salad.) For maximum enjoyment, serve the loaf warm from the oven with cheese, fruit and chilled Pinot Grigio.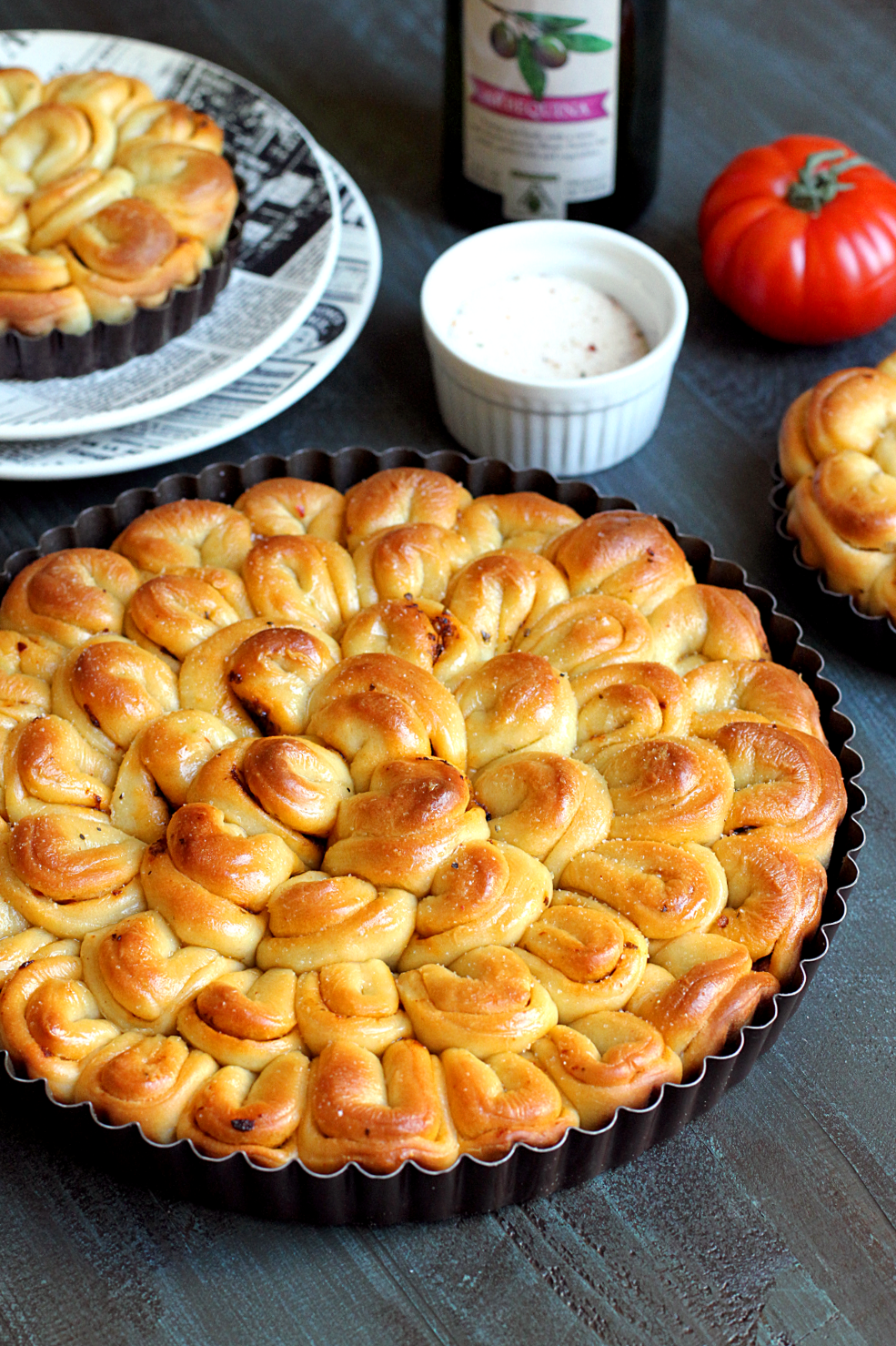 P.S. This is not a sponsored post; I just happen to love Omnivore Salt. In fact, Angelo Garro and his team recently launched a Kickstarter campaign to introduce a new product to the market and I could not be more excited for them.

Pinot Grigio and Sun-Dried Tomato Pesto Pull-Apart Bread
Makes 1 9" round loaf and 2 4½" round loaves
Ingredients
Dough:
¾ cup + 2 tablespoons Pinot Grigio
3¼ teaspoons active dry yeast
3 tablespoons sugar, divided
6 tablespoons unsalted butter, melted
4 cups + 2 tablespoons all-purpose flour
1½ teaspoons sea salt
3 eggs
Filling:
½ cup sun-dried tomato pesto
Finish:
1 tablespoon extra virgin olive oil
Omnivore Salt or sea salt
Instructions
Make the dough:
In a large bowl, heat ½ cup Pinot Grigio until warm - about 30 seconds in the microwave should do. Add the yeast and 1 tablespoon sugar. Whisk together until thoroughly combined and let sit until foamy, about 10 minutes.
Add the remaining Pinot Grigio and sugar and the rest of the dough ingredients (butter through eggs) to the yeast mixture, stirring everything until it comes together to form a shaggy ball. Then knead the dough by hand (or with a dough hook attachment) until it's smooth and elastic - this will take about 10 minutes (or less if using a stand mixer). Shape dough into a ball and place in a lightly oiled bowl, cover and let it rise until doubled in size, 1-2 hours.
Shape and bake the loaves:
Grease 1 9" tart pan and 2 4½" round tart pans.
After the dough has risen, divide dough in half. On a lightly floured surface, roll out one piece until it's about ¼" thick.
Cut out circles with a 3" round cutter. Spread about ¼ heaping teaspoon sun-dried tomato pesto over each circle in an even layer all the way to the edges. Fold each circle in half and then fold it in half again.
Arrange the folded pieces of dough in the tart pans, working in a spiral from the outside in to the center. Repeat with second piece of dough.
Cover loaves with a clean kitchen towel and let rise for 30 minutes.
About 15 minutes before dough has finished rising, preheat oven to 350 degrees.
Bake for 20 minutes; remove small loaves from the oven if golden. Bake large loaf for an additional 10 minutes or until golden.
Let loaves cool slightly on a wire rack. Then brush tops with extra virgin olive oil and sprinkle with salt. Serve immediately or at room temperature.
If you liked this recipe, you might also enjoy: