It's officially fall, which means squash is everywhere … and I love it! In fact, I couldn't resist buying a bag of zucchette pasta at Trader Joe's and two honeynut squash from the Ferry Plaza Farmers Market recently. With the addition of a few more ingredients, I was able to rustle up this pasta with butternut squash and sage dish.
It's super simple to prepare and surprisingly delicious. Then again, you can't go wrong with a recipe that includes carbs, butter and cheese. If you're in the mood for meat, add some cooked sausage or crumbled bacon to the mix. Of course, I think pasta with butternut squash and sage is perfect as is.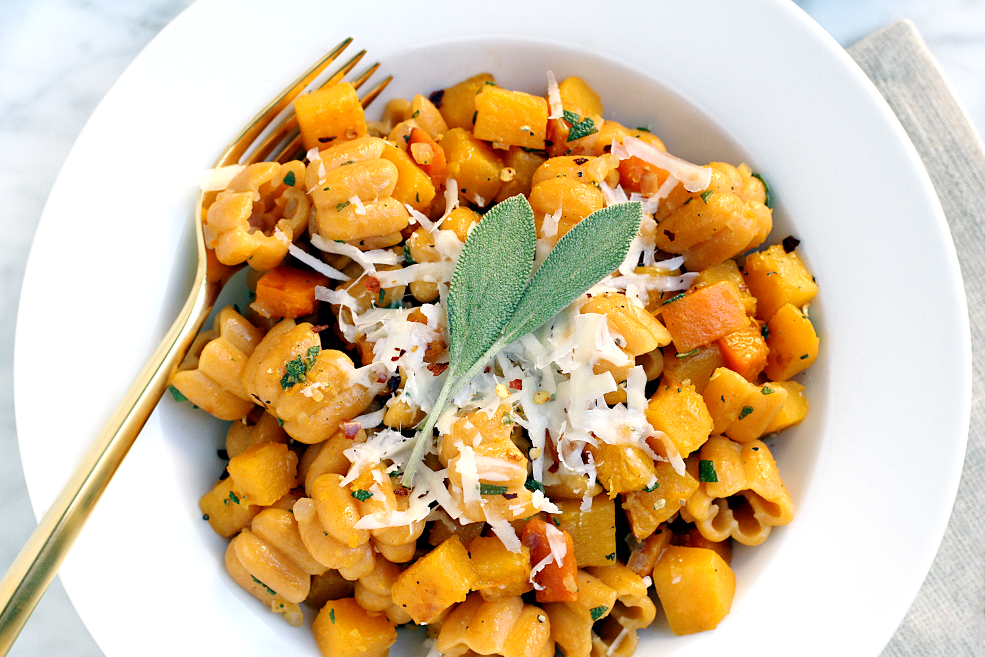 Recipe adapted from Serious Eats.

Pasta with Butternut Squash and Sage
Makes 2-4 servings
Ingredients
2 tablespoons olive oil
1 small butternut squash (about 1 pound), peeled, seeded and cut into ½" cubes (see notes)
sea salt and freshly ground black pepper, to taste
2 tablespoons unsalted butter
1 small shallot, minced
3 tablespoons chopped fresh sage
1 tablespoon freshly squeezed lemon juice
8 ounces zucchette or other short pasta
grated Pecorino Romano cheese, to taste
Instructions
In a fry pan, heat olive oil over high heat until almost smoking. Add butternut squash, season with salt and pepper, and cook, stirring occasionally, until browned and tender, about 5 minutes.
Add butter and shallot and cook, stirring frequently, until butter is lightly browned, about 1 minute.
Add sage and stir to combine. Remove from heat and stir in lemon juice. Set aside.
Bring a large pot of salted water to a boil. Cook zucchette until al dente according to package directions. Drain, reserving 1 cup cooking liquid.
Add zucchette and 2 tablespoons reserved cooking liquid to fry pan and toss gently to combine. Bring to a simmer and cook until heated through. If necessary, add more reserved cooking liquid to loosen the sauce.
Season with salt and pepper to taste. Top with Pecorino Romano cheese and serve immediately.
Notes
I used a mix of butternut and honeynut squash.
If you liked this recipe, you might also enjoy: