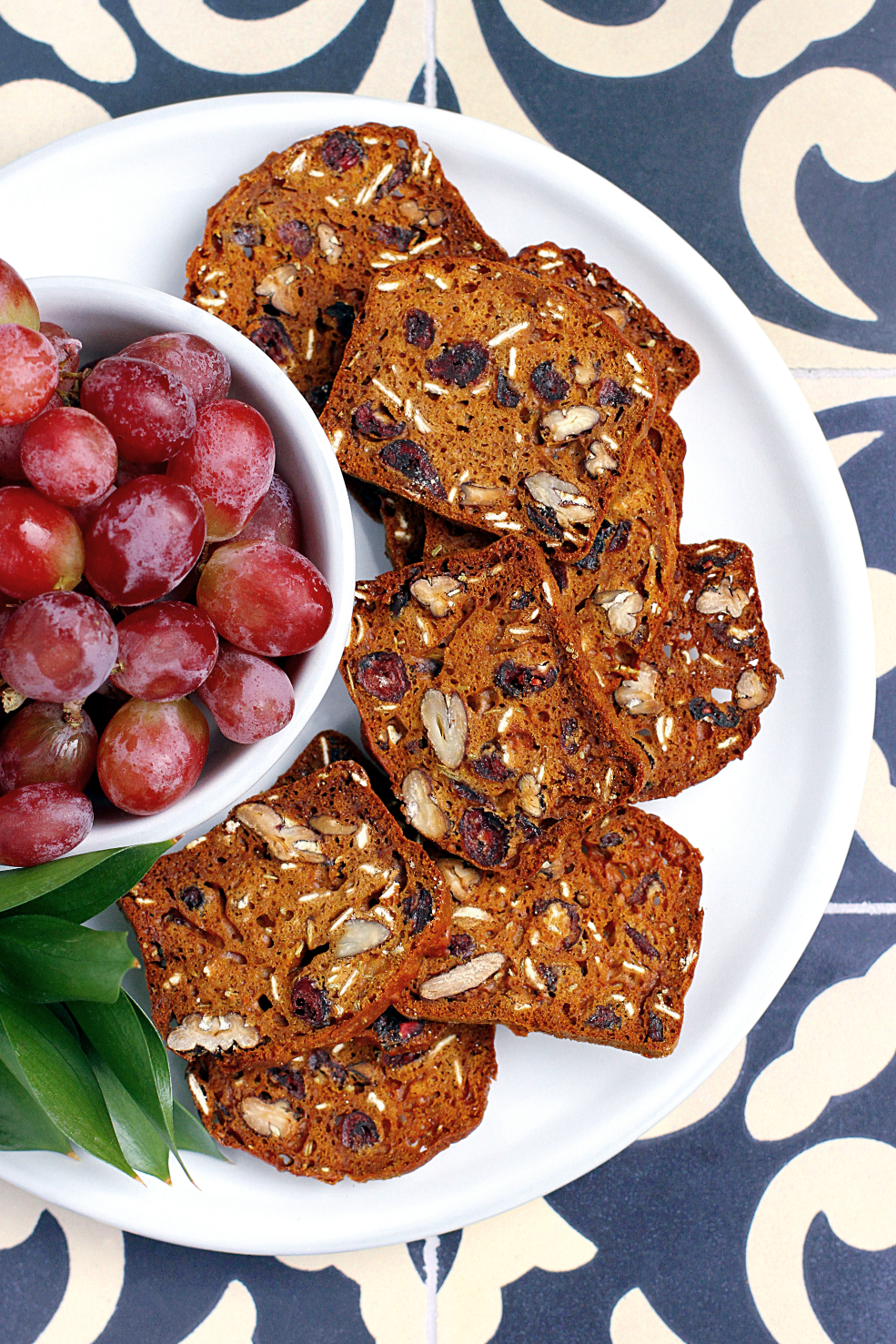 It's the season for treats – and I have one for you! If you're craving something crunchy, sweet and healthy, bake a batch of dried cranberry and pecan crisps. The recipe is simple and can easily be customized to suit your preference (or what's in your pantry).
Any fruit and nut combination, I imagine, would work well: apricot and almond, pear and pistachio, fig and filbert … you get it. Feel free to play around with the spices or omit the rosemary, too. Just don't mess with the ratio of dry to wet ingredients as your experiment will likely end in disaster.
Dried cranberry and pecan crisps are delicious on their own or as part of a cheese platter. You can also use them as a base for crostini or an accompaniment to salad. Consider doubling the recipe as the crackers will go quickly.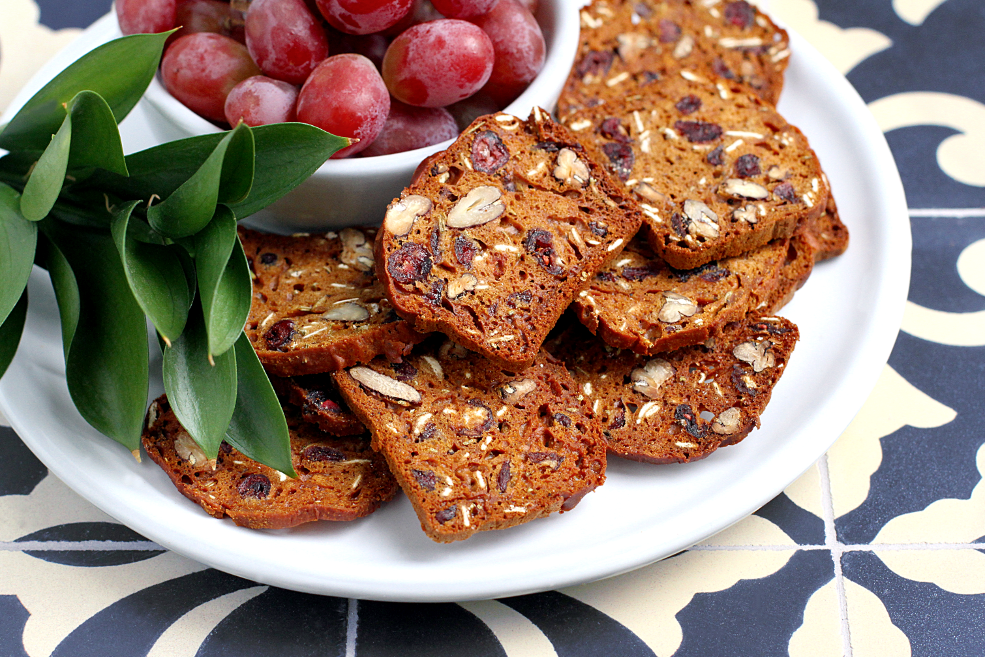 Recipe adapted from The Beautiful Balance.

Dried Cranberry and Pecan Crisps
Makes about 80 crisps
Ingredients
1 cup all-purpose flour
1 teaspoon baking soda
½ teaspoon sea salt
½ teaspoon ground cinnamon
¼ teaspoon ground nutmeg
⅛ teaspoon ground ginger
⅛ teaspoon ground allspice
1½ teaspoons dried rosemary
½ cup dried cranberries
⅓ cup pecans
¼ cup rolled oats
1 cup coconut milk
¼ cup honey
Instructions
Preheat oven to 350 degrees. Grease two 5¾"x3¼" loaf pans and line bottoms and sides with parchment paper.
In a medium bowl, whisk together the flour, baking soda, salt and spices. Add the rosemary and dried cranberries and stir to combine.
Toast the pecans and oats in a fry pan over medium-low heat, stirring occasionally, until fragrant, about 5 minutes. Let cool and then roughly chop pecans. Add the toasted pecans and oats to flour mixture.
In a small bowl, combine the coconut milk and honey. Add to the dry mixture and stir until just combined.
Pour batter into the prepared pans and bake for 30 minutes or until a wooden skewer inserted into the center comes out clean. Remove pans from the oven and turn out loaves onto a wire rack. Once cool, wrap in plastic and freeze for at least 1 hour or overnight.
When you're ready to bake the crisps, preheat oven to 300 degrees. Line a baking sheet with parchment paper.
Remove loaves from the freezer. Using a serrated knife, cut loaves crosswise into ⅛"-thick pieces and transfer to the prepared baking sheet.
Bake crisps for 30-40 minutes, rotating sheet halfway through, until browned and dry.
Store crisps in an airtight container at room temperature for up to a week, if they last that long.
If you liked this recipe, you might also enjoy: