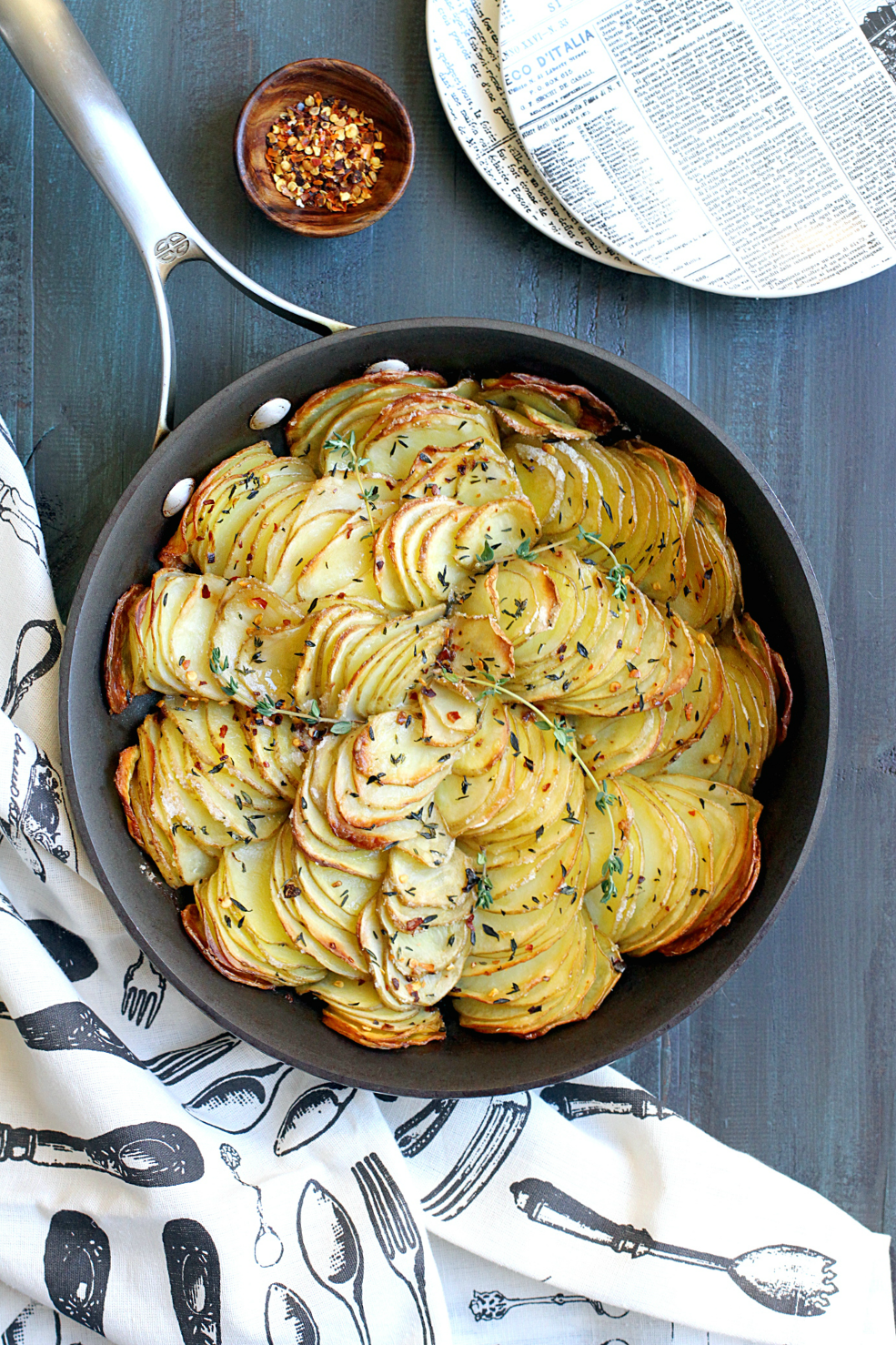 If you could only prepare potatoes one way for the rest of your life (an absurd scenario – I know), what would it be? These crispy roasted potatoes are at the top of my list.
The dish is a cinch to make yet it's first-rate, in my opinion. To assemble it, simply nestle thinly sliced potatoes in a pan, douse them with melted butter and sprinkle on a few seasonings. After an hour in the oven, the spuds become crusty on the outside, creamy on the inside and beautifully golden underneath.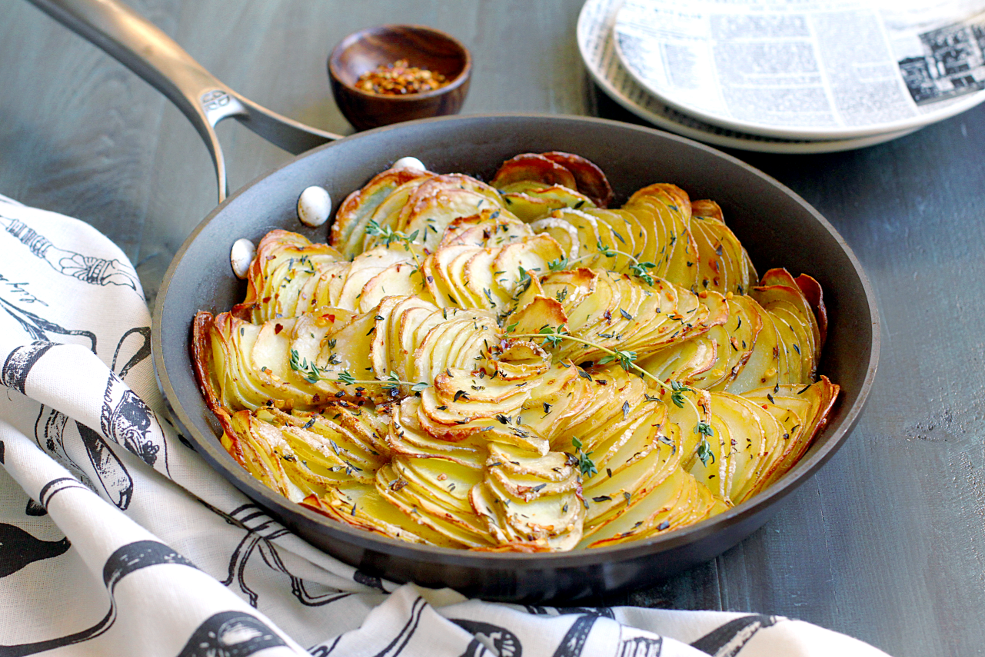 Bake a batch of these crispy roasted potatoes to serve with eggs and bacon for breakfast or as a side for dinner. There's a good chance they won't even make it to the table as you'll find yourself nibbling slivers straight from the pan.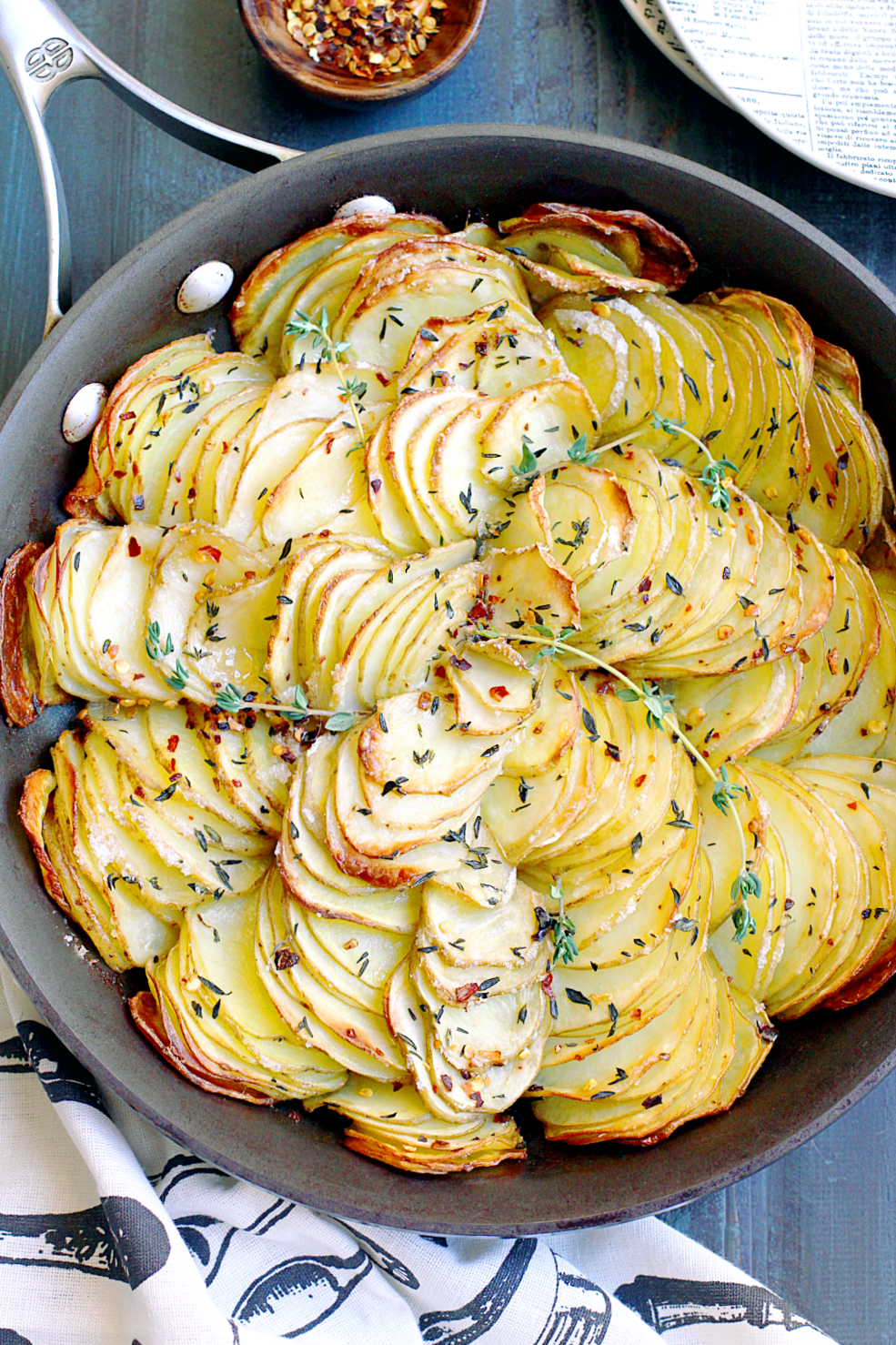 Recipe adapted from Williams-Sonoma.

Crispy Roasted Potatoes with Thyme
Makes 4-6 servings
Ingredients
2 pounds Yukon Gold potatoes
4 tablespoons unsalted butter, melted
1½ teaspoons fresh thyme leaves
1½ teaspoons sea salt
½ teaspoon dried chili flakes (optional)
Instructions
Preheat oven to 375 degrees.
With a sharp knife or mandoline, slice the potatoes into ⅛"-thick pieces.
Brush the bottom of a 10" oven-safe fry pan with 1 tablespoon butter. Arrange the potato pieces in the pan vertically, but at a slight angle, in a circular pattern.
Brush top with remaining butter. Sprinkle with thyme, salt and chili flakes, if using.
Bake for 1 hour or until the potatoes are tender and the edges are crispy. Let sit for 10 minutes before serving.
If you liked this recipe, you might also enjoy: