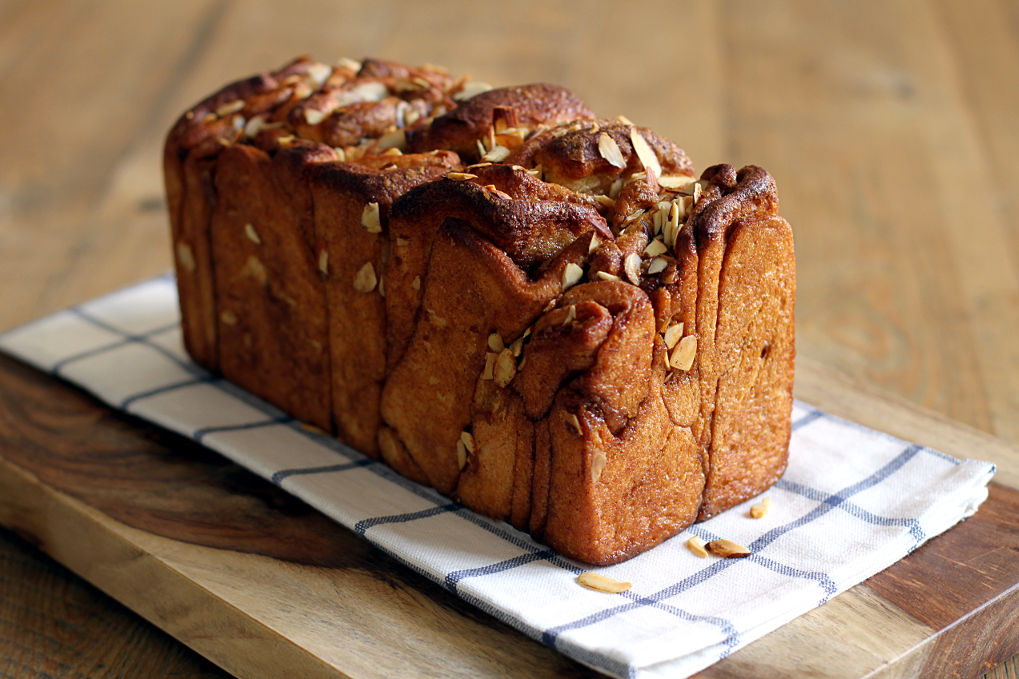 Accidents are par for the course when you're working in the kitchen. Pasta boils over, sauces curdle, cake sticks to the pan. Fortunately, if you've spent years recreating recipes, you learn to improvise when things don't go as planned. And in more cases than not, the finished product, while perhaps not picture perfect, is palatable if not delicious.
Sometimes, mishaps even lead to marvels. Such was the case with this pretty little brown sugar pull-apart bread I made two weekends ago. Everything was coming together nicely until I got to the final step. The dough had risen and rolled out with ease. I managed to cut and create uniform stacks for assembly. But when I got to layering the dough in my loaf pan, it only filled half the space!
What to do? What to do? I could use a muffin tin and make pull-apart rolls. Or I could try re-nestling the dough stacks in the pan and hope for the best.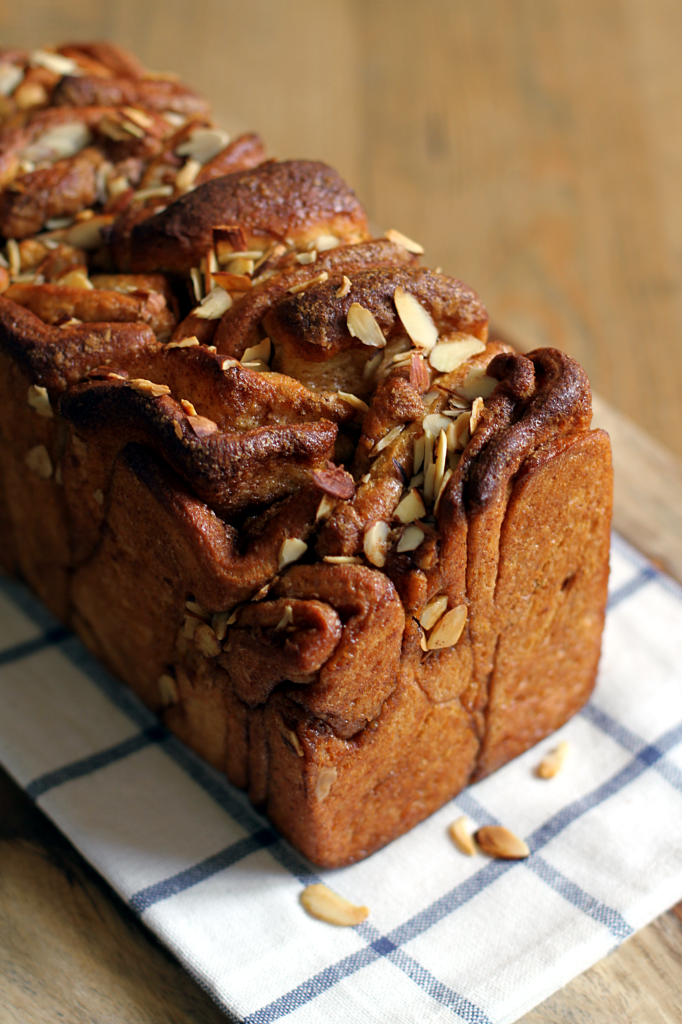 And that's exactly what I did. First I cut each dough stack in half, doubling the number of pieces I had to work with. The butter and brown sugar filling started oozing everywhere. But I moved quickly, stretching and folding each mini stack, hoping this technique would magically create more volume. By the time I was done, my unbaked loaf looked like a complete mess – but I'd press on.
I am so glad I did. As soon as I pulled the bread out of the oven, I fell in love with all of its craggy layers and furrows. It was perfectly imperfect – and delectable, too. You can be sure this is one accident I'll be making again and again.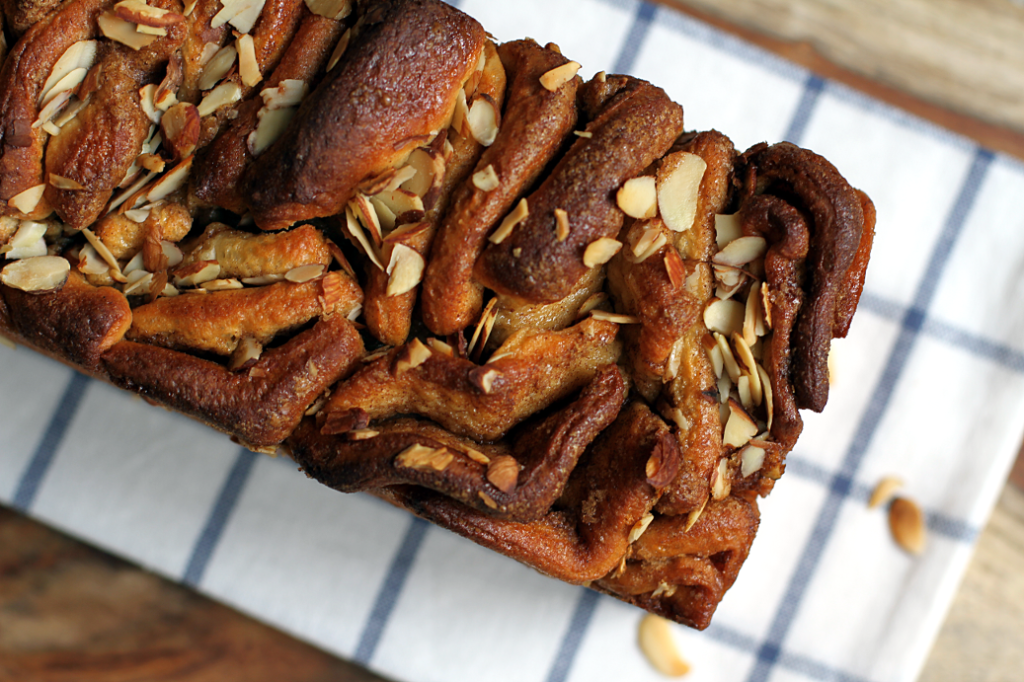 Recipe adapted from Alaska from Scratch.

Brown Sugar Pull-Apart Bread
Makes 1 9"x5" loaf
Ingredients
Dough:
⅓ cup milk
¼ cup water
2¼ teaspoons active dry yeast
¼ cup granulated sugar, divided
4 tablespoons unsalted butter, melted
2¾ cups all-purpose flour
½ teaspoon salt
1 teaspoon vanilla extract
2 eggs
Filling and finish:
¾ cup light or dark brown sugar
2 teaspoons ground cinnamon
pinch of salt
3 tablespoons unsalted butter, softened
2 tablespoons sliced almonds (for topping, optional)
Instructions
Make the dough:
In a large bowl, heat milk and water until warm - about 30 seconds in the microwave should do. Add the yeast and 1 tablespoon granulated sugar. Whisk together until thoroughly combined and let sit until foamy, about 10 minutes.
Add the remaining granulated sugar and the rest of the dough ingredients (butter through eggs) to the milk mixture, stirring everything until it comes together to form a shaggy ball. Then knead the dough by hand (or with a dough hook attachment) until it's smooth and elastic - this will take about 10 minutes (or less if using a stand mixer). Shape dough into a ball and place in a lightly oiled bowl, cover and let it rise until doubled in size, 1-2 hours.
Make the filling:
While the dough rises, combine the brown sugar, cinnamon and salt in a small bowl. Set aside.
Shape and bake the loaf:
Grease a 9"x5" loaf pan or pullman loaf pan (for a loaf with perfectly straight sides).
After the dough has risen, turn it out onto a lightly floured work surface. Roll out dough to a 24"x12" rectangle.
Spread the butter over the dough in an even layer. Sprinkle the brown sugar filling over the butter.
Using a sharp knife or bench scraper, cut dough lengthwise into 4 equal-sized strips. Stack the strips on top of one another and cut the stack into 6 equal-sized pieces.
At this point, you can layer the dough stacks, cut sides up, neatly in the loaf pan. (It helps to tilt the loaf pan a bit to keep your stacks from folding over on themselves.) Or, for a messier look, cut each dough stack in half, stretch it into a rectangle, fold it in half and then place in the pan with the folded edge perpendicular to the bottom of the pan. It's OK if some stacks stick up higher than others.
Cover loaf with a clean kitchen towel and let rise until doubled in size, about 1 hour.
About 15 minutes before dough has finished rising, preheat oven to 350 degrees.
Sprinkle top of loaf with sliced almonds, if using, and bake for 40-45 minutes until golden brown. If the top of the loaf gets too brown before it is done baking, cover loosely with foil.
Remove pan from the oven and turn out bread onto a wire rack. Let cool slightly before serving.