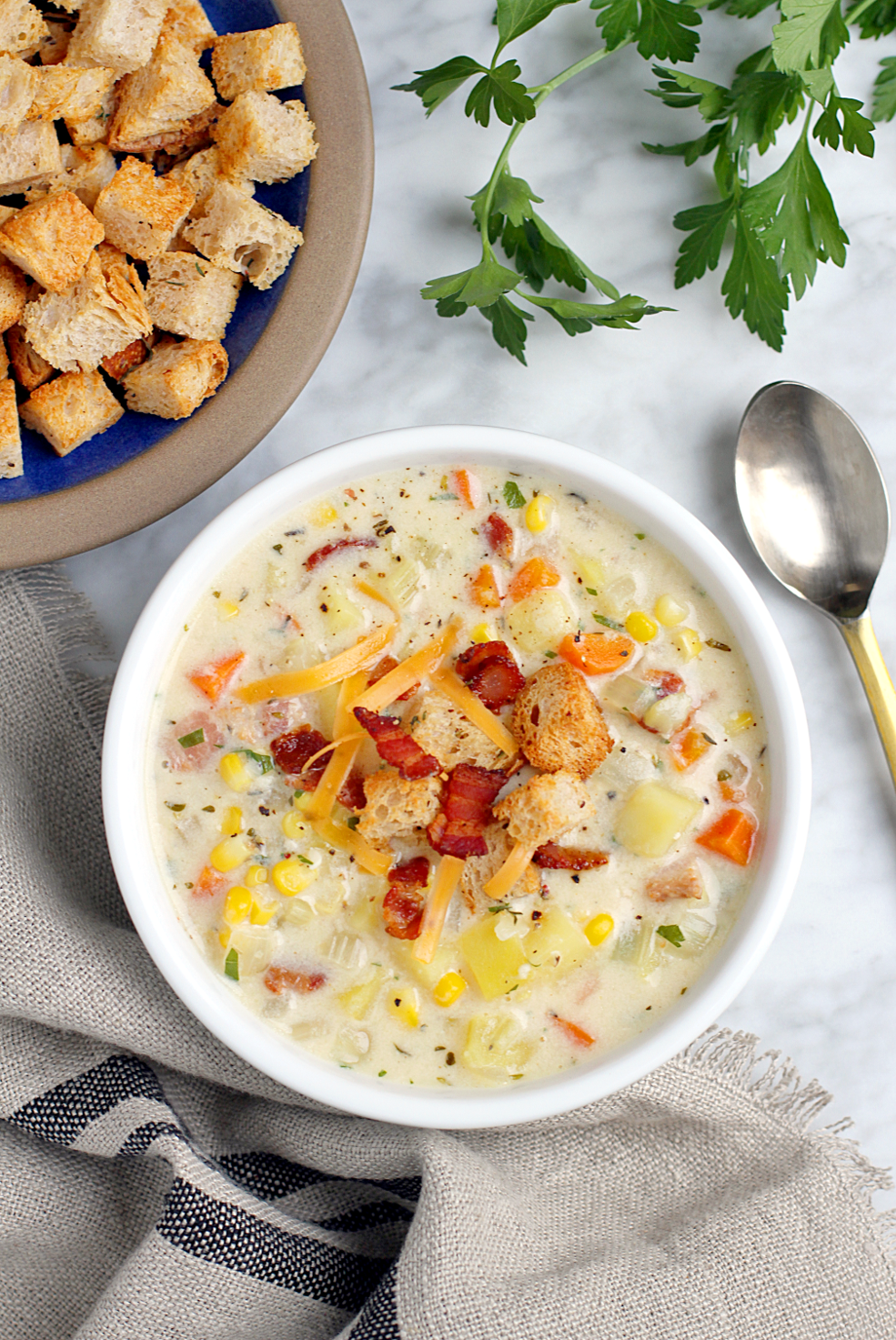 Did you know January is National Soup Month? Get in on the fun by whipping up a batch of bacon, cheese and corn chowder. And while you're at it, make some bacon fat croutons to throw on top.
The combination is quick to prepare and hits the spot, especially when the temperature drops. I downed a big bowl for dinner every day last week – and still crave the concoction.
While bacon, cheese and corn chowder might sound indulgent, it's chock-full of vegetables and relies on milk instead of cream for richness. So ladle out generous servings and dig in without a worry.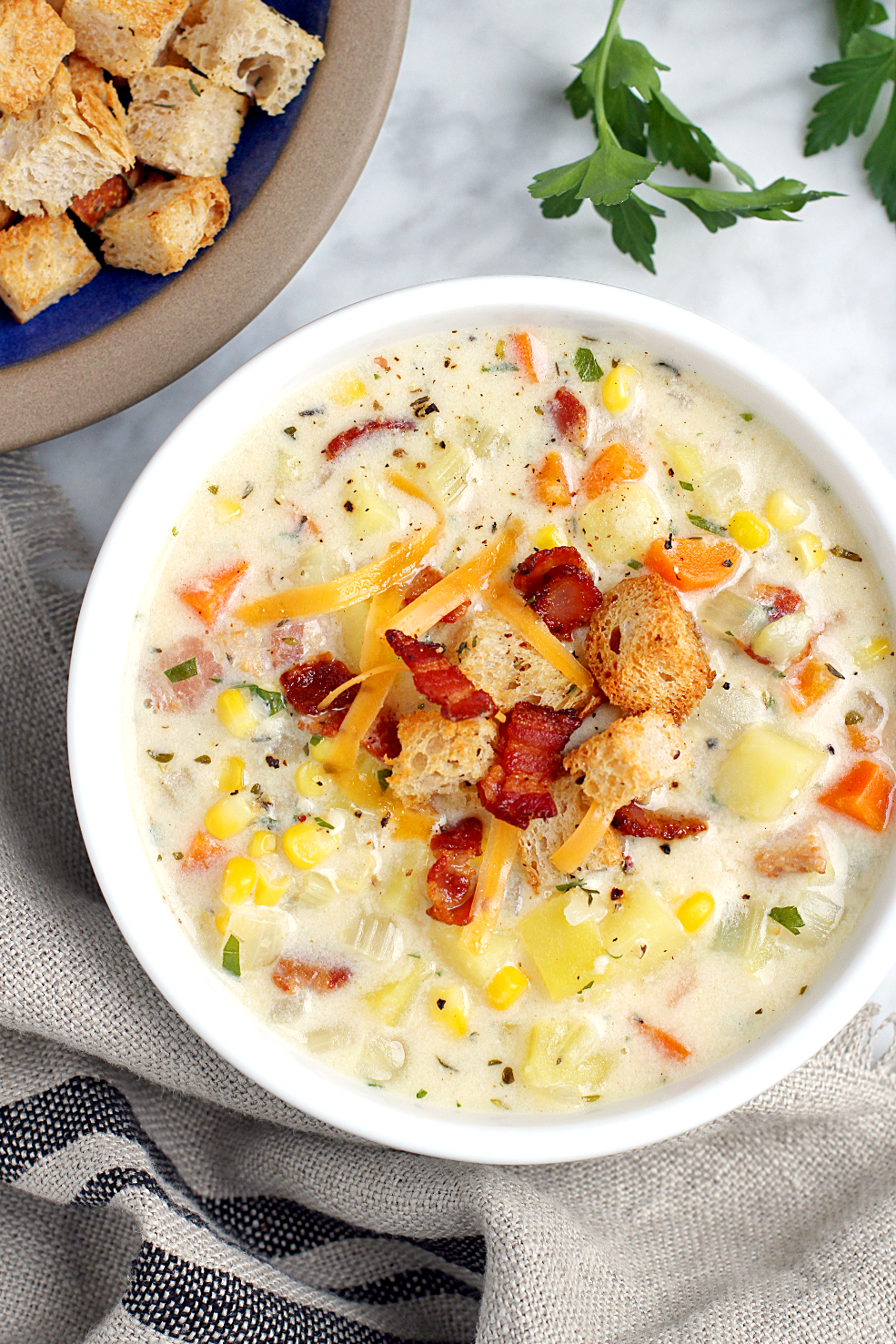 Recipe adapted from Averie Cooks.

Bacon, Cheese and Corn Chowder
Makes 6 servings
Ingredients
8 strips bacon, cut into lardons
1½ cups diced yellow onion
¾ cup peeled and diced carrots
¾ cup diced celery
3 garlic cloves, minced
3 tablespoons all-purpose flour
3 cups chicken broth
3 cups milk
2 cups peeled and diced Yukon Gold potatoes
¾ teaspoon dried thyme
¾ teaspoon dried oregano
¾ teaspoon salt
¾ teaspoon freshly ground black pepper
pinch of cayenne pepper
1½ cups frozen corn kernels
¾ cup shredded sharp cheddar cheese
¼ cup chopped fresh parsley
bacon fat croutons (for serving, optional, see notes)
Instructions
In a large pot, cook bacon on medium heat until fat renders and bacon crisps, about 10 minutes. Remove bacon from pot and set aside on paper towels to drain.
Remove all but 2 tablespoons of fat from pot and reserve if making bacon fat croutons. Add onion, carrots and celery and cook, stirring occasionally, until tender, about 8 minutes. Add garlic and cook until fragrant, about 1 minute.
Add flour and cook, stirring constantly, for 1 minute.
Slowly add chicken broth and milk; stir and bring to a boil.
Add potatoes, thyme, oregano, salt, black pepper and cayenne pepper; stir and bring to a boil. Reduce heat to medium-low and simmer, stirring occasionally, until slightly reduced, about 15 minutes.
Add corn kernels and cook, stirring occasionally, for 2 minutes or until heated through.
Add ¾ of the cooked bacon and cheese and stir to combine. Add parsley and stir to combine.
Remove soup from heat and season with additional salt and pepper to taste.
Serve immediately with remaining bacon and bacon fat croutons, if using.
Notes
To make croutons, preheat oven to 350 degrees. In a medium bowl, combine 2 cups bread cubes, 1 tablespoon bacon fat and 1 teaspoon fresh thyme leaves. Season with salt and pepper and toss to coat. Spread in a single layer on a baking sheet and bake for 20 minutes or until golden brown and crispy, stirring halfway through. Let croutons cool completely before using.
If you liked this recipe, you might also enjoy: