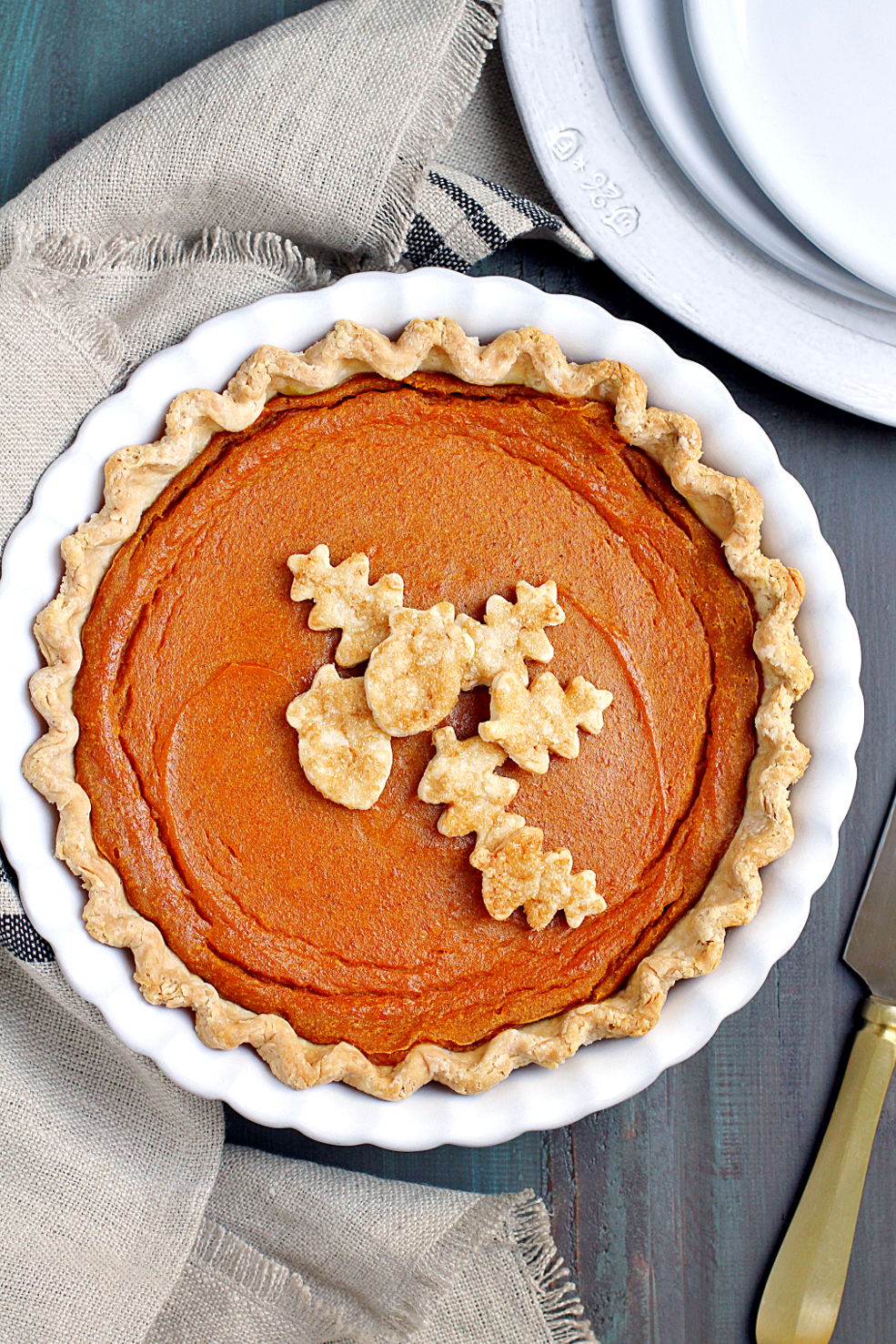 I did it! I made my first vegan dessert – and it wasn't a total disaster. In fact, this vegan pumpkin pie with a coconut oil crust was an unexpected success, and now I'm motivated to continue experimenting.
Never in my life did I think I'd be baking without eggs and dairy, but here I am. So what provoked me to try out a vegan dessert recipe? Well, I was hoping to surprise two small but mighty eaters with a Thanksgiving treat. The one caveat: They both have food allergies.
As mentioned, I didn't have high hopes for this vegan pumpkin pie with a coconut oil crust. I assumed the pastry would be crumbly and the filling would fail to rise and set. But that wasn't the case at all.
The dough was quite easy to work with and the whole thing baked up beautifully. Now, let's just hope the vegan pumpkin pie is a hit with the recipients. (Update: After one bite, they proclaimed it "the best pie ever" and each asked for seconds and thirds. That made my day!)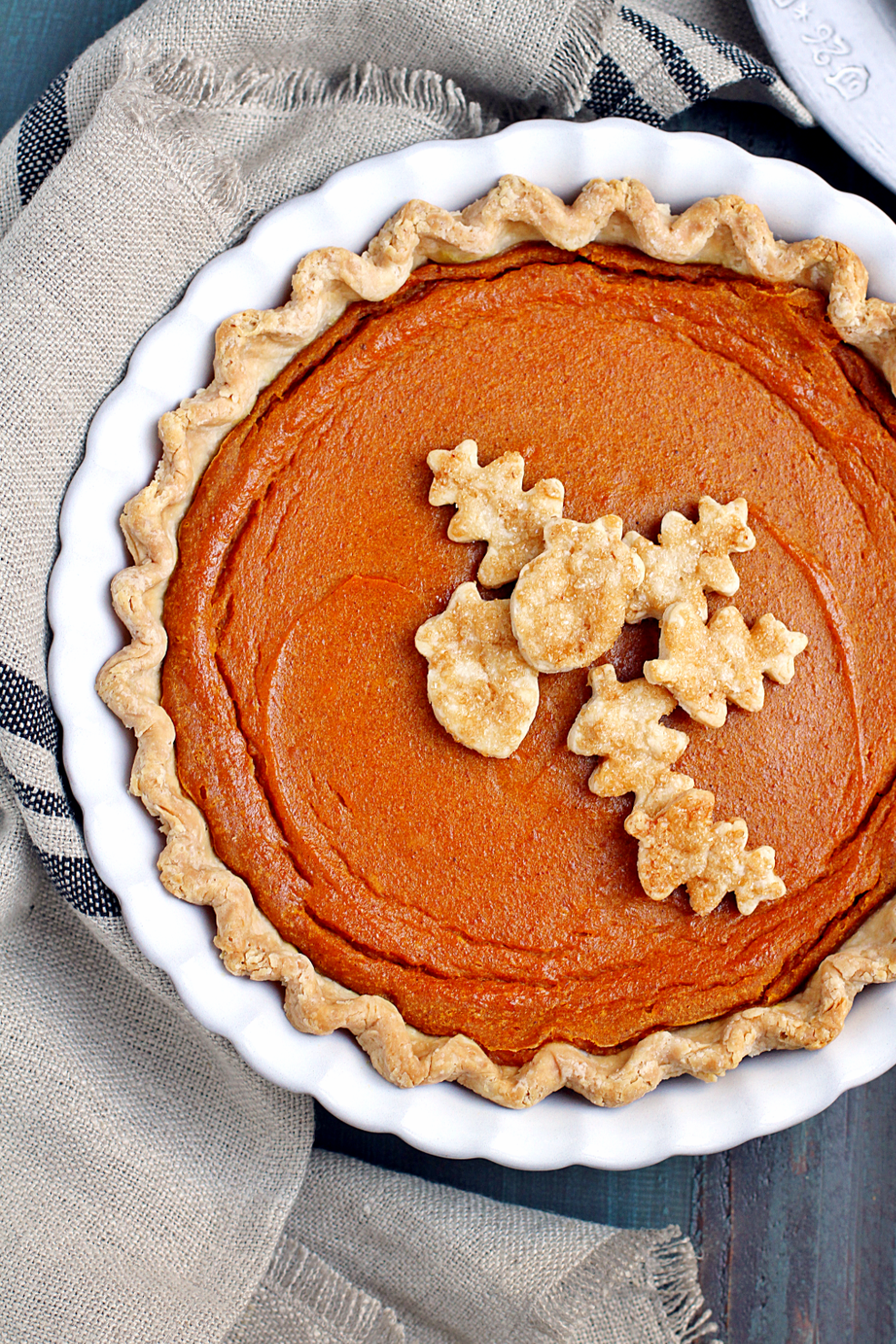 Recipes adapted from Food52 and Sarah Bakes Gluten Free.

Vegan Pumpkin Pie with a Coconut Oil Crust
Makes 1 9" pie
Ingredients
Coconut oil crust:
1½ cups all-purpose flour
2 teaspoons granulated sugar
¾ teaspoon salt
⅓ cup solid coconut oil
6-7 tablespoons ice water
Filling:
1 15 oz. can pumpkin purée
1 cup full-fat coconut milk
½ cup granulated sugar
2 tablespoons honey
1 teaspoon vanilla extract
¼ cup cornstarch
1 teaspoon ground cinnamon
1 teaspoon ground ginger
¼ teaspoon ground nutmeg
Finish:
1 tablespoon full-fat coconut milk
1 tablespoon Demerara sugar
Instructions
Prepare the crust:
In a large bowl, combine the flour, sugar and salt. Add the coconut oil and rub it into the flour mixture with your fingertips until it resembles coarse meal. Add 6 tablespoons water and mix with a fork. If it is crumbly, add more water, 1 teaspoon at a time, until the ingredients start to come together. Then use your hands to lightly knead the dough in the bowl until it forms a ball.
Turn the dough out onto a work surface. Shape into a disc, wrap with plastic wrap and refrigerate for at least 2 hours or up to 2 days.
Prepare the filling:
In a large bowl, combine all the filling ingredients; whisk until smooth.
Assemble and bake the pie:
Remove the dough from the refrigerator and let it sit for 5 minutes. On a lightly floured work surface, roll out dough to a 14" circle. Carefully transfer the dough to a 9" pie plate, pressing it against the bottom and sides. Use a sharp knife to trim the dough so it hangs about 1 inch over the edge of the pie plate. Tuck the edge of the dough under itself to create a thick rim and crimp.
Press together scraps and roll out dough until it's about ¼" thick. Cut dough using a 1" leaf and 1" acorn-shaped cutter. Place cutouts on a baking sheet. Transfer cutouts and crust to the freezer and let chill for at least 30 minutes.
Preheat oven to 350 degrees.
Remove cutouts and crust from the freezer. Brush cutouts with coconut milk and sprinkle with the Demerara sugar. Line the crust with parchment paper and fill with pie weights.
Bake cutouts and crust for 15 minutes and remove from the oven. Carefully lift the parchment paper (along with the pie weights) out of the crust and bake it for an additional 6-8 minutes until dry. Remove from the oven and let cool completely.
Pour the filling into the parbaked crust. Bake for 50-55 minutes or until the filling is set.
Remove pie from the oven and let cool to room temperature. Arrange baked cutouts on top and transfer pie to the refrigerator to chill for at least to 2 hours or overnight.
If you liked this recipe, you might also enjoy: