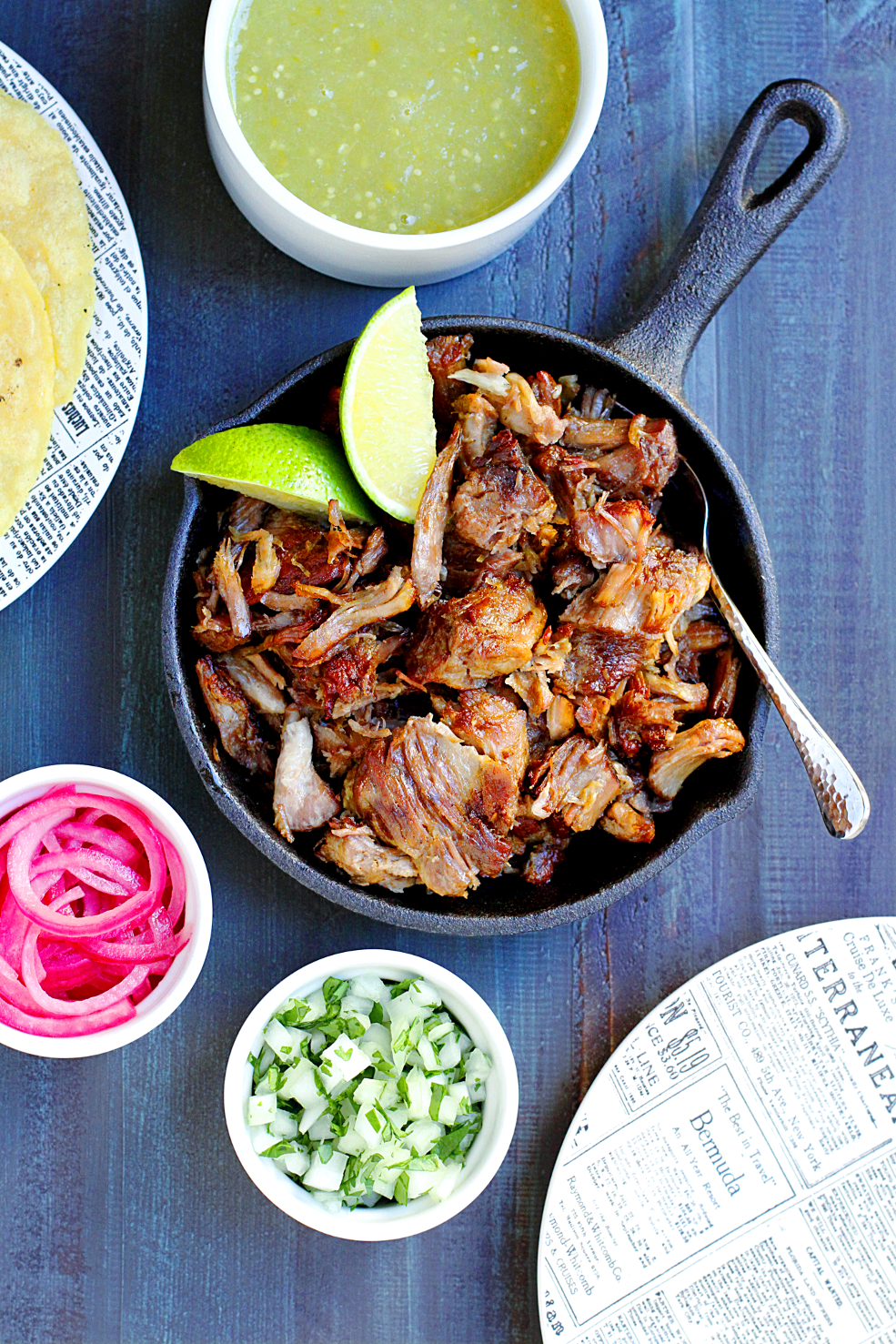 If there's one lesson I learned from making slow-roasted carnitas with salsa verde, it's that I need to double (or even triple) the quantity. Follow the recipe, and you'll be able to feed four hungry people. But you won't have leftovers – and you'll wish you did.
The day I cooked slow-roasted carnitas with salsa verde, I served about half – alongside homemade corn tortillas (using the formula on the back of a P.A.N. Pre-Cooked Yellow Corn Meal bag), finely diced onion and cilantro, and quick pickled onions – and saved the rest for later. The meal was a hit with my dining companion, who inhaled five hearty tacos.
And when I finally shared some of the slow-roasted carnitas with my parents, they enjoyed it with scrambled eggs for breakfast and agreed the meat was flavorful and tender. Two small but mighty eaters also had a taste and awarded it a 10 out of 10! I guess I'll be whipping up a second batch soon.
Recipe adapted from Serious Eats.

Slow-Roasted Carnitas with Salsa Verde
Makes 4-6 servings
Ingredients
Slow-roasted carnitas:
3 pounds boneless pork shoulder, cut into 2" pieces
1 tablespoon sea salt
½ onion, halved
1 orange, quartered
4 garlic cloves, halved lengthwise
2 bay leaves
1 cinnamon stick, broken into 2 pieces
¼ cup avocado oil
Salsa verde:
1½ pounds tomatillos (husked removed), rinsed and quartered
½ onion, halved
2 fresh jalapeños, halved lengthwise (remove seeds for a milder salsa)
2 garlic cloves
Instructions
Make the slow-roasted carnitas:
Preheat oven to 275 degrees.
Season pork with salt and toss to coat. Place in a single layer in a 9"x13" baking dish.
Squeeze orange juice over pork. Nestle squeezed orange pieces, onion, garlic, bay leaves and cinnamon stick in the baking dish. Drizzle with avocado oil and cover baking dish tightly with foil.
Bake for 3½ hours or until meat is fork tender.
Remove from the oven and discard orange pieces, onion, garlic, bay leaves and cinnamon stick. Transfer pork to a large bowl and strain liquid through a fine-mesh sieve. Skim off any fat that has risen to the top and transfer to a small bowl. Transfer remaining liquid to a medium sauce pan.
Transfer pork back to baking dish and shred.
Make the salsa verde:
Add tomatillos, onion, jalapeños and garlic to pan with reserved cooking liquid and bring to a boil. Reduce heat to medium-low and simmer until vegetables are tender, about 10 minutes.
Remove vegetables and about 1 cup liquid from pot and purée. Add more liquid to thin out salsa, if desired. Season with salt to taste. Transfer to an airtight container and refrigerate until ready to use.
Assemble the dish:
Preheat broiler.
Drizzle 6 tablespoons reserved fat over shredded pork.
Broil for 10 minutes, stirring halfway through. Serve with salsa verde, as well as corn tortillas, finely diced onion and cilantro, and quick pickled onions, if desired.
If you liked this recipe, you might also enjoy: