Thank you VOVETI for sponsoring this post. Elevate your entertaining this season with VOVETI Prosecco.
What's my ideal night in? Pizza and prosecco, of course! I mean, why go out for dinner and drinks when you can whip up a delicious spread in the comfort of your own home (for a fraction of the cost, no less)?
When I'm craving good food but too lazy to leave the house (even to hit up one of my favorite eateries), I often make pizza. It's a quick and easy meal (as long as you prepare the dough in advance) that never disappoints. And if I want to treat myself or my dining companions to a little something special, I pair the pie with sparkling wine.
That's what I did this past Sunday. After putting together two personal apple and caramelized onion pizzas, I popped open a bottle of chilled VOVETI Prosecco to share with a guest.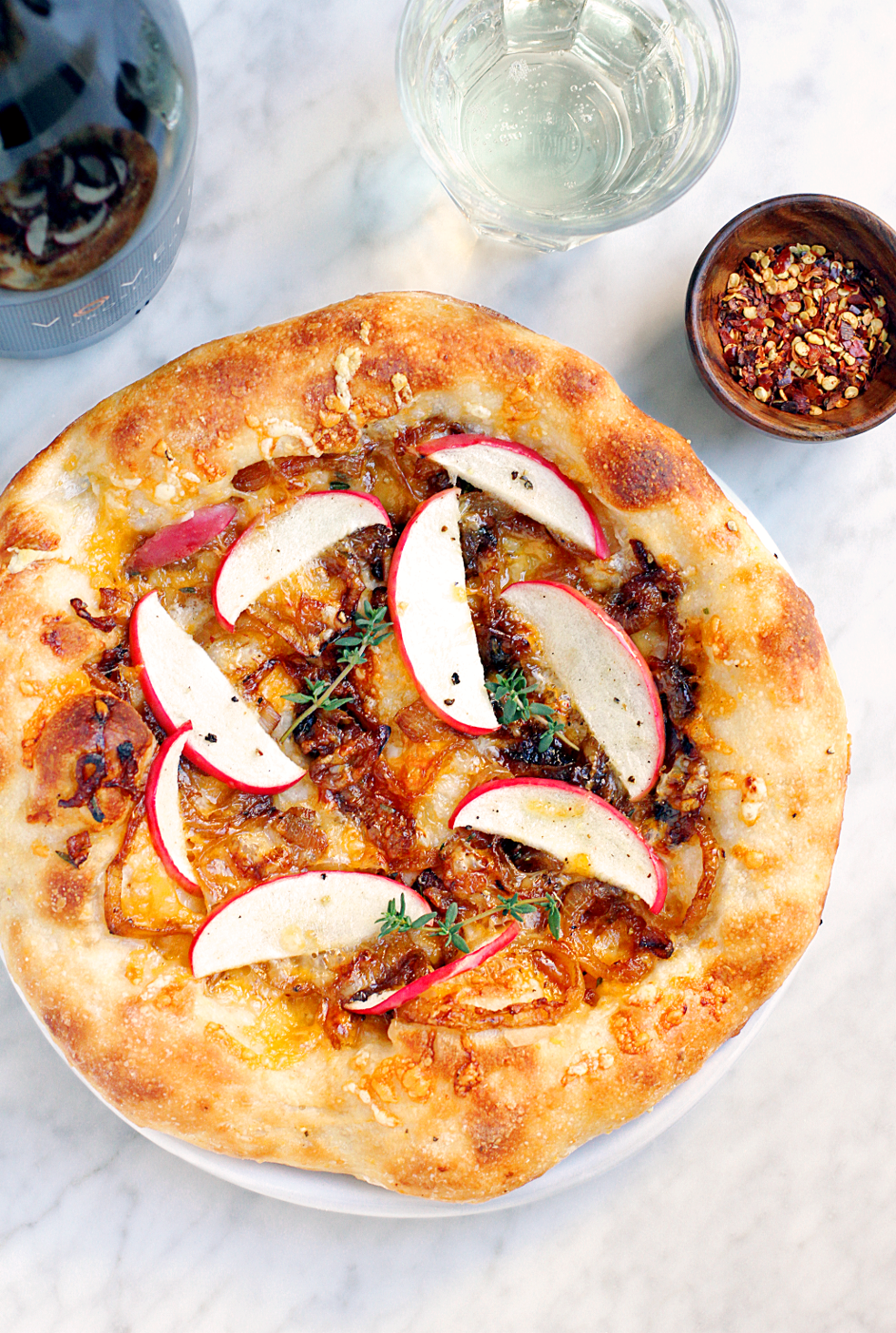 It was my first time trying the particular brand of wine – and it definitely won't be the last. With notes of green apple, melon, pear and ripe peach, VOVETI is an easy drinking aperitif or cocktail, perfect to share with friends. You can serve the beverage before or with your main dish – better yet, do both!
If you've never had pizza with apple, caramelized onion and two types of cheese, you're missing out. The sweet and savory creation is super satisfying and contrasts nicely with the tempered acidity and fresh, graceful profile of VOVETI, a brut-style DOC. (In case you're wondering, DOC stands for Denominazione di Origine Controllata and is a quality assurance label for Italian wines. You can read how VOVETI is made here.)
Doubt this duo will deliver? Try my apple and caramelized onion pizza recipe, pick up a bottle (or two) of VOVETI and find out for yourself. I'm pretty sure pizza and prosecco night will become your new tradition.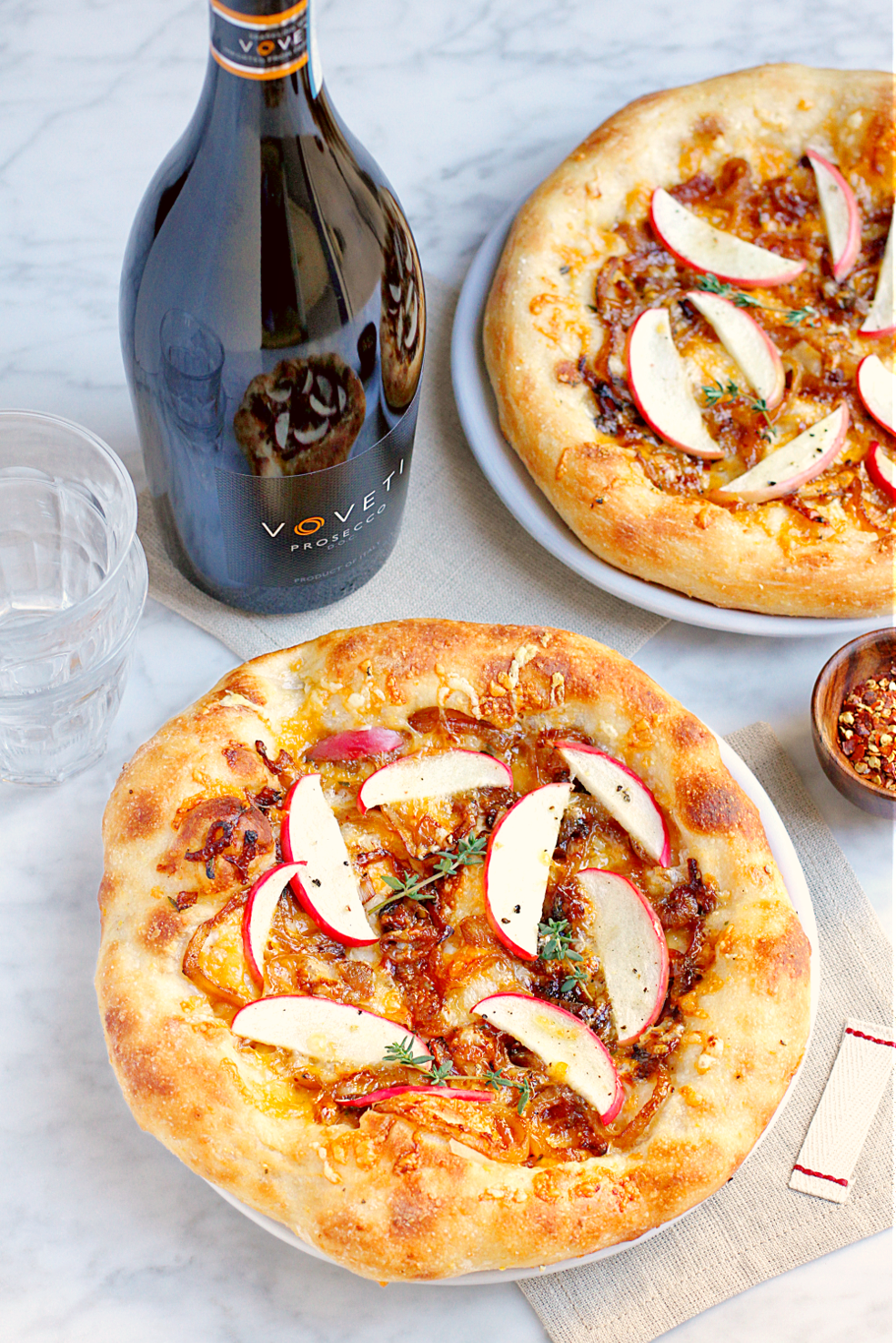 Recipe adapted from Healthy Seasonal Recipes.

Apple and Caramelized Onion Pizza
Makes 2 8" pizzas
Ingredients
Pizza dough:
1¾ cups all-purpose flour
2 tablespoons cornmeal
1 teaspoon sea salt
⅛ teaspoon active dry yeast
¾ cup water
Topping:
1 tablespoon avocado oil
1 small onion, halved and thinly sliced
½ teaspoon fresh thyme leaves
½ cup grated sharp cheddar cheese
½ cup grated Fontina cheese
½ Cripps Pink apple, thinly sliced
sea salt and freshly ground black pepper, to taste
1 tablespoon olive oil
Instructions
Make the pizza dough:
In a large bowl, combine the flour, cornmeal, salt and yeast.
Add water to the flour mixture, stirring everything until it comes together to form a shaggy ball. Cover the bowl with plastic wrap and allow it to rise at room temperature for 18-20 hours.
Flour a work surface, scrape out the dough and divide in half. Gently and quickly shape each piece into a ball by taking the ends of the dough and folding them into the middle; place seam side down on your work surface. If you don't plan to use the dough right away, wrap it in plastic and refrigerate for up to 3 days. When ready to use, remove the dough from the refrigerator and let sit at room temperature, covered with a damp cloth, for 2-3 hours before shaping.
Make and bake the pizza:
Heat avocado olive oil in a fry pan over medium heat. Add onion and cook until lightly caramelized, 10-12 minutes. Remove from heat and stir in thyme.
Adjust oven rack to the second-highest position and place Baking Steel on rack. Preheat oven to 500 degrees for approximately 45 minutes. (See notes)
Stretch out each dough portion to an 8" circle and place on a floured pizza peel (or inverted baking sheet). If the dough is resisting, let it sit for about 5 minutes.
Spread the caramelized onion over the dough in an even layer all the way to the edges.
Top with cheddar and Fontina cheese and apple slices. Season with salt and pepper. Brush edge of the dough with olive oil.
Slide the pizzas onto the Baking Steel and bake for 8-9 minutes or until crust is golden.
Notes
If you don't have a
Baking Steel
, you can prepare and cook the pizzas on a baking sheet. Preheat oven to 450 degrees and bake pizzas for about 18 minutes or until crust is golden.
If you liked this recipe, you might also enjoy:
I was selected for this opportunity as a member of CLEVER and the content and opinions expressed here are all my own.