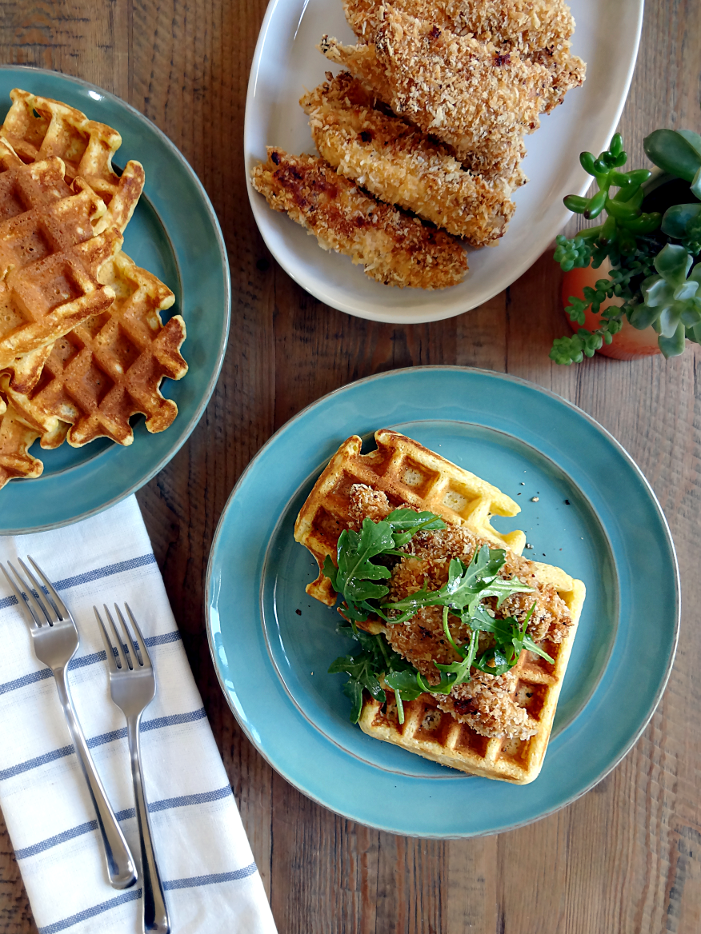 So it turns out my little collaboration with Pottery Barn wasn't a flash in the pan. After featuring my strawberry cream cheese tart on their blog, they came back for seconds! I am over the moon. I mean, how often does a newbie blogger get to partner with one of her absolute favorite brands? Let's just say I'm enjoying it while I can.
It's moments like these – along with kind comments from friends, coworkers and complete strangers – that motivate me to keep bloggin' (even when I'm exhausted after a long day of work, like right now). In fact, nothing makes me happier than when readers mention they tried a recipe I wrote about; it's icing on the cake if they actually liked it.
Every dish I make, pastry I bake and photo I take, I'm pushing myself to improve – and, most important, have fun in the process. Because that's ultimately why I started Two of a Kind: to discover new foods and share my obsession with love for cooking.
And with that, I present to you this chicken and waffles recipe, which debuted on Pottery Barn's Inside & Out blog earlier this week. It's a light take on a traditionally heavy dish, meaning you can enjoy it as often as you wish.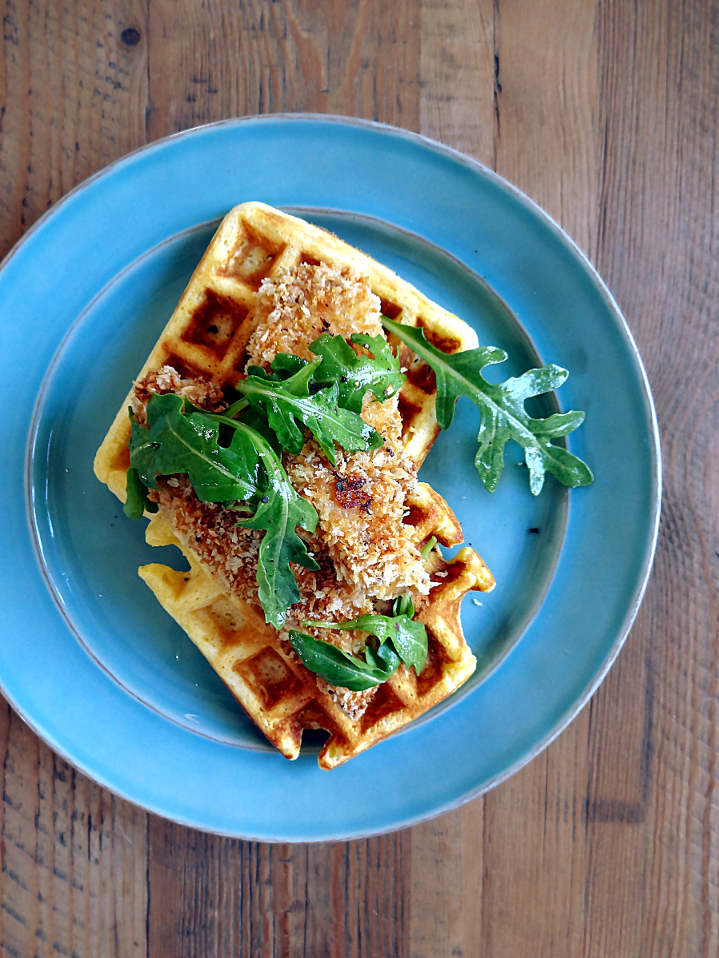 Make meal prep fast by cooking the chicken and golden cornmeal waffles in advance. Then all you have to do is reheat them in the oven and dress your greens when you're ready to eat. Drizzle on some maple syrup to gild the lily.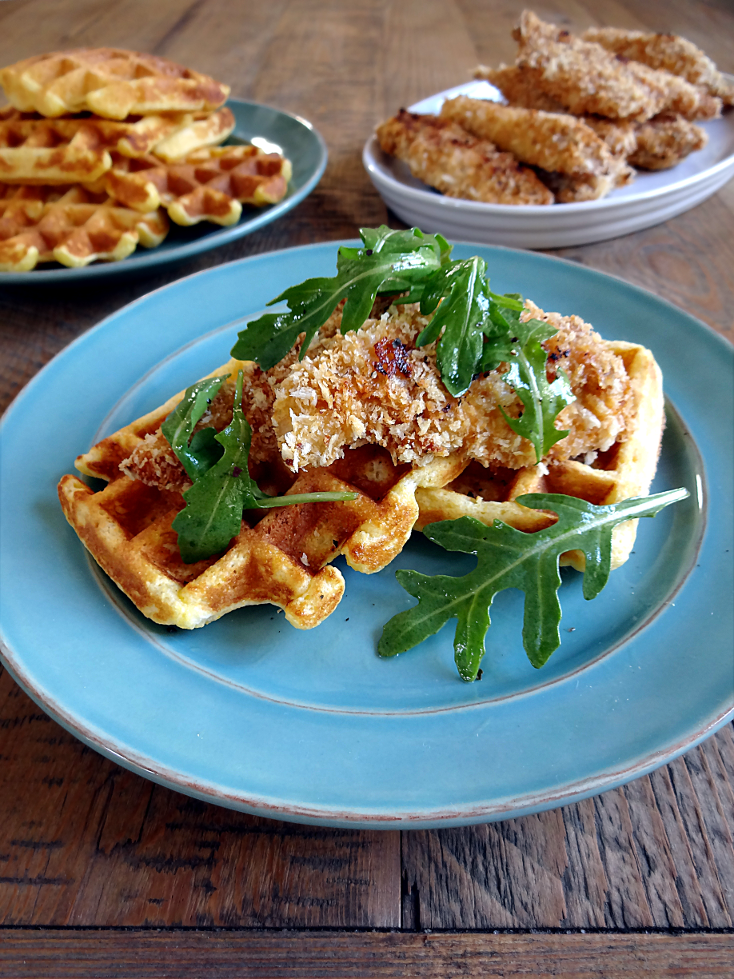 Chicken recipe adapted from the Hungry Hedgehog.

Oven-Fried Chicken and Waffles with Arugula Salad
Makes 4 servings
Ingredients
Chicken:
1⅓ cups panko bread crumbs
1 tablespoon olive oil
1 pound boneless, skinless chicken breasts, cut into 1" thick strips
sea salt and freshly ground black pepper, to taste
1 teaspoon mustard powder
1 egg
1 tablespoon honey
2 teaspoons Dijon mustard
1 teaspoon Srirarcha sauce
2 tablespoons milk
½ cup all-purpose flour
Waffles:
⅔ cup yellow cornmeal
¾ cup all-purpose flour
4 teaspoons sugar
¾ + ⅛ teaspoon baking powder
⅛ teaspoon baking soda
½ teaspoon sea salt
½ teaspoon mustard powder (optional)
1 large egg, separated
1⅙ cups buttermilk, at room temperature
3 tablespoons unsalted butter, melted and cooled slightly
Salad:
1 tablespoon olive oil
½ tablespoon freshly squeezed lemon juice
½ tablespoon honey
sea salt and freshly ground black pepper, to taste
4 cups arugula
Instructions
Make the chicken:
Preheat oven to 375 degrees. Line a baking sheet with foil.
Put panko in a medium fry pan and drizzle with olive oil. Toast over medium heat until golden brown, stirring occasionally to prevent burning. Set aside.
Season chicken strips with salt, pepper and mustard powder.
In a medium bowl, whisk together egg, honey, mustard, Sriracha sauce and milk.
Dredge chicken in flour and shake off excess. Then dip in egg mixture and let excess drip off. Finally, coat chicken with toasted panko, pressing to adhere.
Place chicken on prepared baking sheet and bake until cooked through and golden brown, about 15-20 minutes.
Make the waffles:
In a medium bowl, combine the cornmeal, flour, sugar, baking powder, baking soda, salt and mustard powder (if using); mix well.
In a separate bowl, combine the egg yolk and buttermilk; mix well. Gradually whisk in the butter.
Add the wet mixture to the dry mixture and mix just until the batter is combined.
In a clean small bowl, beat the egg white until soft peaks form. Then, gently fold the egg white into the batter with a rubber spatula.
Preheat a waffle iron. Follow the directions on your waffle iron to cook the waffles; you do not need to grease the iron as the butter in the batter will allow the waffles to easily release. Set aside until ready to serve.
Make the salad:
In a large bowl, whisk together olive oil, lemon juice and honey. Season with salt and pepper to taste. Add arugula to bowl and toss to coat.
To assemble:
Place 1-2 waffles on a plate (depending on how big your waffles are). Top with a few chicken strips and a handful of the arugula salad. Drizzle with maple syrup just before serving.