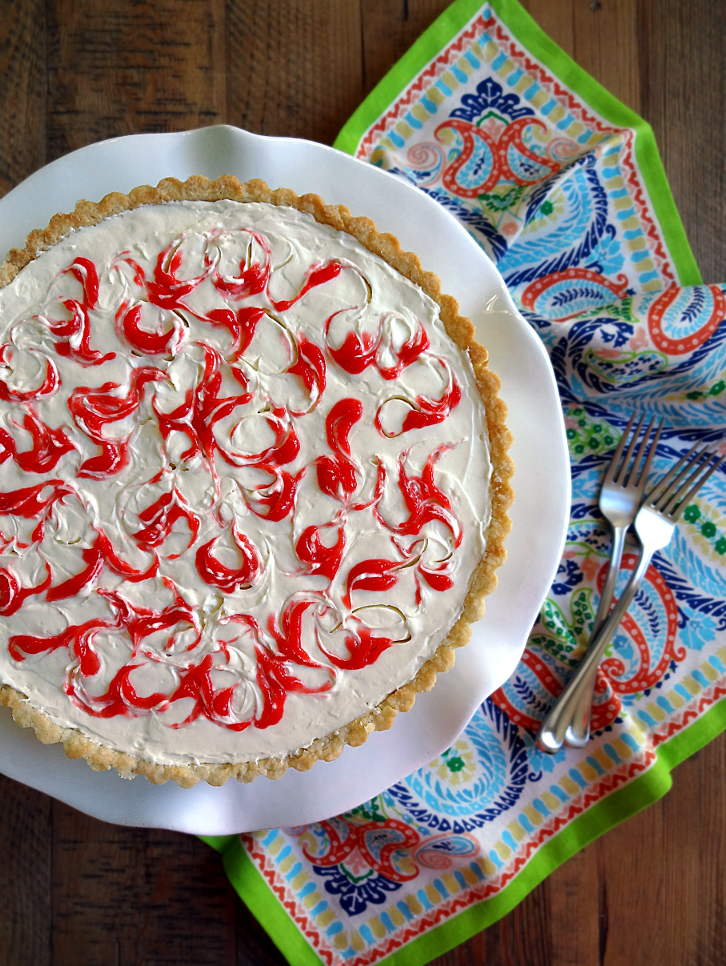 I'm so excited to share today's post with you, probably much more than you are to read it (but that's OK). Exactly seven weeks ago, I received a phone call from one of my favorite lifestyle brands. I didn't want to share too much information at the time in case nothing came of it – and for a while, that's exactly what I thought would happen.
But if you visited Pottery Barn's Inside & Out blog yesterday, you would have seen my strawberry cream cheese tart (the same one pictured here) front and center on the homepage. It put a BIG smile on my face. For someone who has only been blogging for three months, I consider this a significant win.
I'd like to think this opportunity came as a result of luck and my PR expertise. You see, one of Pottery Barn's social media managers noticed my Instagram feed after I (strategically) left a comment on a photo of their Benchwright Table, the backdrop for much of my food photography. She then contacted me, asking if I'd like to collaborate on some content for their blog and social media feeds. Um, yes, please!
I'll admit I was a bit intimidated – and I even told her so. I wasn't a professional photographer, food stylist or cook, and anything I shot on my compact digital camera would pale in comparison to the stunning photos on their site, I explained. She didn't care. "Just keep doing what you're doing," she said. That, I could do.
After the call, things stalled a bit. When I didn't hear back, I followed up via email (you don't ask, you don't get, right?). She apologized profusely, mentioning she was getting ready for a business trip. I know how that is; in fact, a week or so later I was headed out of town for a work event, too. But as soon as I got home, things started moving quickly. I came home to a set of beautiful salad plates and napkins to play around with. And that's just what I did.
Fast-forward a few weeks and here we are! I feel so fortunate to have been in the right place at the right time and to have had this opportunity. I may just have to celebrate by making an encore tart, which is fine by me.
Recipe adapted from Magnolia Days.

Strawberry Cream Cheese Tart
Makes 1 10" tart
Ingredients
Strawberry-lemon curd (see notes):
2 cups sliced strawberries
3 tablespoons granulated sugar
¼ cup freshly squeezed lemon juice
2 tablespoons cornstarch
Crust:
1¼ cups all-purpose flour
⅓ cup granulated sugar
¼ teaspoon salt
8 tablespoons unsalted butter, room temperature
2 tablespoons milk
Filling:
1 cup heavy cream
¼ cup granulated sugar
8 ounces cream cheese, room temperature
1 cup powdered sugar
½ teaspoon vanilla extract
Instructions
Prepare the strawberry-lemon curd:
Combine the strawberries and sugar in a food processor and process until smooth.
In a small bowl, combine the lemon juice and cornstarch. Pour mixture over puréed strawberries and process until smooth.
Press mixture through a fine-mesh sieve into a small sauce pan. Discard seeds and pulp.
Bring mixture to a simmer over medium heat. Stir constantly and cook until somewhat thickened.
Remove mixture from heat and pour into a heat-proof bowl or glass jar and cool to room temperature. Press plastic wrap against the surface of the curd and refrigerate for at least 2 hours or overnight.
Prepare the crust:
Preheat oven to 400 degrees. Lightly grease a 10" (or 10¼") tart pan with a removable bottom.
In a medium bowl, combine the flour, sugar and salt. Add the butter and rub it into the flour mixture with your fingertips until it resembles coarse meal. Add the milk and mix with a fork. When the ingredients start to come together, use your hands to lightly knead the dough in the bowl until it forms a ball.
Press the dough into the bottom and up the sides of the prepared tart pan.
Bake crust for 12-15 minutes or until golden brown. Remove crust from the oven and let cool completely.
Prepare the filling and assemble the tart:
In a large bowl, beat heavy cream until foamy. Slowly add sugar and continue to beat until soft peaks form.
In another large bowl, beat cream cheese, powdered sugar and vanilla extract until smooth.
Gently fold whipped cream into cream cheese mixture until completely incorporated.
Spread cream cheese filling in tart crust and smooth with an offset spatula.
Fill a small squeeze bottle with strawberry-lemon curd and pipe small circles over filling. Use a knife or wooden skewer to swirl curd into filling. Chill tart for at least 2 hours before slicing and serving.
Notes
Curd can be made a day ahead and stored in the refrigerator. You will have extra curd after making the tart, but it's delicious spread on toast or waffles. Press plastic wrap against the surface of the remaining curd and keep chilled for up to a week.