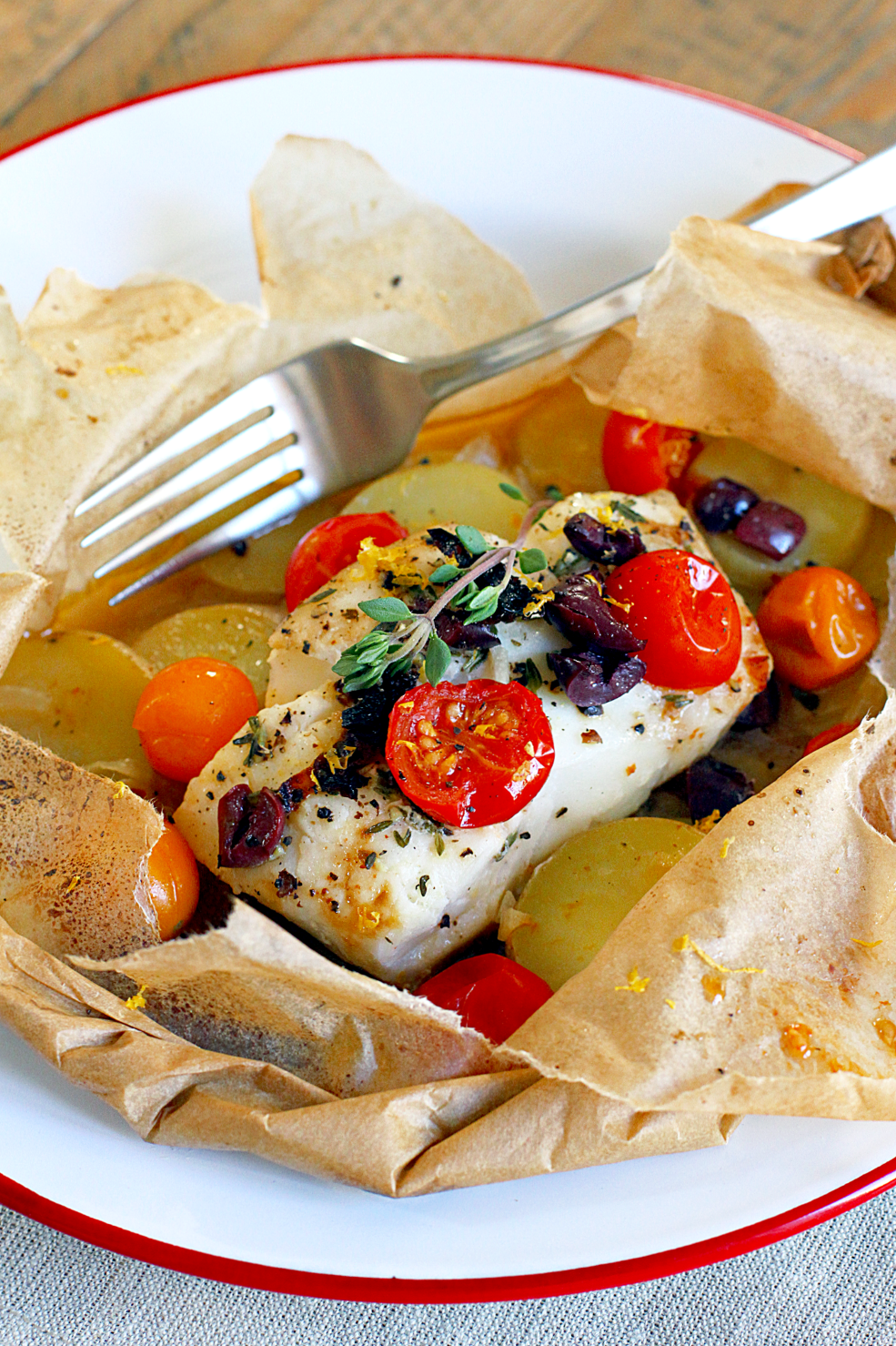 In less than two days, Jason and I will officially be on vacation. We're both disconnecting completely from work to explore the streets of Spain – and we could not be more excited. Paella, pinchos and sangria, here we come!
I'd be remiss if I didn't leave you with something tasty to whip up while I'm gone. So here's an easy recipe to help you transition from summer to fall. It's the first dish I created after receiving my Sizzlefish product sampling back in June, and a great one to try if you're intimidated by cooking seafood. The method is foolproof and you can change up the ingredients to suit your mood. No appetite for potatoes or olives? Sub in thinly sliced butternut squash and dried cranberries, if you so desire.
Cod en papillote is at once rustic and elegant, making it an ideal entrée for casual or formal dining. Serve it with a green salad and your favorite white wine, and I guarantee you and your guests will be delighted.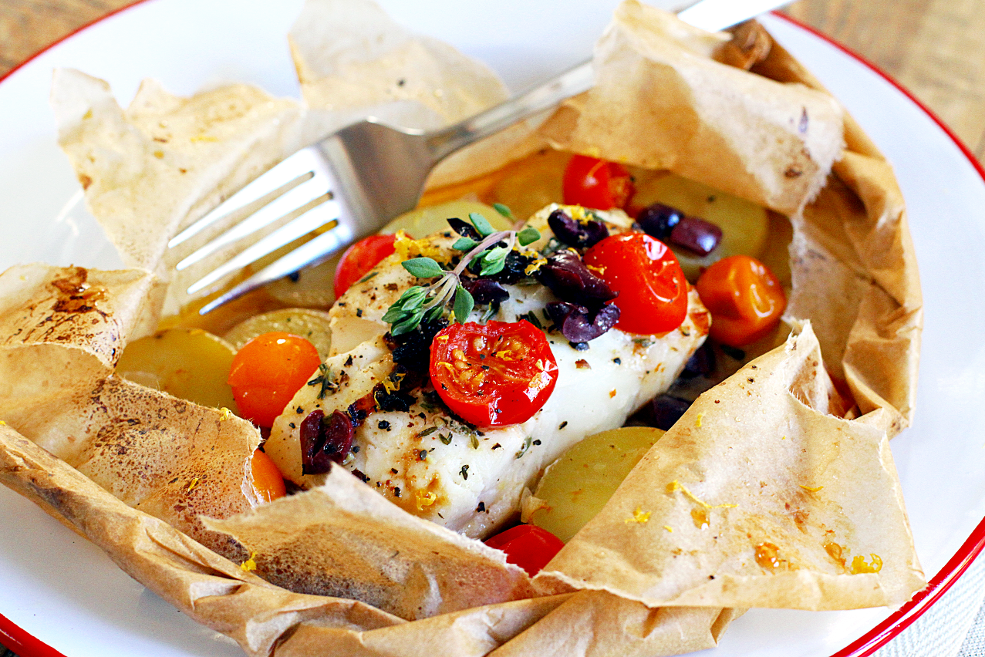 Recipe adapted from Food Network.

Mediterranean Cod en Papillote
Makes 2 servings
Ingredients
6 baby Dutch yellow potatoes, sliced into ⅛" discs
½ small onion, thinly sliced
1 garlic clove, minced
⅛ teaspoon dried chili flakes
2 tablespoons olive oil, divided
sea salt and freshly ground black pepper
2 skinless cod fillets (4-6 ounces each)
1 tablespoon freshly squeezed lemon juice (see notes)
½ teaspoon fresh thyme leaves
12 grape or cherry tomatoes, halved
2 tablespoons sun-dried tomatoes in oil, removed from oil and chopped
2 tablespoons pitted Kalamata olives, roughly chopped
Instructions
Preheat oven to 425 degrees.
In a medium bowl, combine the potatoes, onion, garlic, chili flakes and 1 tablespoon olive oil. Season with salt and pepper to taste.
Place cod on a plate; drizzle with lemon juice, sprinkle on thyme, and season with salt and pepper.
Cut 2 16" pieces of parchment paper and fold each in half crosswise, and then open and lay flat.
Arrange half of the potato mixture on 1 piece of parchment paper. Place 1 fillet and half of the tomatoes, sun-dried tomatoes and olives on top of the potato mixture. Drizzle with ½ tablespoon olive oil. Fold parchment paper over fish and, beginning at one corner, make small overlapping pleats all the way around to seal the edges completely. Repeat with second piece of parchment paper. Place packets on a baking sheet.
Bake for 25 minutes. Remove from the oven and let cool for 5 minutes. Carefully cut open packets, sprinkle with lemon zest, if using, and serve immediately.
Notes
For extra flavor, use a microplane or fine grater to remove the zest from the lemon before you juice it. Set aside until ready to serve the cod.
If you liked this recipe, you might also enjoy: