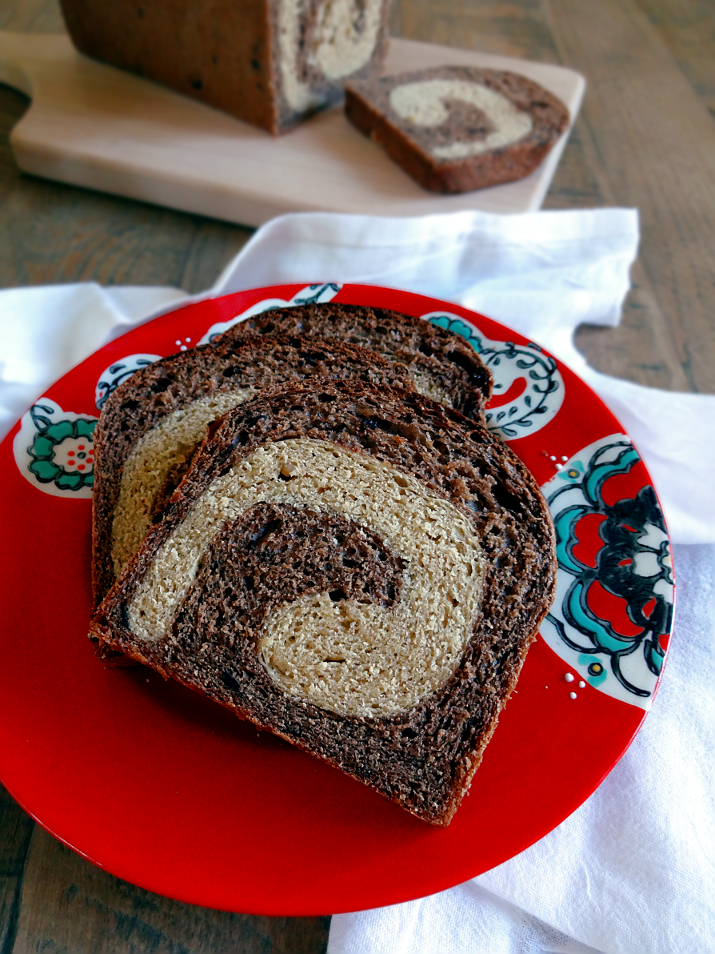 Bread and chocolate (Peanut M&M's, in particular) are two of my favorite things. Not a day goes by that I don't indulge in one or the either – and in most cases both, but not necessarily together. So when I saw Take a Megabite post a recipe for peanut butter and chocolate swirl bread, I could not resist. Bread with the essence of chocolate and peanuts? Yes, please.
The beauty of this yeast bread (besides the lovely swirl in the center) is its subtle sweetness, making it the ideal canvas for additional toppings – nut butter and sliced bananas, chocolate spread and shredded coconut, or cinnamon sugar. Once the baked loaf cools, cut off a thick slice, toast it and dress it up to your liking. One taste and you will agree it is truly the best thing since (plain white) sliced bread.
Recipe adapted from Take a Megabite.

Chocolate Peanut Butter Bread
Makes one 9"x5" loaf
Ingredients
2¼ teaspoons active dry yeast
½ cup lukewarm water
½ cup warm milk
¼ cup sugar
1 teaspoon salt
1 large egg
2 tablespoons vegetable oil
2 cups all-purpose flour
1 cup white whole-wheat flour
2 tablespoons cocoa powder
¼ cup creamy or crunchy peanut butter
¼ cup shaved chocolate
Instructions
In a large bowl, dissolve yeast in lukewarm water. Add warm milk, sugar, salt, egg, vegetable oil, 1 cup all-purpose flour and ½ cup whole-wheat flour. Stir with a wooden spoon until well combined.
Transfer half of the batter to another bowl. Place cocoa powder in one bowl and peanut butter in the other. Stir until well combined. Add ½ cup all-purpose flour and ¼ cup whole-wheat flour to each bowl and stir vigorously. Add shaved chocolate to the chocolate dough.
On a lightly floured work surface, knead each portion of dough until smooth and elastic, about 5-8 minutes. Place each dough portion in a bowl lightly coated with nonstick spray, turning to grease all sides. Cover with plastic wrap and let rise in a warm place until doubled in size, 1-2 hours.
Spray the bottoms and sides of a 9"x5" or 8.5"x4.5" loaf pan. Gently deflate dough and pat each portion into a 9"x7" rectangle. Place the peanut butter dough on top of the chocolate dough. Roll it up lengthwise into a long log and pinch seam to seal. Transfer to the greased loaf pan, cover with plastic wrap and let rise until doubled in size, 1-2 hours.
About 15 minutes before dough has finished rising, preheat oven to 375 degrees.
Bake bread for 30-35 minutes or until the crust is a deep golden brown color and the loaf sounds hollow when tapped. Remove the bread from the loaf pan and transfer to a wire rack to cool completely before slicing.