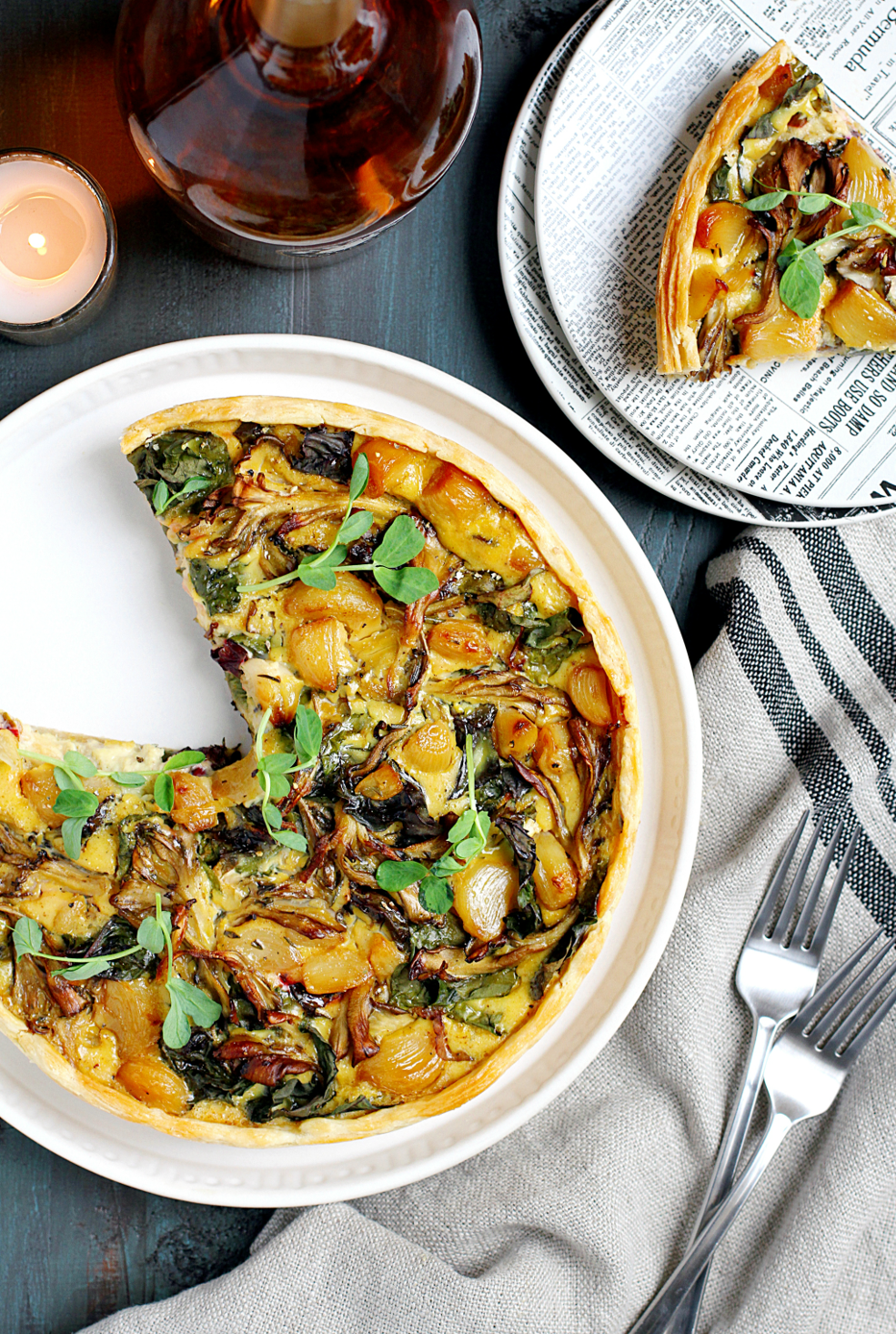 What a busy weekend! Besides baking a savory caramelized garlic and chard tart for Easter, I partook in a bunch of other fun, food-related activities.
On Friday, I headed to the City for a seven-course Malaysian crab dinner hosted by chef Tracy Goh. It was a memorable evening and a good reminder to check out more Feastly offerings.
The following morning, I prepared some cookie dough and then trekked back to San Francisco to peruse the Ferry Plaza Farmers Market and grab lunch at Woodhouse Fish Co. After picking up a few treats at Mission Pie and Arizmendi Bakery, it was time to meet my brother and his wife at Gaku for yakitori. (Of the items we ordered, I thought the chicken meatballs and deep-fried tofu were especially delicious.)
And on Sunday, I stopped by the California Avenue Farmers' Market and spent the afternoon assembling this caramelized garlic and chard tart. In addition to the starring ingredients, it features sautéed maitake mushrooms, cheddar and Gruyère cheese, and a creamy custard that binds all the components together. Serve the caramelized garlic and chard tart with a green salad and chilled rosé for maximum enjoyment.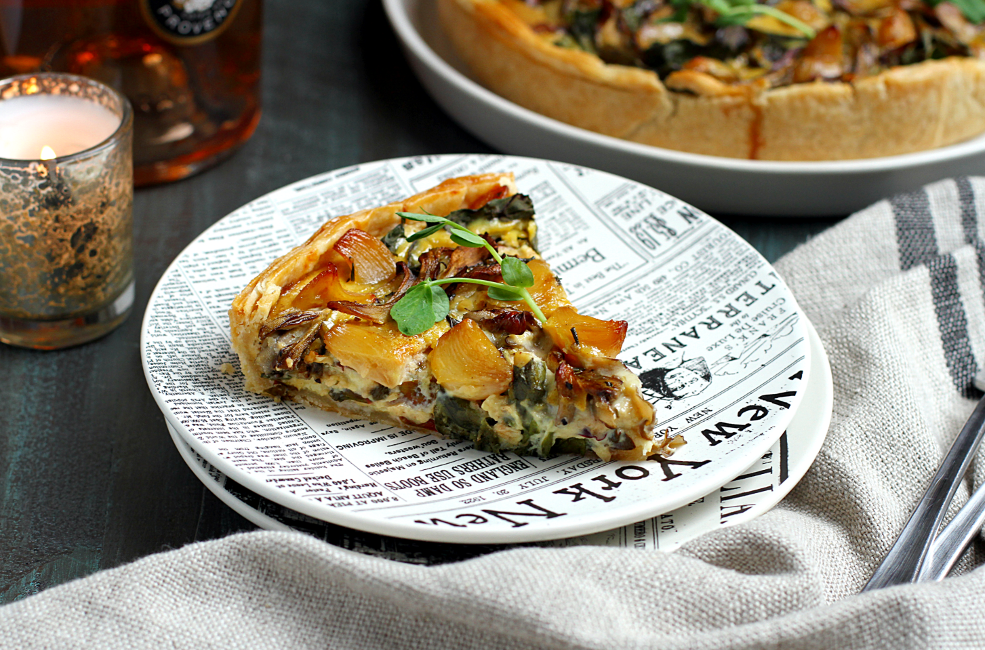 Recipe adapted from Bon Appétit.

Caramelized Garlic and Chard Tart
Makes 1 9" round tart
Ingredients
Crust:
1¼ cups all-purpose flour
½ teaspoon sea salt
8 tablespoons unsalted butter, cold, cut into small pieces
3 tablespoons ice water
1 tablespoon apple cider vinegar
1 large egg, beaten
Filling:
3 heads garlic, cloves peeled
2 tablespoons olive oil, divided
1 tablespoon balsamic vinegar
1 cup water
1 tablespoon honey
1 teaspoon chopped fresh rosemary
1 teaspoon fresh thyme leaves
sea salt and freshly ground black pepper, to taste
3 ounces maitake mushrooms, torn into small pieces
3 large eggs
½ cup heavy cream
½ cup fromage blanc
1½ cups shredded cheddar and Gruyère mélange cheese (see notes)
2 cups torn chard leaves
Instructions
Prepare the crust:
In a large bowl, combine the flour and salt. Add the butter and rub it into the flour mixture with your fingertips until it resembles coarse meal. Add the water and apple cider vinegar and mix with a fork until the ingredients start to come together. Then use your hands to lightly knead the dough in the bowl until it forms a ball. Turn the dough out onto a work surface and shape into a disc; wrap with plastic wrap and refrigerate for at least 1 hour.
Remove the dough from the refrigerator and let it sit for 5-10 minutes. On a lightly floured work surface, roll it out to a 14" circle. Carefully transfer the dough to a 9" springform pan, pressing it against the bottom and sides. Use a sharp knife to trim the edge of the dough so it comes about 2 inches up the side of the pan. Transfer the crust to the freezer and chill for 15 minutes.
Meanwhile, preheat oven to 350 degrees.
Line the chilled crust with parchment paper and fill with pie weights or dried beans. Bake for 25 minutes. Remove the parchment paper and pie weights or dried beans and brush the entire surface with the beaten egg; reserve any leftover egg for the filling. Bake for an additional 10 minutes until golden. Remove from the oven and set aside.
Prepare the filling:
Bring a small pot of salted water to a boil. Add the garlic and cook over medium-high heat for 3 minutes. Drain and transfer to a small bowl.
In the same pot used to cook the garlic, heat 1 tablespoon olive oil over medium-high heat. Add the prepared garlic and cook, stirring occasionally, until golden brown, 2-3 minutes. Add the balsamic vinegar and water and bring to a boil. Then reduce heat and simmer until garlic is tender, about 10 minutes. Add the honey, rosemary and thyme, season with salt and pepper, and cook until the liquid has thickened, about 5 minutes.
Heat remaining 1 tablespoon olive oil in a fry pan over medium heat. Add the mushrooms and sauté until tender, about 3 minutes. Transfer to a bowl to cool.
In a medium bowl, combine the leftover egg from preparing the crust with the remaining eggs, heavy cream and fromage blanc; whisk until smooth. Add the caramelized garlic with cooking liquid and season with salt and pepper to taste.
Assemble and bake the tart:
Scatter the cheese over the prepared crust. Scatter the chard over the cheese and arrange the sautéed mushrooms on top. Carefully pour the egg mixture over everything.
Bake at 350 degrees for 50-55 minutes or until the filling is set and the tip of a knife inserted into the center comes out clean.
Remove tart from the oven and let cool for 15 minutes. Then remove ring and transfer tart to a wire rack to cool for at least 30 minutes before serving.
Notes
I used
this cheese
from Trader Joe's, but you can substitute a mix of white cheddar and Gruyère cheese if it's more convenient.
If you liked this recipe, you might also enjoy: